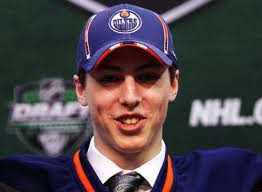 Prospects, scouts and General Managers are in Toronto this week for the annual NHL combine, where teams get a look at the physical state of the draft eligible players, and time to interview with them. With most of the attention centered around the Oilers first overall pick, speculation as to who they will choose, and if they're even going to keep the pick, has been running rampant. Will Edmonton go with Nail Yakupov, the scouts consensus best player available? Will they trade down to take someone else? Will they trade the pick for an established defenseman, the teams' most pressing need?
Oilers General Manager Steve Tambellini has been non-committal when discussing his plans for the teams third first overall pick in three years. It's not often that the same team gets three consecutive number one picks, and it speaks to the state of the Edmonton Oilers these past few seasons. A franchise with a very storied history, the Oilers recent playoff drought is not something fans are used to, and this draft will be very significant for the future of the team.
With talented young players such as Taylor Hall, Jordan Eberle and Ryan Nugent-Hopkins already in the mix, the Oilers core is beginning to take shape. The prospect pipeline is ripe with talent all through the line-up, though many feel Edmonton is an elite defenseman away from being competitive. Those kind of players don't grow on trees, but there are some solid players in the draft this year, which is why many are questioning the Oilers taking Yakupov, a forward.
"We're not sure who this pick is now and that's the way it's been the last couple years. The idea is to project on who will be the best player for your team," he added. "Most teams have different opinions on what's best for them. That's what we'll do — we'll decide which player is the best player for the Edmonton Oilers."

Would he trade that pick? "You can always listen," Tambellini said Friday at the NHL's draft combine. "But for us to move the No. 1 pick it would have to be quite a significant proposal." (Globe and Mail)

"I've had a few soft calls up to this point. I know there will be teams making offers," Tambellini said. "We didn't expect going into the lottery that we were going to win the lottery, but we got it and we're happy with it. It's a wonderful bonus, so you know that if we did do something, it would have to be a significant offer." (NBC Sports)
Many feel that having a strong forward group would allow the Oilers to dominate teams with the puck, rather than without it, unlike more defensive minded teams such as Nashville or St. Louis. And in a league where goal scoring can sometimes be scarce, offense is at a premium. Scouts describe Yakupov as a very special talent, and we won't have to wait much longer to find out who's jersey he'll be sporting come the start of the next NHL season.