On Wednesday, the Anaheim Ducks placed Stefan Noesen on waivers after five years in the organization. Waivers protocol made him available to all other 29 teams and he would be awarded to the interested team with the lowest position in standings. The New Jersey Devils, currently sixth in waiver priority, decided to take a flier on the 23-year old and sent in a claim.
More important than the acquisition itself is the hope that Ray Shero gives to the Devils Army with the claim: he will continue to find creative ways to utilize his assets and turn them into good players. Noesen may end up being an important contributor for the team (even if probability says otherwise), but at the very least it is a sign of what is to come in the future.
Stefan Noesen
On to Noesen, the 23-year-old right wing comes to Newark from Anaheim after being placed on waivers in an attempt to get him back to the Ducks' AHL affiliate, the San Diego Gulls. The Devils claimed him and are now rostering three of the Ducks' right wingers from the 2014-2015 season: Noesen, Kyle Palmieri, and Devante Smith-Pelly.
In a recent article from NJ.com, Palmieri gave his take on the team's newest acquisition: "He's a big, strong kid. From what I remember, he's got a lot of offense to him. He plays that big, hard, crashing game," Palmieri said. "I think that's something that might be missing from us, a guy that can get down there and possess the puck."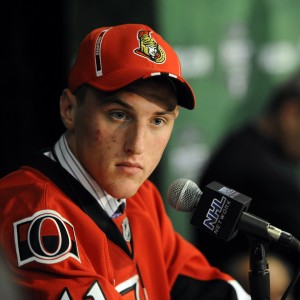 Although Palmieri seems to be taking the eternal optimist route, the reality is that the team has tried numerous times to fill that role with players like Smith-Pelly, Nick Lappin and Blake Pietila. Those experiments have proven fruitful at times, but were altogether failures. Noesen gives the team another shot at filling that critical role.
Surely, Noesen is talented. He was drafted in the first round of the 2011 NHL Draft by Ottawa and scored 97 goals in his final three seasons at Plymouth of the OHL. He was a major trade chip for the Sens in their blockbuster acquisition with Anaheim for Bobby Ryan – who at the time was considered one of the league's up-and-comers.
Injuries and Poor Play
Upon arriving in Anaheim, Noesen's career trajectory began to take a turn for the worse. His AHL performance was altogether unimpressive. His 63 points in 116 games seem impressive by NHL standards but are unspectacular from an AHL standpoint.
When talking about Noesen, one would be remiss not to touch on his lengthy injury history. Noesen was an unknown commodity after the trade as a result of a gruesome knee injury that sidelined him for an entire season. Upon returning, he shortly returned to the sideline with a nearly torn Achilles caused by a skate blade.
Since those two ailments, Noesen is unquestionably struggling to return to his early successes that made him a hot trade commodity. In the best case scenario, Noesen could become the effective middle-six winger that people hoped to see from Smith-Pelly and, more recently, Lappin.
.@StefanNoesen wasted no time scoring his first goal as a Devil. #OneJersey pic.twitter.com/Rojxlj72vu

— New Jersey Devils (@NJDevils) January 27, 2017
Shero's Strategy
It's nice to see another young acquisition in Devils Red, but more importantly, fans have seen that Shero is willing to take chances on young talent that could become effective. Last year, Shero took a flier on young potential-laden players like John Moore, Beau Bennett, Sergey Kalinin, Yohann Auvitu, Palmieri, and Smith-Pelly.
Not all moves have paid off to date; at times, the Devils' lineup seems indecipherable from the island of misfit toys. But in the numbers game that is risky transactions, Shero is giving the organization several opportunities to find its next diamond in the rough.
With the trade deadline and expansion draft looming large, Shero will need to continue to find creative solutions to the Devils' lack of forward talent. Moving resources can be a daunting challenge for a team aiming to rebuild, but management has proven that it will not give up on young talent and is always in the market for more.
One strategy that has been proven continually over Shero's almost two years in New Jersey is his willingness to take chances on young talent. That will continue to help the team in its rebuilding phase.