Looking at the New Jersey Devils' roster, the lineup down the middle could appear to be set without bringing in any players. However, when training camp opened, head coach John Hynes poignantly stated that jobs were available and the center position is no different. The 23-man roster is far from being final. Between new and old faces, the Devils have plenty of options when it comes to choosing who will center each line.
Devils' Top Center
Forwards Adam Henrique and Travis Zajac are New Jersey's undisputed top centers. Both players are not in jeopardy of losing their spots in the nightly lineup. Nonetheless, it is not necessarily clear where either should be slotted to play and many have wondered who New Jersey's true first line center is?
There have been arguments made for Henrique to overtake Zajac on the top-line. Playing there would not be new to him. He has had prolonged stints on the first line before. After all, Zajac's absence during the 2011-12 season opened the door for Henrique to center Zach Parise and Ilya Kovalchuk.
Henrique is one of New Jersey's best players and a leading candidate for the captaincy, if the Devils decide to name one. He plays a terrific two-way game and possesses the scoring skill to help bolster the team's offense. Many believe that the fan favorite is on his way to becoming an elite NHL player. All of these facts would make him the prime option to fill the top-line center spot. However, last season was the first year Henrique has had his overall face-off wins above 50 percent while Zajac consistently does. Face-offs cannot be overlooked, especially on the top-line.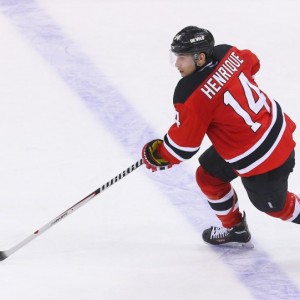 When a player receives a contract that resembles Zajac's eight-year $46 million deal, everything he does on the ice immediately becomes magnified and heavily scrutinized. A player's salary directly correlates to people's expectations. Zajac is a capable and good hockey player. But New Jersey needs him to increase his scoring totals. Just two seasons ago, he played well alongside Jaromir Jagr and looked to be getting back on track. However, until his scoring stats rise, people will have their doubts even though he provides New Jersey with balance and his absence would create a big hole for the team.
It would not be a bad thing to play Zajac on the second line to eliminate some of the pressures that comes with the top-line role. However, at the start of the season, because of his face-off numbers, the team's structure and the fact that he too plays an effortless two-way style, Zajac should center the top-line. This allows the team to keep Henrique with Patrik Elias, which is beneficial for the Devils' offense since both players compliment each other well. This also provides the Devils with the option of eventually moving Henrique to wing, which the team has done many times before.
Jacob Josefson
It would be smart for New Jersey to keep Jacob Josefson at center rather than moving him to wing. The young Swede is still trying to find his game and some consistency. If he is a natural born center, keep him there, at least in the beginning. While Josefson's job is not 100 percent safe, the odds are in his favor that he will be in the starting lineup October 9 and most likely centering the third line.
Throughout the preseason games that Josefson has played in, he has not readily stood out. But the fact that general manager Ray Shero will likely want to see what Josefson can do this year before his contract expires at the end of the season benefits him. The Devils need to find a way to elevate Josefson's even strength game to help him contribute. His face-off stats are decent and have hovered around 49 percent over the last two-years. Moreover, Josefson's shorthanded goal production and role in the shootout were critical last season and assumingly will be again this year. But while his specialty teams contributions and shootout stats are positive, most of a hockey game is played at even strength and that is where a player's impact has to be seen. If Josefson really starts to struggle, it may be worth considering moving his position but not at the start of the season.
The Potential Shake-up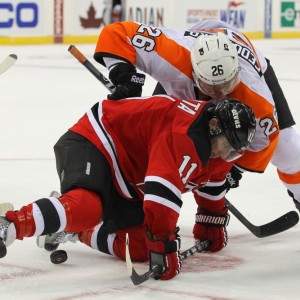 When the Devils drafted forward Pavel Zacha in the first round of this year's NHL Entry Draft, it was noted that New Jersey was getting a skilled, playmaking center, which is why Zacha could cause a shake-up down the middle. Since the 2012 postseason, forward Stephen Gionta has centered New Jersey's fourth line. Gionta's scoring stats are never going to wow people, but he is one of the Devils' unsung heroes. He is a fantastic penalty killer and is regularly called upon in the final two minutes of a game when New Jersey is protecting a lead. Gionta's defensive abilities, just like his role in the bottom-six, are vastly underrated.
Zacha has played both center and wing throughout the preseason, which highlights his usefulness in the lineup. Additionally, he has provided glimpses of his skillset and speed. While Sergey Kalinin is pushing to make the team, realistically Zacha is Gionta's biggest threat to take his lineup spot.  Kalinin could be slotted in as a wing if he does make the roster straight out of camp.
The more versatility a roster has, the better it is for an organization. As the Devils look to improve, the team's centers will need to be reliable and consistent this season. Competition and players earning their spot in the nightly lineup is important and healthy for a team. Presently New Jersey's training camp appears to emphasizing that and fans can only hope that it produces positive results.