When the New Jersey Devils drafted center Jacob Josefson 20th overall in the 2009 NHL Entry Draft, fans wondered what they were getting with the Stockholm, Sweden native and six years later some fans are still asking the same question. Josefson is an enigma. Just when people think they have his capabilities figured out something changes.
Entering this season there was never any doubt that Josefson would finally receive a coveted spot in the nightly lineup, which previously eluded him while playing under former head coach Peter DeBoer. As he found himself in the lineup, he appeared to be gaining confidence and finding some rhythm to his game, which was why people raised their expectations for him this year. He was widely considered one of the young players that needed to finally make an impact and step up.
Just like the second half of last season, Josefson is being used in almost every on ice situation and the coaches are showing that they have confidence in his ability even if he is lacking it. He is a staple on New Jersey's top tier penalty kill and plays the half wall on the power play, which has garnered him praise from his teammates.
After having a good preseason, it looked as if Josefson had a chance at claiming a top-six role while Patrik Elias was out with a knee injury and head coach John Hynes played with the line combinations. However, it did not last long and he dropped down to the third line. The Devils are a much stronger team with Adam Henrique and Travis Zajac centering the top two lines rather than shifting Henrique to wing, which was the case with Josefson playing in the top-six. Because of that simple fact alone, it would have been hard to imagine Josefson playing the role of a top-six center for a prolonged period of time. However, not only did the Devils need Henrique back at center, a top-six player also has to have a strong even strength game when it comes to both playmaking as well as scoring and that is where Josefson struggles.
While he has not been playing poorly and the effort has been there, Josefson has yet to have his big breakout moment this season. There have been flashes of great puck handling and nice stick work but unfortunately the Devils' third line thus far has had the toughest time getting on the scoreboard. Nevertheless, one promising sign for Josefson is that he is beginning to find more opportunities to score that elusive first goal, which often times is the toughest to get. Additionally, he does not seem scared or hesitant to shoot the puck this season, which was something that people questioned in the past.
https://youtu.be/JWBSspqpr5k
Josefson exhibits a solid skillset including quick hands, a decent shot as well as great speed but he lacks physicality and finish, which is what makes him such a mystery to fans. Additionally, the mystery continues when a person examines Josefson's shootout record and ability. When number 16 takes the ice for the Devils, it is almost automatically assumed that he will beat the oppositional goaltender regardless of whom it is when the game goes beyond 65-minutes. He excels and stands out in the skills competition but cannot seem to find the same success at even strength. These are the primary reasons why people believe that Josefson has more to offer, especially 5-on-5.
Josefson's Glass Ceiling:
In a perfect world Josefson would hover around 15-goals but as time goes on that seems less likely, especially when looking toward the future with Pavel Zacha on the horizon and even possibly Joseph Blandisi. Both prospects signify why the Devils need to invest into Josefson now. General manager Ray Shero has to assess Josefson's value and his role with the team.
If his future is in New Jersey he will likely always play within the bottom-six and there is a strong possibility that he will be relegated to the fourth line, which would not necessarily be horrible for him. He would still be able to contribute on New Jersey's specialty teams as well as shootout. Moreover, the fourth line is not known for regularly producing on the scoreboard but rather providing energy. Nevertheless, the question is how much value will the Devils see in that and how much room is there for Josefson in the team's future plans with Zacha and Blandisi awaiting their turn.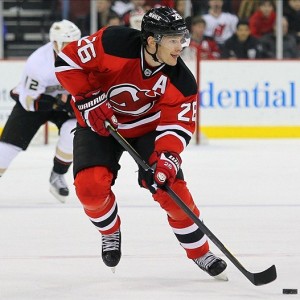 Realistically it would be favorable for him to score between seven and 10-goals this season and luckily the year is still young. He can also help his chances by boosting his assist totals, especially if his scoring drought continues. But his true saving grace may have just entered back into the lineup.
With Elias returning from injury, it would appear that he will be playing alongside Josefson for the time being.  Elias' veteran presence did wonders for Henrique's development and it is possible that he can establish the same type of chemistry with Josefson as well. Elias can slow the game down and help to relieve some of the scoring pressure that the third line may be feeling, particularly Josefson. If not Elias, then Josefson could see Sergey Kalinin on his wing again, which would be beneficial as well. Kalinin is a big body and provides physicality. He too is a playmaker and has set up several scoring chances for Zajac and Kyle Palmieri.
Even though there may be some frustration when it comes to Josefson, people want to see him to succeed and do so wearing the red, black and white. Unfortunately though the NHL is a business and it is one that emphasizes results, which means the clock is ticking.  It is in everyone's best interest for Josefson to have his big moment sooner rather than later. But until then, he will always have fans guessing about if and when it is going to happen.