The Pittsburgh Penguins are surrounded by doubt and controversy. Rumors of "rifts" between Penguins' captain Sidney Crosby and legendary owner Mario Lemieux are circulating the web. Recently, others have downplayed those notions but suggested that the real rift is between Crosby and his fellow teammates. Their second year head coach finds himself at the center of ongoing debate about whether or not his future is secure with Pittsburgh. And, despite their record of 12-8-1, which places them in a tie with the New York Islanders for third place in the Metropolitan Division, it hasn't been enough. The team looks as if they could unravel at any moment. However, through all of this season's issues and struggles, one thing has become very clear.
The Penguins are Evgeni Malkin's team.
That statement isn't necessarily a knock on Crosby. But, he hasn't been the poster boy for leadership so far this season. Whether you're talking about execution and production or pure emotional leadership, Crosby has been overwhelmingly disappointing through the first two months of the season. You can place blame on Mike Johnston's system but that hasn't impacted Malkin in the same way. You can point to his line mates, as having two dump-and-chase style wings is certainly detrimental to his production but a player like Crosby usually finds a way to score. Prior to the last calendar year, he could be relied on as an on-ice leader that would step up in big situations. That isn't the case anymore.
Goaltending has been far and away the biggest reason the Penguins are staying afloat and contending for a top spot in the Metro. But, with an obvious need for someone to step up on offense and put this team on their back, Malkin has risen to the occasion and is playing spectacularly.
Malkin Walks the Walk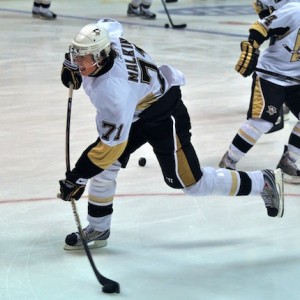 Very recently, the Penguins were embarrassed by the New Jersey Devils in Newark in what was the most emotionless, lethargic effort we've seen from this group so far this season. That loss prompted a players-only meeting in which the most vocal individual was Malkin. In fact, though Malkin and the team attempted to retract his statement at a later date, he was also very candid with media following that performance and stated that the Penguins were "mad at each other". The biggest difference between Malkin and the rest of the team following that poor performance though, is that he has single-handedly earned them points in games that they didn't deserve them.
Consider that the Penguins faced the Columbus Blue Jackets and Edmonton Oilers on back-to-back nights this past weekend and while both are among the worst defensive teams in hockey, Pittsburgh netted only three total goals. Now, consider that all three of those goals were scored by Malkin. "Geno", as he's referred to so often among the Penguins' faithful, has found that level of play that is unrivaled across the league when he reaches it. He's simply unstoppable right now and has joined Marc-Andre Fleury to hoist the Pens on their backs and carry them through this slump. When Malkin is scoring goals like the one below, he's nothing short of a nightmare for anyone that gets in his path.
One night prior, in response to Crosby taking a cross-check to the back of the head by the Blue Jackets' Brandon Dubinsky, Malkin was visually fired up. He dropped the gloves with Jack Johnson, though the two were quickly mobbed by officials, then scored a power play goal shortly after. The Penguins came up short in overtime but it surely wasn't due to a lack of effort by number 71. The trio of Malkin, Phil Kessel and David Perron has become a matchup nightmare for opposing coaches.
The Pens Live and Die By Malkin's Performance
At this point, the Penguins rely so heavily on Malkin that they'll continue to win or lose based on his performance and whether or not their opponent can contain him. Everyone in black and gold is following Geno's lead. When he's battling, there's an overall uptick in intensity across the lineup. When he's scoring, there's more energy and tenacity in the offensive zone. Malkin is leading by example in its most literal sense. Something that cannot be said for anyone else right now. There's a lot of work to do with this lineup and changes are coming. It's a foregone conclusion that Jim Rutherford is looking to bolster this blue line and some have mentioned that he's still in search of a winger that fits with Crosby. Maybe that will get 87 back on track. Until then, The Penguins are in good hands when it comes to top-end, on-ice leadership with Malkin at the helm. It honestly isn't far-fetched to assume we're seeing a change-of-the-guard situation in Pittsburgh.
I'm not counting Crosby out. I'm simply giving Malkin the credit he's due.
Pittsburgh Penguins writer for TheHockeyWriters.Com and PittsburghHockeyNow.Com. Youth hockey coach, and student of the game.