The first two-plus months of the 2018-19 season might have New York Rangers management thinking about whispering in coach David Quinn's ear.
Something along the lines of: "David, you're doing a great job in your first year. A really great job. Maybe too great, actually. Any chance you could, um, ease off a little?"
Such a hypothetical conversation would never take place, of course. It's just that the Blueshirts' hiring of Quinn seems to almost be working a bit TOO well when it comes to their rebuilding plan.
With every win, the latest of which pushed the Rangers to 9-7-2, management watches with pleasant surprise – while also seeing the club's potential draft position suffer. If the Blueshirts continue to play like this – perhaps even being in the mix for a playoff spot – hopes of augmenting their young talent base with a top-five talent from this year's draft will go up in smoke.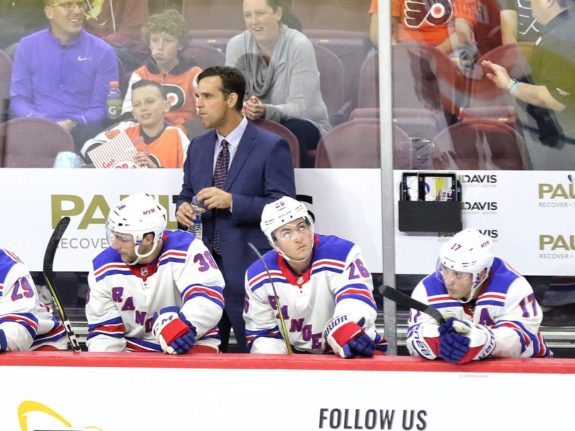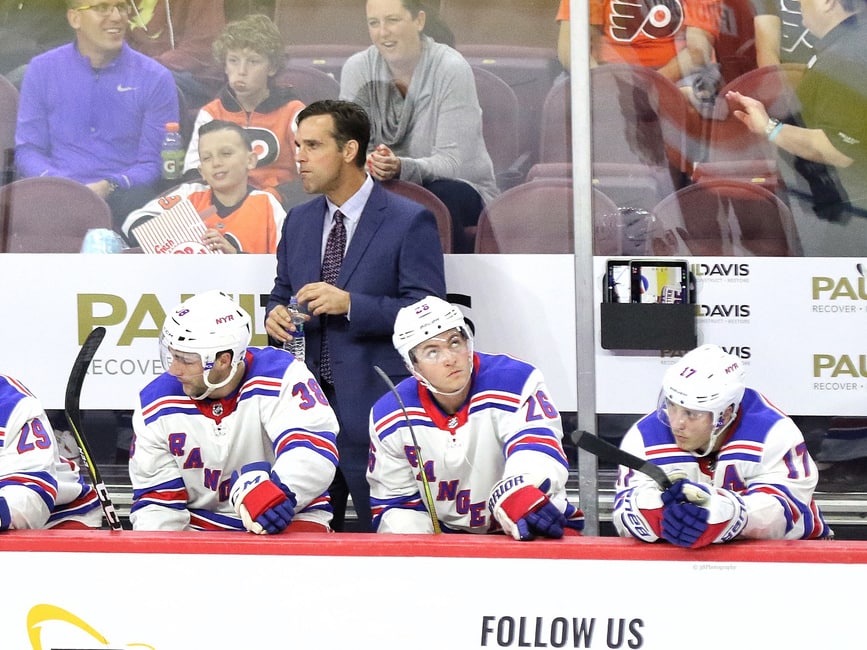 The idea of Quinn somehow backing off his program that has yielded better-than-expected results so far is, again, wholly facetious. It does, however, illustrate that the decision to hire Quinn might ramp up the rebuilding plan's timetable.
Quinn has done everything the front office hoped he would when it convinced him to leave Boston University for Broadway – get the Rangers to play hard every night, every shift. Restore attention to detail and work habits. Teach young players while simultaneously getting the best out of them.
It seems unlikely, however, that management figured that would translate into results so quickly. The resulting surge after a slow start has earned these Rangers one of the best labels a hockey team can hope to receive – they are hard to play against.
Streaking Rangers Powered by Roster-Wide Success
The Blueshirts, 6-0-1 in their last seven, boast a long list of players playing the best hockey of their careers – in many cases, short ones. Jimmy Vesey is thriving as a timely goalscorer who seems to have largely eliminated the defensive mistakes and mental lapses that plagued him in his first two seasons. Neal Pionk, the defenseman who showed signs of promise as a rookie last season, appears to have made a quantum leap in his second year. Fellow blueliner Tony DeAngelo is starting to establish himself in the lineup.
Heady rookie Brett Howden is ensconced as the third-line center. Forward Filip Chytil, 19, turned in perhaps his best game as a pro in Monday's 2-1 victory over the Vancouver Canucks and finally scored his first goal of the season. Talented young winger Pavel Buchnevich recorded two goals and two assists in three games following a two-game benching over lack of effort, though he suffered a broken thumb over the weekend and will miss four to six weeks in a big blow.
On the veteran side, center Kevin Hayes is performing at the highest level of his five-year career. Mika Zibanejad and Chris Kreider are producing. Kevin Shattenkirk, now healthy, has been engaged and solid on defense and Brendan Smith – before a recent dip in his play that's being addressed by the coaching staff – had rediscovered his snarling presence on the blue line.
There are way too many positive outcomes there for it not to be about the coaching.
"People go crazy when a player sits. No matter who you are, no matter how long you've been in the league, where in life do you get to do something if you're not doing it well?" Quinn said.
The coach was discussing his decision to bench Buchnevich, but the quote seems to spell out Quinn's biggest contribution to the organization: a relentless demand for accountability. The Rangers, to a man, have bought in – perhaps much quicker than anyone expected.
Quinn isn't a guy who spouts many platitudes (though the statement above seems to qualify) or high-minded inspirational quotes. He's appealed to his players at a very basic level: If you want to play, you're going to do it as hard as you can. Otherwise, someone else will.
Quinn has mentioned several times that simply throwing young players onto the ice without merit can create a sense of entitlement. Given what's transpired through the first 18 games, it seems clear that that's exactly what happened at the end of the Alain Vigneault era, in which examples of benchings and demands for players to take responsibility seem few and far between. No current Ranger, rookie or veteran, thinks he won't end up in street clothes watching the game if he gives less than maximum effort.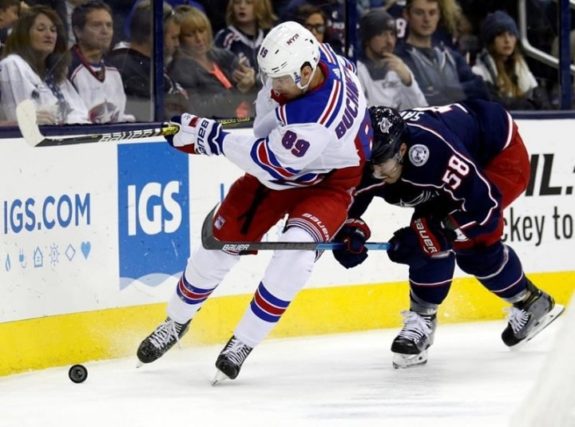 The latest example: After another poor performance against the Detroit Red Wings on Friday, Smith found himself benched for the first time this season Saturday against the Columbus Blue Jackets and then again Monday, held to account for a sliding game that he and Quinn discussed. That's been the modus operandi for Quinn: communicate with the player in a straightforward and positive manner, yet follow through on what course of action the coach deems appropriate to getting his message across.
Rangers Reflecting Quinn's Confidence, Work Ethic
After all, it's less likely to be heard if it lacks teeth.
"Listen, (Smith is) a really good player. Got off to a great start. He's hit a little bit of a rough patch," Quinn said before the Blue Jackets game. "We've got defensemen — as I've talked about — we feel confident with all eight. Sometimes it's not an indictment on their play as much as the fact that we have other guys doing a good job and want to get guys in. That's just the situation we're in.
"Sometimes it doesn't hurt to sit and watch, recollect yourself and get going again. Just press the restart button. I fully expect him to come back and be the player he's capable of being."
Smith, though, was forced to wait at least one more game before getting a chance to do that. Quinn's positivity and encouragement come with an edge attached.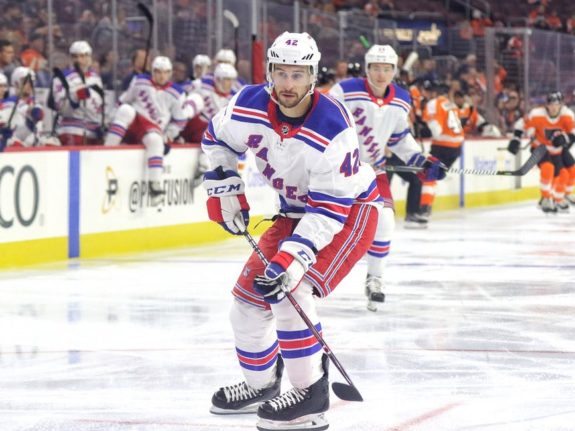 The coach's confidence in his methods and himself has filtered down to the group, and the effects are obvious. The Rangers delivered a stretch of ugly hockey at Columbus, blowing a 3-1 second-period lead. Yet they rebounded to win 5-4 in a shootout – pushing their record to 4-0 in the tiebreaker this season.
The victory allowed them to bounce back from a brutal road loss at Detroit, in which they led 2-0 in the third but fell 3-2 in overtime to snap their four-game winning streak. The club didn't waver or unravel, simply going out and playing hard against the Blue Jackets and getting rewarded for it. They did the same against the Canucks.
"Sometimes you have good nights and sometimes you don't," Quinn said after the win at Columbus. "I thought we managed to get two points."
They did it yet again Monday, another victory in a season in which management is hardly demanding them.
It seems unlikely that the Rangers will rip off too many 6-0-1 stretches this season, given their inexperience and lack of game-breaking talent. It also seemed impossible that a club that began 3-7-1 would be able to go 6-0-1 over seven games at any point.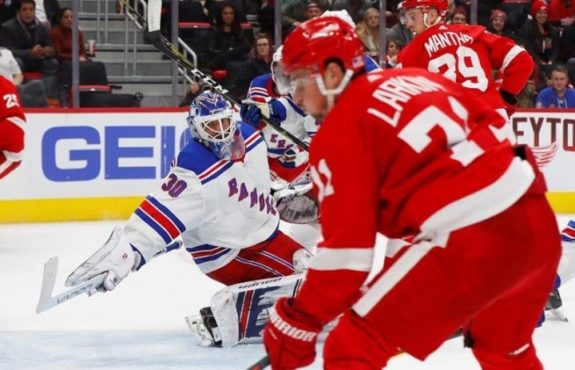 These Blueshirts seem destined to surprise this season, as a club that most predicted would be a tough watch in the early stages of a rebuild has proved instead to be an exciting group that's difficult to ignore. What Quinn has brought to the team is exactly what he was hired for. If he keeps the Rangers in the playoff mix this season, that would seem to put them way ahead of schedule on the road back to prominence.
Now if only the new coach could really work a miracle, and find a way for the rebuilding Blueshirts to get the high draft pick management was expecting while simultaneously overseeing a contending team? Given his success so far, the front office could be forgiven for thinking that Quinn can indeed achieve the impossible.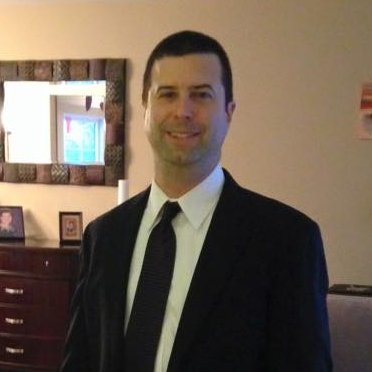 I'm a resident of the Chicago area by way of White Plains, NY. I worked for the Associated Press sports department in New York City for 10 years before moving to the Midwest in 2005, when the AP's then-internet division entered into a joint venture with STATS LLC. I worked for STATS for 11 years, until 2016. I'm very excited to be a part of The Hockey Writers.