While the New York Rangers had been doing a good job to adjust to injuries and opponents' specific game plans for their transition attack, a brutal schedule of eight games in 13 days finally caught up to them in an ugly 7-2 road loss to the Pittsburgh Penguins.
The game certainly illuminated some concerns for the Rangers, but at the same time, the stretch of games they had to endure cannot be ignored, nor can their 47 points in the standings.
Getting Through the Schedule
While every team is playing a condensed schedule as a result of the World Cup of Hockey that cut into the normal early-October starting point of the NHL regular season, the Rangers have had a particularly difficult run to this point, as no team in the Eastern Conference other than Philadelphia had played as many games through Wednesday night (35).
Now the Rangers will have some time to breathe between games, as they do not play again until Friday night against Minnesota at home. They then have a three-day break over the Christmas weekend, which should prove to be helpful in the long run. Additionally, according to head coach Alain Vigneault, the team will practice Thursday, their first chance to do so in nine days.
Before Tuesday's bloodbath in Pittsburgh, the Rangers had not only survived their recent stretch of games, but had actually won six of seven over an 11-day span. So in the grand scheme of things, they have acquitted themselves quite well over the past couple of weeks, especially considering their injuries and a brief stint where Henrik Lundqvist's slight dip in play made it seem like the sky was falling in Rangerstown. Thankfully, Antti Raanta has been stellar (the seven goals allowed against Pittsburgh were not primarily his fault) and Lundqvist has returned to form over his past few contests.
Concerns vs. Perspective
Of course, the Rangers need to find the right balance between chalking up the Pittsburgh meltdown — their second of the season by the way, as they were also blasted by the Penguins at home back on Nov. 23 — to a tough schedule versus recognizing the key flaws in their play.
No matter how exhausted a team might be because of a tough schedule, getting outshot 47-28, as they did in the 'Burgh, is never acceptable. The worst aspects of the demolition were how badly the Rangers started and then finished after playing reasonably well in between.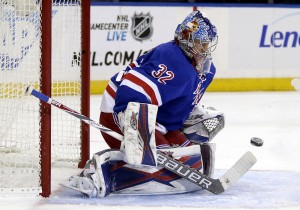 To come out in the first period against the defending champions, who had already embarrassed the Rangers at Madison Square Garden a month prior, and hemorrhage 22 shots on goal against, was very alarming. Raanta's final stat sheet on the night would not look pretty, but he was the only reason the game wasn't decided after the first 20 minutes. Then the Blueshirts got their legs going and generated some more chances, getting to within 3-2 early in the third period. From that point though, they folded, giving up another four goals and 17 shots in the third period while only generating four shots of their own.
What this performance again exposed, besides the detrimental effects of a difficult schedule, was a New York defense corps that has difficulty moving the puck out of its own end, allowing opponents to generate far too much pressure for long stretches. Vigneault, though, chose to put the spotlight squarely on the tough schedule:
More AV: …games would be very challenging. "I knew this one was going to be one of those. The schedule caught up to a couple guys."

— Steve Zipay (@stevezipay) December 21, 2016
Admitting that "a couple guys" were adversely affected makes Vigneault's complete unwillingness to insert Adam Clendening into the lineup on a more consistent basis all the more baffling. Will Clendening solve all of the Rangers' flaws on the backend? No. But his puck-moving skills and his ability to drive possession (his five-on-five Corsi-for percentage is a stellar 59.5%) would be a welcome addition to New York's blue line, especially if he is also giving a tired defender a rest every now and then.
With all of this being said, perspective is always important. The Rangers are 23-11-4 and have been able to win recently under less-than-ideal circumstances. They will now get a much-deserved reprieve, with only two games in seven days following the loss in Pittsburgh. That will serve as an opportunity not only for players to rest, but also for the coaching staff and management to think about ways to rectify some of the team's deficiencies.