In today's rumor rundown, the Ottawa Senators are letting teams chat with Erik Karlsson about a contract extension, the Leafs are looking to upgrade their defense and might have a target in mind and the Bruins might be shopping one of the more high-profile blueliners.
What's Happening With Erik Karlsson?
After failing to get Erik Karlsson to commit to an eight-year contract extension that was offered on July 1, the New York Post's Larry Brooks is citing sources claiming the Ottawa Senators have given permission to teams interested in acquiring Karlsson via trade to talk a contract extension with Karlsson first.
For teams interested in acquiring the defenseman, it will be imperative that they know they have the superstar locked up before giving up major assets in any trade.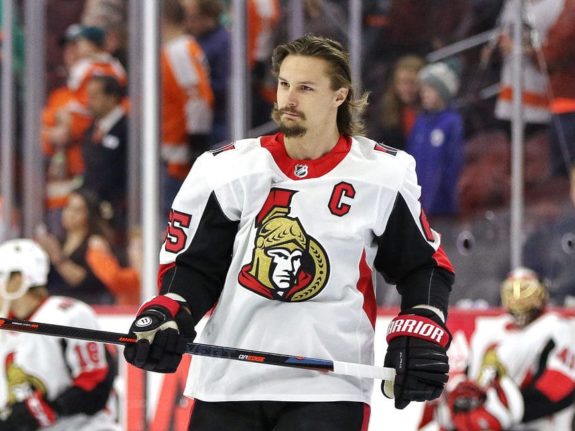 The Ottawa Sun's Bruce Garrioch suggests Karlsson is seeking an eight-year, $88-million contract just like the one Drew Doughty signed with the Los Angeles Kings and that the San Jose Sharks are interested after failing to land John Tavares in free agency.
Garrioch also listed the Vegas Golden Knights, Tampa Bay Lightning, Washington Capitals and New York Rangers as potential suitors. He speculates Vegas might be one of the few teams willing to take back Bobby Ryan's contract in the deal. Ryan is making $7.25-million per season over the next four years and some teams would remain out of the trade conversations is Ryan was a deal-breaker.
Related: NHL Rumors: Simmonds, Spooner, Thornton, More
Leafs Considering Calvin de Haan?
After landing the biggest free agent on the market, the Toronto Maple Leafs still don't have a defenseman that will significantly improve their blue line (considered a weakness on the team). As such, speculation is growing that the Leafs are looking at free agent Calvin de Haan.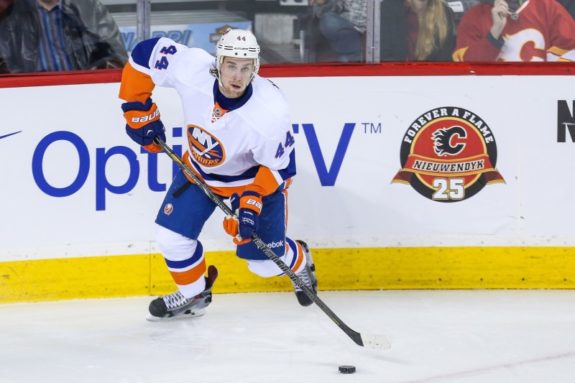 The Toronto Sun's Lance Hornby reports Maple Leafs GM Kyle Dubas understands he needs a defenseman and despite the large salary Tavares will command, the team still has quite a bit of room on this year's cap to make attractive one-year offers to free agents. For players interested in a good chance to win, Toronto might be appealing.
There are multiple reports coming now that Matt Martin has been traded to the New York Islanders which has cleared up $2.5 million in cap space for the Leafs.
Related: NHL Rumors: Rangers, Oilers, Tavares, More
Brooks Orpik Back to Washington
The Washington Capitals moved Brooks Orpik in attempt to clear the cap space needed to sign John Carlson. Now that Orpik has been bought out and the Caps can bring him back at a much less expensive rate, the team is looking at their options.
Boston to Move Torey Krug?
With a potential surplus of lefty defensemen, the Bruins might be looking at moving Torey Krug for help at forward, namely a second-line winger. Krug carries a $5 million cap hit and been saddled with injuries the last two years. Joe Haggerty of NBC Sports wrote a column suggesting the moves the Bruins have been making seem to foreshadow a Krug trade.  He writes:
Now the Bruins have a similar surplus of NHL-caliber defensemen with Zdeno Chara, Torey Krug, Matt Grzelcyk and now Moore on the left side, and Charlie McAvoy, Carlo, Adam McQuaid and Kevan Miller on the right side. Clearly something has to give for the B's, and all signs point toward Krug being the very valuable trade chip for Boston.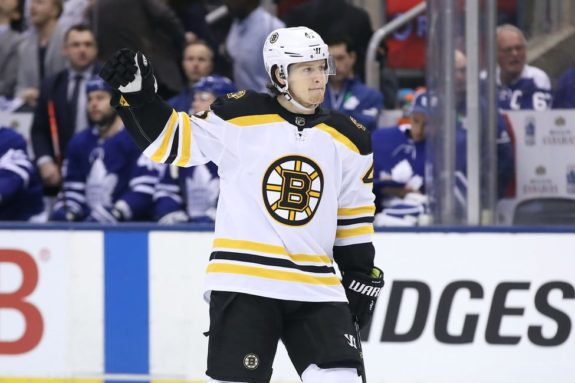 Haggerty suggests that Krug's combination of being the defenseman that could fetch the most in return, Krug's status as the highest profiled d-man on the club, and his 110 points over the past two seasons make him a prime trade asset.
If a trade does happen, he believes it will be well into training camp once Krug has proven that he's healthy and ready to go after the fractured ankle that put an end to his 2017-18 season. GM Don Sweeney wasn't shy about suggesting he'd be looking at the options either.