In today's NHL rumors rundown, NHL insider Pierre LeBrun talks about the big names that didn't move at this season's trade deadline and what happens next. What will the San Jose Sharks do with Erik Karlsson and will a team other than the Edmonton Oilers be interested? Meanwhile, the Washington Capitals are going to look for a top-six winger during the summer and the Vancouver Canucks are going to need to make a decision on defenseman Ethan Bear. Finally, what is the status of Kyle Dubas' contract in Toronto?
Karlsson Trade Talks Will Start All Over Again
The Edmonton Oilers were among a few teams that kicked tires on Erik Karlsson but the Sharks were unwilling to retain the amount of salary needed to get a deal done. LeBrun writes that the Sharks and the defenseman will start the process of him potentially being traded over again in the summer.
---
Latest News & Highlights
---
LeBrun writes:
The rebuilding/re-tooling Sharks will listen again on Karlsson this offseason, no question about it. Because he has a full no-move clause, a key figure in what transpires this summer will be his rep, Craig Oster of Newport Sports, one of the NHL's top powerbroker agents. Oster was central in getting his client Matthew Tkachuk signed and traded from Calgary to Florida last summer.

source – 'LeBrun: What's next for the big NHL names not traded at the deadline, from Karlsson to Miller to Gibson?' – Pierre LeBrun – The Athletic – 03/08/2023
The idea will be to make the market for Karlsson as big as possible and to more teams than just the Oilers.
Capitals Want to Add Top-Six Winger
Washington Hockey Now's Sammi Silber cited Capitals general manager Brian MacLellan who said he's looking to bring in a top-six winger this coming offseason. The Capitals didn't spend assets ahead of the deadline to get what they needed, but MacLellan intends to use some of the draft picks acquired at this year's deadline to make some moves in the summer.
---
---
There is also a chance he explores free agency. The club has just over $10.3 million in cap space to sign a couple of quality players. MacLellan noted, "We have some draft capital that we can use going forward. We've acquired some picks, and I think next year's first-round pick is going to be a good pick." He added, "We should get a good player there, and then moving forward into the offseason and into the draft, we have a lot more flexibility to trade for players."
Dubas Will Find Work Quickly if Fired
LeBrun had Maple Leafs' GM Kyle Dubas near the top of his list of GMs who might be on the hot seat if the team underperforms this season. LeBrun looked at all GMs who could be fired after changes were made by the Philadelphia Flyers this week. He writes that Dubas should have been extended or let go a while back so that the team wasn't hanging in the wind at a critical time. He writes, "Montreal and Toronto aren't markets where being in a lame-duck situation can easily be ignored."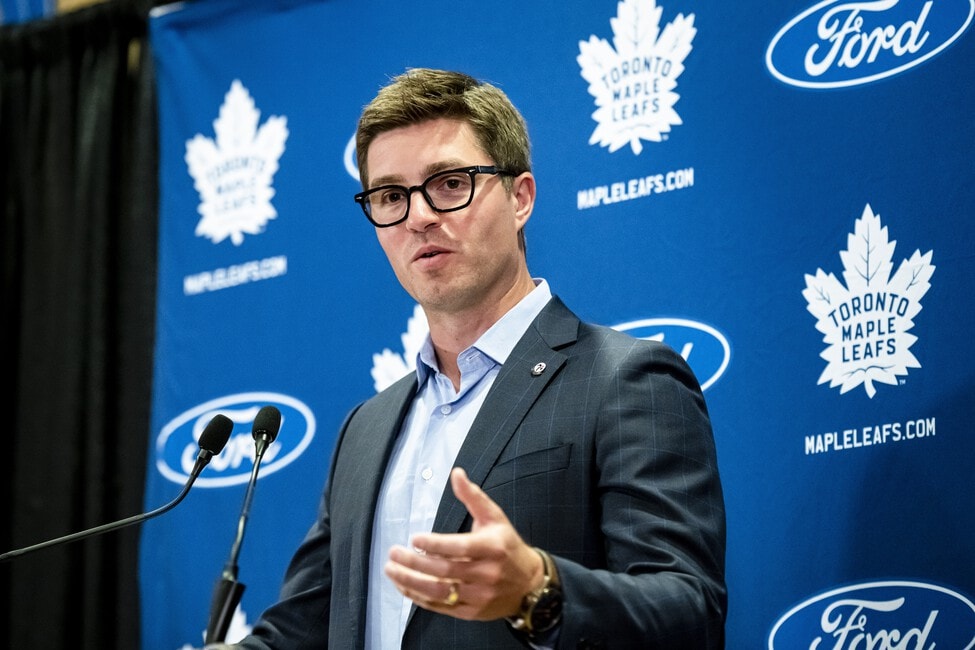 LeBrun adds that Dubas won't be out of work very long if he is let go. He notes:
The question is, what does the MLSE board view as extension-worthy now for Dubas? Win one playoff series? Two? Get to the Stanley Cup Final? I guess we'll find out this spring. But I can assure you, based on how other front offices view Dubas, he wouldn't be out of work very long.

source – 'LeBrun: Who's next on the NHL's GM hot seat after Flyers fire Chuck Fletcher?' – Pierre LeBrun – The Athletic – 03/10/2023
LeBrun also includes Brad Treliving of the Calgary Flames, Pierre Dorion of the Ottawa Senators, and Ron Hextall of the Pittsburgh Penguins on his list. Dorion is there, not because of the job he's done, but because a new ownership group might elect to bring in their own people to run the team.
Canucks Haven't Spoken With Ethan Bear Recently About New Deal
The Vancouver Canucks have had extension talks with defenseman Ethan Bear, but not recently, according to his agent Jason Davidson. Davidson appeared on CHEK's Donnie and Dhali podcast and said there haven't been discussions since the All-Star break.
Bear has really picked up his game since coming to the Canucks in a trade from the Carolina Hurricanes. He's got 14 points in 46 games and is averaging 18:16 per game. Davidson noted that if Bear re-signs, it will likely be a one-year or a three-year agreement to avoid walking him right into unrestricted free agency.