Not every great NHL player jumps straight into the league after being drafted. The draft is somewhat of a guessing game, as young players develop and refine their games at different ages and speeds. Some of the league's top scorers, such as Calder Trophy winner Artemi Panarin, burst onto the scene without much fanfare. With the 2016 NHL Draft officially in the books and free agency underway, NHL clubs have had a chance to restock their prospect pools and make deals for established NHL talent.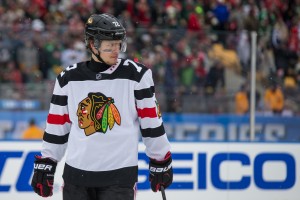 The 2015 NHL Draft brought two future superstars in Connor McDavid and Jack Eichel, but the rest of the draft was stacked with young players who have the potential to develop into great players in the professional ranks. While the top two picks were blowing by NHL defenders in their respective rookie seasons, many others were honing their craft in junior leagues, European professional leagues, and college hockey.
The 2016 Draft, while not quite as highly-regarded as the previous year, still boasted some fantastic young players going high in the draft. This list attempts to rank some of the NHL's top young players, beginning with the top 20. While some players on this list are all but certain to crack an NHL lineup this fall, the prospects on this list all currently possess NHL rookie eligibility.
20. Timo Meier, San Jose Sharks
At this time last offseason, the San Jose Sharks were coming off their first non-playoff season since 2003. Armed with the ninth overall selection, GM Doug Wilson opted for hulking Swiss winger Timo Meier. And while the Sharks turned it around this year with an unbelievable run to the Stanley Cup Final, Meier was tearing up the QMJHL as a member of the Memorial Cup runner-up Rouyn-Noranda Huskies.
#MCMemorialCup All-Star Team:
G – @Tylerparsons22
D – @OlliJuolevi & @fleury96
F – @Marner93, @10_CD, @MeierTimopic.twitter.com/ESjH0g0oEv

— CanadianHockeyLeague (@CHLHockey) May 30, 2016
While veteran stars Joe Thornton, Joe Pavelski, and Patrick Marleau steal the show for the Sharks, San Jose has a nice collection of young talent to take the torch once their older players move on. In addition to 2012 pick Tomas Hertl, the Sharks boast the Kevin Labanc, who won the OHL's scoring title, and steady Swiss rearguard Mirco Mueller as well. Meier, a big, physical, and speedy winger with a nose for the net, has the tools to be the best of the bunch. The pro-ready forward is a front-runner to crack the NHL lineup next season, and this two-way dynamo has the potential to become a 30-goal scorer for the Sharks.
19. Mikhail Sergachev, Montreal Canadiens
The first 2016 draftee to crack the list, Sergachev was in consideration for the top blueliner available this year. And while Vancouver opted for Finnish defender Olli Juolevi instead, Sergachev's meteoric rise since the beginning of the season is a promising development for Canadiens management and fans alike.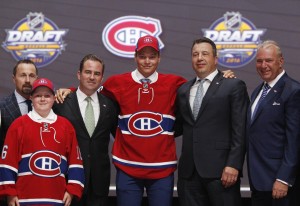 Initially selected in the 2015 CHL Import Draft, Sergachev was a major contributor to the Windsor Spitfires far sooner than expected. After finishing in last place in their division in 2014-15, the Spitfires improved by 35 points and captured fifth place in their conference this season, thanks in large part to Sergachev's 17 goals and 57 total points. For his efforts, the swift-skating two-way blueliner was awarded the OHL's Most Outstanding Defenseman Trophy.
At 6'2″ and well over 200 pounds, Sergachev's combination of elite skating ability and outstanding puck skills is a rare package in a young defenseman. With his impressive play at Montreal development camp, Sergachev is already knocking on the door to the NHL. While he is more than likely to return to Windsor in 2016-17, expect Sergachev to become a stud NHL defender sooner rather than later.
18. Ilya Samsonov, Washington Capitals
Even with the declining number of goalies drafted with first round picks in recent years, the NHL is flush with young goaltending talent. Netminding prospects who have already made a name for themselves include late rounders such as Juuse Saros, Connor Hellebuyck, and recent Stanley Cup winner Matt Murray. However, the best of the bunch may actually be the latest goalie to be drafted in the first round.
26 save shutout for Ilya Samsonov-WSH today. Has only had about 6-7 starts but one of the best 18 YO season by a KHL goalie in a long time.

— Corey Pronman (@coreypronman) November 30, 2015
Samsonov, the 22nd overall pick of the Washington Capitals in 2015, has been plying his trade against professionals in the KHL. Despite being one of the youngest goaltenders in the entire league, Samsonov posted an impressive .925 save percentage and even got into six postseason games. One of the top goaltending prospects from Russia in the last few seasons, Samsonov was also a part of the Russian World Junior Team that captured a silver medal after an overtime loss to Finland.
With Braden Holtby locked up for the foreseeable future, Samsonov has the freedom to develop at his own pace. However, with him already looking fantastic against grown men in the professional ranks, it could be only a matter of time before Samsonov is pushing for a role with the Capitals.
17. Clayton Keller, Arizona Coyotes
For all the fanfare Auston Matthews received for his tremendous record-breaking season with the Under-18 US Development Program last season, Keller's impressive point totals went relatively unnoticed until late in the season this year. And while Keller fell short of matching Matthews' insane 116-point season, his 107 total points ranks ahead of former USNTDP superstars such as Patrick Kane and Phil Kessel.
Clayton Keller's diminutive size has caused some uncertainty as to his versatility at the NHL level, but his high hockey IQ and excellent skating ability have quieted all his critics to this point in his career. Many were expecting the defense-needy Coyotes to select a young blueliner with their 7th overall pick, but new General Manager John Chayka opted for the highly skilled forward instead. For the analytics-focused Chayka, Keller's puck possession and high skill levels make him a perfect fit with Arizona's highly skilled group of young forwards.
16. Mathew Barzal, New York Islanders
Originally projected to be selected with a top ten pick in the 2015 NHL Draft, Barzal inexplicably tumbled out of the lottery. The Islanders thought highly enough of Barzal to deal former fourth overall pick Griffin Reinhart to the Edmonton Oilers in exchange for first and second round picks, which Islanders GM then used to snap up Barzal. The dynamic and speedy centre immediately became the Islanders' top prospect, which he only solidified with an outstanding season in 2015-16.
Barzal's top-flight playmaking abilities were on full display throughout the year, as he finished third in the WHL in assists despite missing 14 games due to participation with Canada's World Junior Championship team. A strong-skating centre with silky hands, Barzal dominated his WHL compatriots at times and is likely ticketed for an NHL gig this fall if he can show he's physically ready for professional hockey.
15. Pavel Zacha, New Jersey Devils
Ever since the Devils lost offensive stars Zach Parise and Ilya Kovalchuk in consecutive offseasons, New Jersey has been trapped in a seemingly never-ending search for high-end scoring. While they have begun to address that concern in a big way with the acquisitions of Kyle Palmieri and Taylor Hall, more help is on the way. Pavel Zacha, a big Czech forward, was the Devils' sixth overall pick in the 2015 NHL Draft, despite underwhelming numbers with the OHL's Sarnia Sting. He rewarded New Jersey's faith in a big way this year, as he posted 77 total points across 58 regular- and post-season games.
A hulking power forward with great skating abilities, Zacha is more of a north-south forward and there's a good chance he is forced to transition to a wing position in the NHL with his defensive abilities still a work in progress. Still, his hands, pro-ready shot, and strong skating ability are all in favour of him making the leap to the professional ranks sooner rather than later. Possessing the rare combination of a strong frame and a dangerous offensive toolset, Zacha certainly has the potential to become a perennial 30 goal threat with the Devils.
One of the most promising Czech players to come through the draft in a long time, Zacha will likely need some time to acclimate himself as a professional before he hits his stride and shows his full potential. His vision, defensive game, and passing abilities could all use some work before he truly becomes a well-rounded two-way threat. The Devils made great strides under first-year coach John Hynes, and their suffocating defensive system will allow Zacha's high-octane game plenty of room to develop.
14. Christian Dvorak, Arizona Coyotes
One-third of the CHL's most dominant line this year with the London Knights, Christian Dvorak led all OHL players in goals with 52. In addition to capturing the OHL Championship, Dvorak's year to remember also included a World Junior Championship bronze medal with Team USA and a Memorial Cup title, with the American centre posting an astounding 76 goals and 176 points across 88 games.
While Dvorak's isn't as flashy as linemate Mitchell Marner, his innate hockey sense has allowed him to be one of the most productive players in the OHL the past two seasons. While most agree Marner was the straw that stirred the drink in London, especially in the playoffs, Dvorak's ability to play with the most talented players in his age group has been readily apparent during his OHL career. Not the biggest player on the ice, Dvorak's skating ability and great vision allow him to be a force on both ends of the ice. His shot is quite the weapon for him as well, as evidenced by his 99 career OHL regular-season goals.
Mitch Marner was named CHL Player of the Year. His nomination was determined by a coin flip vs Christian Dvorak…

— Kathryn Jean (@msconduct) May 28, 2016
Dvorak was one of the most dominant players in the entire CHL in his final year of junior eligibility. After a promising season by the Coyotes was spearheaded by young forwards such as Max Domi and Anthony Duclair, the Coyotes are moving in the direction of speed and skill over the tight defensive system that made them successful from 2010-2012. Dvorak could be just the latest in a deep group of skilled forwards to make a loud impact in the desert.
13. Matthew Tkachuk, Calgary Flames
The son of former NHL All-Star Keith Tkachuk, Matthew Tkachuk was another part of the London Knights' three-headed monster this season. Despite not winning the OHL Rookie of the Year award due to his late 1997 birthday, Tkachuk annihilated his first-year competitors, finishing 32 points ahead of second place Alex Nylander. Tkachuk's regular season was impressive, but he stepped it up big time in the postseason, where he notched 20 goals in 18 playoff games and five goals in the Memorial Cup to help win both major titles in (likely) his first and only CHL season.
A jack-of-all-trades winger, Tkachuk was originally thought to be a lock for a top five selection with the Oilers and Canucks both looking for offensive help. However, the Canucks surprised many by selecting Tkachuk's London teammate Olli Juolevi, and Tkachuk instead was selected by the Calgary Flames. Tkachuk's grinding style of play is a perfect fit for the offensive pieces already in place with the Flames, and his shot and high hockey IQ makes him a good bet to crack the NHL lineup this fall.
Despite his prodigious production at every level he's played, his mediocre skating speed has been a point of concern as to whether he can translate his high scoring numbers to the professional level. He has worked tirelessly to improve his biggest weakness, and his strong work ethic and tenacity will most likely allow him to overcome a lack of elite speed. His strength and shot are already NHL-calibre, so Flames fans can just sit back and enjoy the fireworks he'll create with Johnny Gaudreau and Sean Monahan.
12. Pierre-Luc Dubois, Columbus Blue Jackets
Not originally touted as a potential top-five draft selection heading into 2015-16, Pierre-Luc Dubois' outstanding all-around season put him on the radar for the Columbus Blue Jackets to ultimately select him with the third overall pick. After an unassuming rookie season in the QMJHL, Dubois' fantastic season saw him tally 42 goals, 99 points, and over 100 penalty minutes as well. In addition, he captured an Ivan Hlinka Tournament gold medal, the CHL's Top Draft Prospect Award, the QMJHL's Mike Bossy and Paul Dumont Trophies, and a nomination to the QMJHL's Second All-Star Team.
Dubois is a hulking forward with good speed and few to no weaknesses offensively. Dubois wasn't just one of the most prolific scorers in the league, however, as he showed a mean streak with the most penalty minutes of any first round draft pick. Columbus' trade of Ryan Johansen in January left the franchise without a potential future top-line pivot, despite a wealth of talented young wing prospects. While Dubois didn't start the season as a centre, his transition to the position mid-season sparked the Screaming Eagles to third place finish and a run to the second round of the playoffs.
Dubois may have been somewhat of a surprise selection over high-profile Finn Jesse Puljujarvi, but his potential to develop into a top-line centre was too much to pass up for a Blue Jackets franchise desperately lacking down the middle. It's unclear if Dubois will be stepping right into Columbus' lineup next season, his physical maturity and offensive abilities will make him a dangerous power forward with the Blue Jackets sooner rather than later.
11. Mikko Rantanen, Colorado Avalanche
Rantanen was one of the most highly-touted junior Finnish players in history, as he cracked the Finnish Elite League at the tender age of 16 and was a star for Finland on the international stage. Amongst a stacked 2015 draft class, Rantanen slipped to 10th overall, where he was quickly scooped up by Joe Sakic and the Colorado Avalanche. With nearly three full years in a men's league under his belt, Rantanen immediately moved to North America to join the Avs.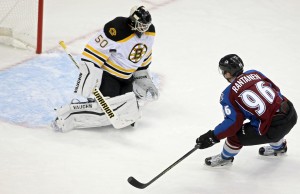 Rantanen's impressive training camp and physical maturity ultimately led to him cracking the Colorado opening night roster. However, he started sluggishly and was subsequently sent to San Antonio, Colorado's AHL affiliate. He re-established his high prospect stock in a big way, as he torched his AHL competition to the tune of eight goals and 21 points in his first month of competition before being loaned to the World Junior Championships. Finland, captained by Rantanen, captured gold for the second time in three years.
Rantanen finished the season with 60 points in just 52 games, good enough for 9th place in league scoring and earning him a nine-game cameo with the parent Avalanche.
Related: Mikko Rantanen, Frank Vatrano Share AHL Rookie of the Year
Rantanen alleviated all concerns about his game translating to the smaller North American ice with a monster first season in the AHL. At a statuesque 6'4″ and over 200 pounds, Rantanen could find himself putting up big numbers in the NHL as soon as next year surrounded by the high-end offensive talent in Colorado. While much of the Calder Trophy race will be focused on Auston Matthews and Patrik Laine, Rantanen could be a dark horse for the league's top rookie award.