Tuesday's news that the Arizona Coyotes re-signed Captain Shane Doan to a one-year deal likely didn't get much attention from hockey fans throughout the world. However, in Arizona, Coyotes fans rejoiced after news broke that Captain Coyote, the heart and soul of the franchise, would be returning for his 21st season with the team that drafted him.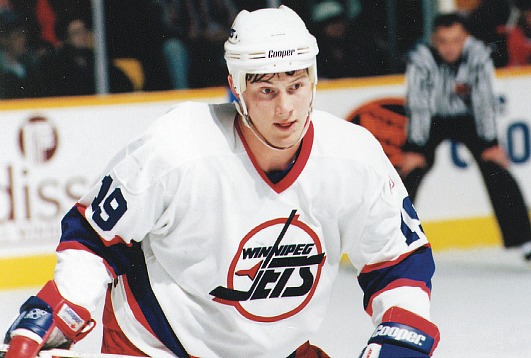 Doan is a larger-than-life figure in Arizona, and it's not just because he's been the best player in franchise history; he's beloved for the way he carries himself when he's away from the rink. "The Captain" has always been gracious with the media and the fans; he's always ready and willing to answer questions following games no matter if the Coyotes won a squeaker in overtime or were blown out 6-0, and the same can be said for his availability to the fans.
Following every home game, a small contingent of Coyotes die-hards will wait near the exit of the players' parking lot hoping for the chance to meet their favorite players. Some players stop once every few games before heading home, while others stop only occasionally. Doan, on the other hand, stops after every game, win or lose, and chats with each and every fan as if he's known them his entire life. He's one of the most genuine and caring people in all of sports, and has become a pillar of the community in the Phoenix area because he's so willing to go far above and beyond what's reasonably expected of him to make sure that every person he comes across leaves feeling respected and valued.
It's not just the fans that were excited; many of Doan's teammates took to social media to express their excitement as well:
Can't tell you happy I am that our captain is coming back for another year! Learn something new from him every day. Congrats Doaner! #19

— Max Domi (@max_domi) July 13, 2016
Beyond excited to see Doaner back for another year. He makes everyday so much fun. Best captain in the league #19sback

— jordan martinook (@Martyman17) July 13, 2016
Doan's immaculate and unquestioned loyalty to the Coyotes is also a contributing factor to why he's such a legendary figure in Arizona. In this era of the salary cap and free agency, it's become almost unheard of for a player to spend his entire career with one franchise. In fact, Doan's loyalty to the Coyotes has put him in rare company; among the players who spent their entire career with one franchise, Captain Coyote trails only Hall of Famers Nicklas Lidstrom, Alex Delvecchio, and Steve Yzerman in games played.
Despite having a multitude of opportunities to do so, Doan has refused to chase a Stanley Cup elsewhere; he had a chance to leave as a free agent following the 2011-12 season, but instead signed a four-year contract to stay in Arizona despite the uncertainty surrounding the franchise at the time. This offseason, Doan again reiterated his intentions to stay in Arizona despite offers from numerous teams. Regarding the possibility of leaving for another team, Doan said "if that were going to happen, it would have already happened."
After a very special 2015-16 campaign, which saw Doan light the lamp 28 times and break Dale Hawerchuk's franchise records for goals, points, and power play goals, his 2016-17 season has the potential to be even better; he's four tallies away from reaching the 400 goal mark, 34 games away from becoming the 17th player to participate in 1,500 career NHL games, and 55 points away from joining the 1,000 point club. In addition, the Coyotes boast one of the NHL's top prospect pools, and a return to the playoffs isn't out of the question for the team this season.
It's no secret that Shane Doan is in the twilight of his legendary career. One last playoff run would be a fitting way for The Captain to go out.
A lifelong Phoenix resident, Louis has been following hockey since 2010, has covered the Arizona Coyotes since 2015, and has been playing hockey since 2020. So far, Louis has visited eight NHL cities, and one of his personal goals is to eventually make it to all 31 NHL arenas. For any questions or concerns, contact the writer via Twitter @LouisPannone.