Nikolai Zherdev's popularity in the NHL was a bit on the downside. General managers, coaches, players, fans and fantasy hockey enthusiasts fought through God knows how many migraines in watching him out on the ice.
Summing up the Ukrainian's five-year spell is this rollercoaster: a 54-point season in 2006 as a sophomore, accompanied by an awful 32-point campaign and emerging back with a 61-point career high. Zherdev had more than what is mandatory to be an NHL performer but didn't have a tool box to store the tools into.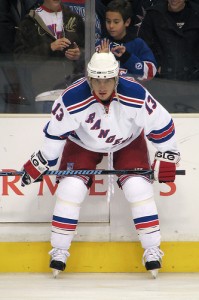 The 25-year-old can do whatever he wants with the puck and I do mean anything. How many others bear that kind of power with the ability to prove it? A high-flying skater, Zherdev could stick-handle through people nonchalantly making it look all too easy.
While his potential got him selected fourth overall in the 2003 Entry Draft, attitude is what flushed it all down the toilet. In majority, his personality was like the skill: he could do everything he desired in a game but also did whatever he preferred.
That's where the lacklustre shifts and lazy efforts became what he represented. Instead of putting the team's plans before his, he treated the situation as if it were a regular job any Average Joe could have and wasn't focused. Outside distractions are always out there but Zherdev should've realized the privilege and responsibility.
On a scale of one to ten, the potentiality was a ten but the state of mind was a one. In a season with the New York Rangers, he led the team in points (58) tied with Scott Gomez. The calendar year flew by for Zherdev in this trend: October (12 points), November (11 points), December (11 points), January (seven points), February (six points), March (ten points), April (one point in the last five games). And the big finale that we call the postseason saw him produce nothing in seven matches.
Washington escaped the first round by one game and one goal. If Zherdev had contributed even one point, it could have been New York advancing. Offered $3.25 million afterwards to remain in the city, arbitration rewarded him $3.9 million and the Rangers threw in the towel creating a move to Atlant Moscow Oblast.
What if things were different and he was a hard-worker? Then, he would be a top 20 scorer in the league year in, year out. Zherdev has 'it' to hang with the Pavel Datsyuks, Ilya Kovalchuks and Alexander Ovechkins but must learn about dedication. Oh, what could have been.
Highlighting Zherdev's draft year, Marc-Andre Fleury, Eric Staal and Nathan Horton were chosen before the Blue Jackets laid claim to Nikolai. Columbus passed over elite stars such as Thomas Vanek, Dion Phaneuf, Jeff Carter, Zach Parise, Ryan Getzlaf, Mike Richards, Corey Perry and Shea Weber. It wasn't the worst decision a General Manager has pursued but what a list of possibilities.
His one-year contract in the KHL still leaves the door slightly open for a return to North America. And the decision will reflect exactly how he conducts himself in live action: uncertainty. Nikolai Zherdev is a world-class athlete and because of that, someone, somewhere is going to take a stab at bringing consistency from him.
What happens next is anyone's guess.