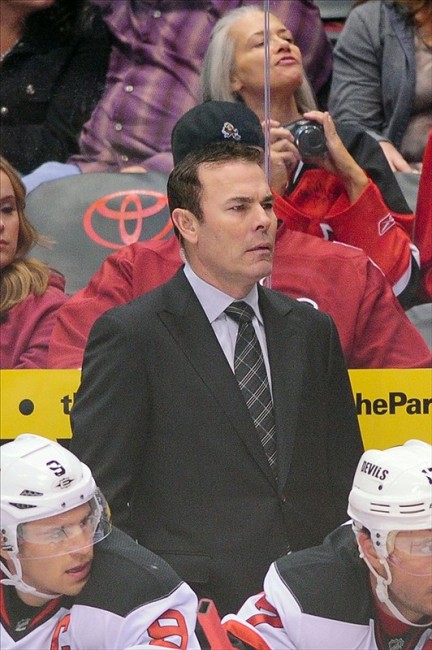 At Hershey Bears training camp this year, a surprising move was made to allow new Washington Capitals' head coach, Adam Oates to co-coach the Hershey Bears with Mark French. There was no specific time frame set for his stay, but Wednesday night marked Oates last night helping the Hershey Bears coaching staff on the bench. Troy Mann will join French back on the bench like in past years. You view the announcement on the Capitals website, here.
The Washington Capitals announced that Oates along with assistant coaches Calle Johansson, Tim Hunter and video coach, Brett Leonhardt returned to the nation's capital following Hershey's 4-0 loss to the Wilkes-Barre Scranton Penguins Wednesday night. Many hope that Oates and company will be taking over Washington's bench as soon as possible, with the lockout over two months in. You can view my article on Hershey's 4-0 loss to the Penguins, here.
"I got to meet some of the young guys in the organization, and I got to get some head coaching experience," said Oates on WashingtonCapitals.com. "That was the goal, and I think we achieved the goal. Calle and I got to work together on the bench and we got to work together as a group. Those were our goals going down there, and I think we accomplished it."
"I knew probably a few days ago," said Bears coach, Mark French of the change. "I was aware of it; it was shared with me of what the plan would be. It came to fruition tonight."
Not only did coaches get to implement Oates's systems for the Washington Capitals, but players got to see the personality of Oates along with his eye for the game.
"I think everybody learned a lot in the time that we were together," said French. "I thought all four individuals made it work as best it possible could."
French noted that all the same systems would stay in place in Hershey, preparing players for a future in Washington. Although the Bears have struggled in the early part of the season, the players' adaptability to the systems will play a crucial rule in the future of the Washington Capitals both in the short term and long term.
"The systems that Adam [Oates] put in place are the identity of the organization," said French of any possible change to team philosophy in Hershey. "Adjustments are always made. We make adjustments from game to game. So if there's adjustments that need warranted, we'll make those adjustments, but certainly not an overhaul."
"The time is right for Adam and his coaching staff to return to Washington," said Caps general manager George McPhee on the Capitals website. "We feel like the coaching staff has developed some good chemistry. The goal all along was for our coaching staff to go to Hershey work closely with our prospects and implement our system. They spent ample time doing just that and we feel both organizations will benefit in the long run because of it."
Since Oates has gotten to know some of the Capitals young and upcoming prospects, Washington should have a better idea of who to call up in the event of injury when the NHL returns to action. The players will know his system and team philosophy and how he wants his players to compete.
"I think if anything what it does for a couple of the young guys," says Oates of his presence in Hershey, "If they get called up they are familiar with the system and hopefully they can step right in. It certainly can't hurt that you take one of the stresses out of their life. The guy is worried about performing, he's nervous and he wants to do well. If you can take one element [of worry] away from him in that he gets to play the same system, I think that's a positive, I really do."
Mark French has enjoyed the opportunity to build a relationship with the future Capitals head coach and hopes it will continue.
"That was one nice thing is that you get to develop relationships with him [Oates] and Calle [Johansson]," said French. "They're both very good coaches and very professional. Personally I hope those relationships continue, as well as professionally."
"With Frenchy and Troy," relates Oates, "we all got to work together and talk hockey every day. We would see the same stuff and interpret it differently, and then come to a conclusion as to what it is. I think that was healthy for all of us, I really do. It's healthy to talk hockey every day. They were gracious in the sense that it is their team and they allowed us to come down due to a unique situation and work together."
Oates added his great playing instincts from his hall of fame career along with a strong attention to detail.
"His attention to detail, especially in teaching the individual position," said French of Oates's greatest assets. "Whether it's on the power play or penalty kill he has great attention to detail. He's got a very good eye for those things. Almost every day there was something that he would pick out. He certainly thinks outside the box."
Hershey takes to the road for a game against the Adirondack Phantoms on Saturday night, followed by a return to Giant Center on Sunday as they square off against the Toronto Marlies, AHL affiliate of the Toronto Maple Leafs.
You can follow Matthew on twitter @m_speck and email him at mspeck21@yahoo.com with any questions or comments.