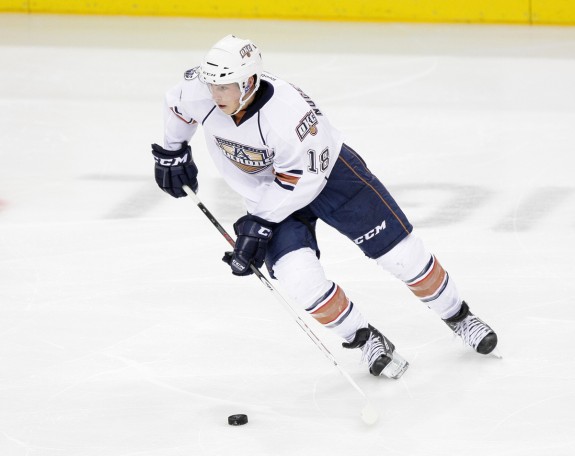 There are certainly not a lot of positives when talking about the NHL lockout.  It is usually talked about with frustration and negativity, and in some cases apathy. However one positive that could be found is that added talent that it could give Canada for this year's World Junior Championships.
One can't help but specifically notice the incredible depth that Canada could potential have at the centre position. That would start with the Edmonton Oilers Ryan Nugent-Hopkins, who is currently playing for the AHL Oklahoma City Barons.  If the lockout isn't settled and the Oilers agree to let RNH participate, he would anchor their top line and powerplay.
In addition to Nugent-Hopkins, names that also play centre that have a shot at the team would include Mark Scheifele, Jonathan Huberdeau, Ryan Strome, Boone Jenner, Phillip Danault, Sean Monahan, Mark McNeill, Nathan MacKinnon and Scott Laughton to name a few. Locks to make the team on top of Nugent-Hopkins would be returnees Scheifele, Huberdeau, Strome and Jenner, with Danault having a leg up on the rest.
Now with that many talented centres in the mix, it's obvious that not all will make the team.  However, there is also quite a bit of versatility within that group as well.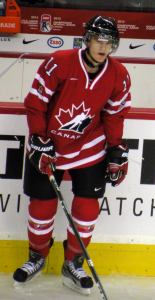 For instance both Huberdeau and Jenner played the wing in last year's tournament and will likely do the same in this year's edition.
If Nugent-Hopkins is on the roster, there is also the possibility of either Strome or Scheifele, last year's top two pivots, moving to the wing as the team would like to have both in their top six.  Jenner played more of an energy role last year, and could play on any of the top three lines.
Danault, McNeill and Laughton can play a two way game and will battle for the third and fourth line spots and the bottom six in general.
Nathan MacKinnon might be the most polarizing of the whole group and the potential #1 overall pick will be one of the both watched names in camp. Both he and Monahan are both draft eligible centres would would like to make a name for themselves as 17 year olds.
MacKinnon has the best shot of the two and has played the wing some, although has looked much better in the middle.  If he were to make the team it's hard to envision what his role would be, but based on his impressive talent and the fact he's lighting up the QMJHL, he has as much of a shot as any other bubble player.
Other forwards that will be vying for positions are wingers such as Ty Rattie, Tom Wilson, Matt Puempel, Hunter Shinkaruk, Phillip Di Giuseppe, Lukas Sutter, Brett Ritchie, Jonathan Drouin, Daniel Catenacci and Charles Hudon to name a few.
If anyone on that list is a lock for the team it would have to be Portland's Ty Rattie.  One of the WHL's top snipers, Rattie is a pure goal scorer and has looked good in both the Canada-Russia Summer Challenge as well as the recent Subway Super Series.
With returning forwards and if you add Nugent-Hopkins and Rattie as locks, that shore up the top six pretty well.  Which means there are 7 remaining forward roster spots to be had with no less than 15-20 players having a legitimate chance of making it, or at the very least, have their name in the conversation.
Hockey Canada is one group that is hoping the NHL lockout lasts a little longer, as it is a safe bet that some of this talent will not be available if the NHL resumes prior to the tournament.
Nugent-Hopkins is guaranteed to be unavailable with the Oilers, Scheifele and Huberdeau will very likely be playing in Winnipeg and Florida, and Jenner and Strome have shots at playing in the NHL with their respective clubs as well.
Just for fun, here's a look at what the forward group could potentially look like if everyone were available.
Huberdeau – Nugent-Hopkins – Rattie
Strome – Scheifele – MacKinnon
Jenner – Danault – Hudon
Ritchie – McNeill – Wilson
Shinkaruk
That would give an extremely potent and dynamic top six, plenty of energy, grit, skill and two way play on the third line, and still a lot of talent as well as versatility with the bottom four forwards.
That also puts two draft eligible players in the forward group, something that you don't always see with Hockey Canada.  Both, however, have the talent, maturity and versatility to warrant their selections.  If Canada is uncomfortable with multiple underagers on the roster, look for players like Matt Puempel, Phil Di Giuseppe or Daniel Catenacci to make a case for themselves.
This of course is open to much interpretation and a lot can happen before then.  However, with the NHL locked out at least for the immediate future, it's an interesting debate to have.
What would your forward group look like?