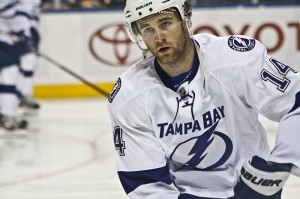 A year after winning the Calder Cup as the Norfolk Admirals, Tampa Bay Lightning prospects are now suiting up for the Syracuse Crunch, picking up right where they left off a season ago. The Crunch have a six point cushion atop the East Division, with a 10-2-1-1 record through 14 games, which is good for 22 points.
Cory Conacher and Tyler Johnson, two undrafted players, were two key forwards in Norfolk's Calder Cup run last season and have led the way offensively for the Crunch so far this season. Conacher currently ranks fourth in the entire AHL in points with 17, while Johnson ranks tenth in the league with 15 and is tied for first in the league with 10 goals.
Tampa Bay's first round pick in 2010, Brett Connolly, is looking good through the first fourteen games of the season, getting his first taste of AHL action. Connolly spent the 2011-12 season with the Lightning in the NHL, dressing in 68 games, compiling 15 points and a minus-9 rating in his rookie campaign. The lockout may benefit a player like Connolly, who will get additional time to adjust to the professional game. It's looking like it's paying dividends so far, with Connolly compiling six goals and six assists for 12 points in 14 games.
A player who can't be forgotten is goaltender Dustin Tokarski. Tokarski, who was a fifth round pick of the Lightning in the 2008 NHL Draft, was possibly the most pivotal piece to Norfolk's success last season. He posted a phenomenal 32-11-0-0 record last season, with a 2.23 goals against average and a .913 save percentage. It was more of the same in the Calder Cup playoffs for Tokarski, posting a 12-2-0-0 record, and adding three shutouts. He's picked up right where he left off last year, getting off to another great start this season. Tokarski has a 7-1-1-0 record already this season, which has been a big part of his team's early success.
We'll have to sit tight to see if these kids have what it takes to make another Calder Cup run. I wouldn't put it past them, as they certainly have the pieces to do it.
Follow me on Twitter: @Matt_Metcalf