Old rivals will open their second-round series against each other later this week and it promises to be a strong battle from both sides. After all, it's not the first time the London Knights and Kitchener Rangers have met in the OHL playoffs and it certainly won't be the last.
The Knights will host the first game at Budweiser Gardens after finishing off the Owen Sound Attack in their first-round series. The Attack surprised London a bit taking them to six games before bowing out.
The London Knights will now face the Kitchener Rangers in the second round of the #OHLPlayoffs

— Manny Paiva (@paivatheway) April 6, 2016
On the other side of the puck, the fourth seeded Rangers knocked off the Windsor Spitfires in just five games to jump into the second round with the Knights. While London faced a tougher test than expected in the first round, here's how the two teams stack up heading into their series on the way to the OHL Final.
In The Knights' Kitchen: A Head-to-Head Look
Divisional rivals, London and Kitchener finished second and third respectively in the OHL's Midwest Division and third and fourth in the league's Western Conference. London finished 10 points higher than the Rangers and outscoring Kitchener by 63 goals during the regular season.
During the 68-game season, the Knights and Rangers met six times. The Knights took four of those meetings while outscoring the Rangers 25-17 over their six games. While the Rangers outshot the Knights 175-167 over their season series, it was London who basically dominated in most of the other team categories.
The Knights dominated in the face-off circle winning 177 of the 330 draws. They went 8-for-27 on the powerplay for a success rate of just under 30 per cent while killing off 88 per cent (22/25) of the Rangers powerplay opportunities. While the Knights did take longer to close out their first-round matchup, the numbers point towards another series win for London in the second round.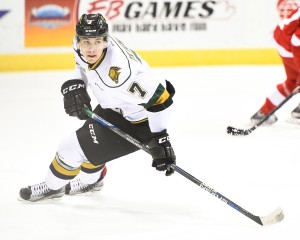 The Light Within the Knights
Possibly one of the most significant stats from their regular season series is the fact that eight Knights finished the season average a point or more per game against Kitchener. That list includes Matthew Tkachuk, Christian Dvorak, Max Jones, Aaron Berisha, Mitch Marner, Nicolas Mattinen, Owen MacDonald and J.J. Piccinich.
Berisha finished 23rd in OHL scoring in 2015-16 with 72 points (45g-27a) in 66 games. In just six games against Kitchener, he was able to notch 11 points (8g-3a). Tkachuk finished with six points (1g-5a) in just four games, while Jones and MacDonald each finished with two goals and four assists in six games versus the Rangers.
In net, Tyler Parsons started four games for the Knights against Kitchener this season. He gave up 11 goals and finished the season set with a 2.80 goals against average and a .906 save percentage.
While the Knights have had success against Kitchener this season, they will have to compete in this playoff series without Jones who was suspended 12 games for his hit on Owen Sound's Justin Brack. Jones has served just two games so far and likely won't be back unless the Knights make it to the OHL Final.
Rangers' Success
Unlike Owen Sound, Kitchener's had significant success against the third seed Knights. While they only won two of the six meetings with London this season, seven players averaged a point a game or more. Led by Gustaf Franzen's seven points (3g-4a) in six games and Jeremy Bracco's seven assists in just four games against the Knights, the Rangers are an interesting matchup for London.
Add to that, Ryan MacInnis scored three goals and five points in just two games on his way to finishing 16th in the OHL's scoring race with 81 points (38g-43a) in 59 games.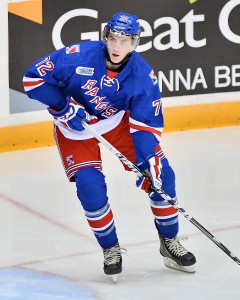 In net is where the Rangers might have some questions. Luke Opilka played parts of four games against the Knights sporting a questionable 4.34 goals against average to go along with a sub par .855 save percentage. Backing him up, however, is Dawson Carty. In parts of two games against London he racked up a 3.80 goals against and a slightly better .857 save percentage. Either way you look at it, Kitchener's goaltending will have to be better if the Rangers hope to get out of the second round.
Maple Leafs' Storyline
A side note to this series is the Maple Leafs aspect. Toronto has three prospects playing in this series. Marner, Piccinich and Bracco will all have the eyes of Leafs Nation looking down on them as this series takes off.
Marner was the Leafs' first round pick in the 2015 NHL Entry Draft when he went fourth overall. Bracco was a second round pick in that same draft going 61st overall to the Leafs. Piccinich was a fourth round pick in 2014 and finished his first year with the Knights with 66 points (30g-36a) in 66 games.
The Leafs front office will certainly be watching this series closely with these three geared up to play and so many top end draft-eligible players set to make their mark.
---
Playoff Leaders (Prior to Round 2)
Goals: LDN – M. Tkachuk (8) / KIT – B. Robinson (6)
Assists: LDN – C. Dvorak (7) / KIT – J. Bracco (8)
Points: LDN – M. Tkachuk and M. Marner (12) / KIT – J. Bracco (10)
Wins: LDN – T. Parsons (4) / KIT – D. Carty (4)
GAA: LDN – T. Parsons (2.34) / KIT – D. Carty (2.77)
S%: LDN – T. Parsons (.930) / KIT – D. Carty (.911)
---
Series Schedule
London Knights (3) vs. Kitchener Rangers (4)
Game #1: Kitchener Rangers (3) at London Knights (6) – Knights lead series 1-0
Game #2: Kitchener Rangers (3) at London Knights (5) – Knights lead series 2-0
Game #3: London Knights (2) at Kitchener Rangers (1) OT – Knights lead series 3-0
Game #4: London Knights (6) at Kitchener Rangers (4) – Knights win series 4-0
Game #5: Friday, April 15 at London – 7:30 p.m. (not needed)
Game #6: Sunday, April 17 at Kitchener – 7:00 p.m. (not needed)
Game #7: Tuesday, April 19 at London – 7:00 p.m. (not needed)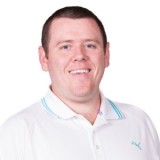 Andrew is in his 8th year reporting for The Hockey Writers covering the Toronto Maple Leafs. He began his broadcasting with CBC's Hockey Night in Canada team as well as being part of their coverage of the 2014 Winter Olympic Games in Sochi. He's the former play-by-play voice of the London Jr. Knights for Rogers TV and currently hosts the Sticks in the 6ix podcast. You can follow him on Twitter at @AndrewGForbes.