Following their 4-2 loss to the Detroit Red Wings on Tuesday night, the Edmonton Oilers officially reached the midway point of their 2014-15 schedule. As the "proud" owners of a league worst 9-23-9 record, the positives are few and far between when it comes to this year's edition of the Orange and Blue.
While we focus on the Oilers forward group in tomorrow's Report Card, today we turn our intention to their own end of the rink…an area this organization has inexplicably failed to address at any time over the last nine years. However, as bad as things have gone over the first three months of the year, a handful of players have still managed to put together fairly solid starts to their seasons.
Goaltenders
There is no question this organization was hoping Ben Scrivens would make the most of his opportunity, after essentially handing him the starter's role for the '14-'15 season. Unfortunately, that is not how things played out and not surprisingly, Edmonton now finds itself buried in the overall standings.
Most emotion in weeks. RT @Sportsnet: Viktor Fasth loses cool after getting pulled last night http://t.co/Sz2rya1BVd pic.twitter.com/tRlTOAd3si

— Mark Spector (@SportsnetSpec) December 13, 2014
While the Spruce Grove native currently sits tenth among all National Hockey League netminders with thirty-one appearances, the rest of his numbers are downright dreadful. Heading into last night's games, his 3.01 goals against average was good enough for thirtieth spot and his mind-numbing .898 save percentage has him sitting in thirty-eighth place. Can you say horrible? Now, the Oilers continued struggles in their own end of the rink have certainly played a big part in just how bad those numbers are but let's call a spade a spade shall we. Outside of a stretch in early October and his last handful of outings, the Cornell graduate has been as inconsistent as they come.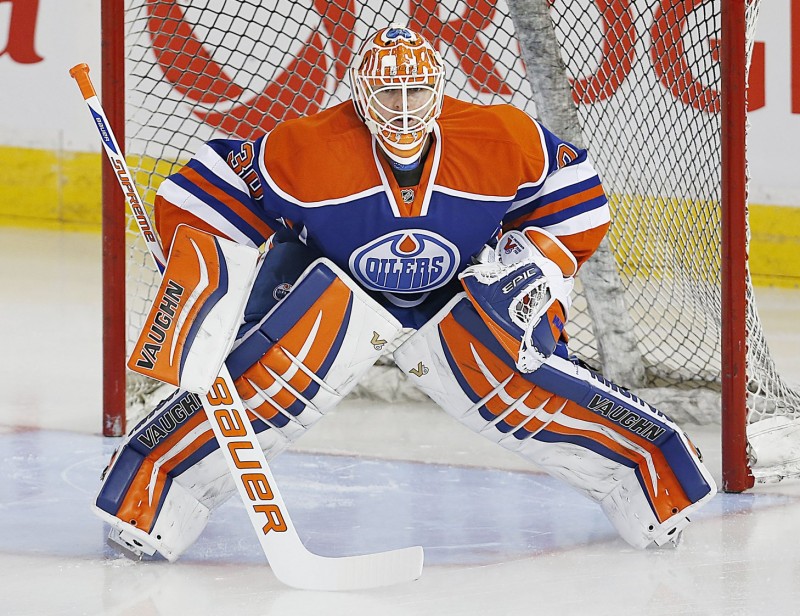 In nearly every one of those appearances, Scrivens looked solid during various points. However, the twenty-eight-year-old has been every bit as bad in almost as many games and this lineup is simply not good enough to overcome below average netminding. As far as Viktor Fasth goes, the former Anaheim Duck has not been afforded the same sort of opportunity as his current goaltending partner, appearing in all of sixteen games, but his play has not exactly warranted him seeing more duty.
From a statistical standpoint, his 3.47 GAA and .886 SV% are just as awful as Scrivens', albeit in a much smaller sample size. No matter how you look at it, the level of play Dallas Eakins and now Todd Nelson have received from their two goalies has not been anywhere near good enough and while it may have been expected by some heading into the season, read here, far too many felt this duo could get the job done. It was frankly a stupid bet for Craig MacTavish to make and one that put this team behind the eight-ball from Day One and they have never recovered. Overall Grade: F  
Defence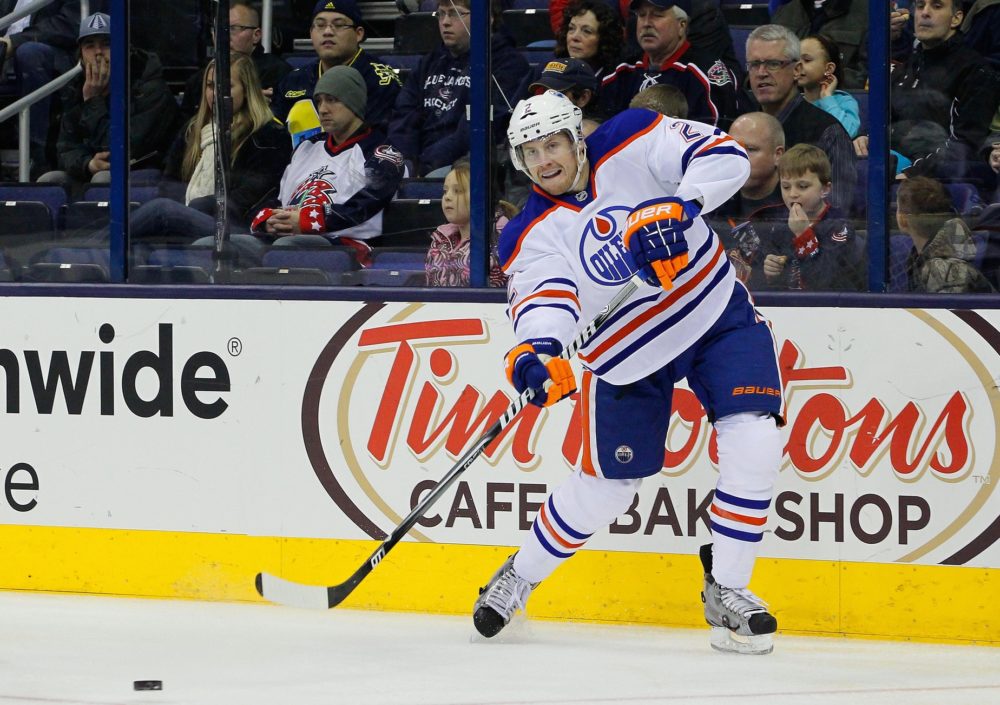 Following what was truly a disastrous 2013-14 campaign, Edmonton tried to shore up their backend during the summer with the additions of Mark Fayne and Nikita Nikitin. While the former New Jersey Devils rearguard has come as advertised, the twenty-seven-year-old does not have the necessary skill set to help carry a National Hockey League blueline. With that said, after getting off to a bit of a slow start, he has been one of the Oilers two best defencemen on an almost nightly basis.
Niki Nikitin has the mobility of a table hockey defenseman. — Lowetide (@Lowetide_) January 5, 2015
The same cannot be said about the former Columbus Blue Jackets defender, who has been among the team's biggest disappointments. Much like the mistake they made with their goaltending, management seemed to believe the towering Russian D-man would be a good fit in the Alberta capital and able to handle a top-four role. Anyone who had watched Nikitin play over the last couple of years would have told you something different but apparently Scott Howson had enough faith in the player to convince MacT into making another ill-advised player move.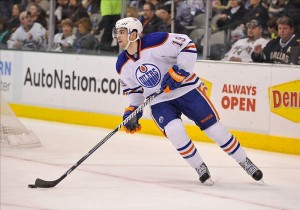 To suggest Justin Schultz has had a tough go of things during his second full season in the league would be putting it nicely but in the grand scheme of things, the former University of Wisconsin standout is being asked to bite off far more than he is ready for and that is not on him. If anything, this is something this organization has come to specialize in over the last number of years and it continues to kill them when it comes to trying to win hockey games.
While the general manager made signing Fayne and Nikitin a priority during the off-season, he was at the complete opposite end of the spectrum when it came to Jeff Petry. Despite being Edmonton's best defenceman for some time now, MacTavish seemed unwilling to give the former second-round pick a contract extension in the summer and because of it, he will be forced into moving the twenty-seven-year-old prior to the trade deadline.
Not exactly the smartest of moves for a team to make, and especially not for one that already lacks legitimate options along their backend. While Petry has had his ups and downs throughout the first half of the season, just like Fayne and Schultz, he is being asked to take on far too big a role for his skill set. Add to that the likes of a Keith Aulie or Brad Hunt seeing duty on a semi-regular basis and a thirty-five-year-old Andrew Ference into the equation and suddenly that heavy lifting can look even more daunting.
To his credit, the Oilers captain has essentially given all that he has but at the age of the thirty-five, Ference no longer has what it takes to contribute at the level in which he is being used. At best, the former eighth-round pick of the Pittsburgh Penguins is a bottom pairing guy but in Edmonton he averages over twenty minutes a night.
Probably the most pleasant surprise of the first forty-one games of 2014-15, has been the step we have seen from Oscar Klefbom. Yes he still makes mistakes on an almost nightly basis but at the age of twenty-one, the talented Swedish rearguard has already morphed into one of the Oilers premier puck movers on the backend and rarely comes across as being overwhelmed in his own end of the rink. Overall Grade: D-
Rob Soria is the Author of Connor McDavid: Hockey's Next Great One. He has chronicled the Orange and Blue since creating his Oil Drop blog in 2011 and has also had his writings featured over at HometownHockey.ca and Vavel USA, where he has covered the NHL, MLB and ATP Tour. Rob was born, raised and still resides in Edmonton, Alberta and can be reached via twitter @Oil_Drop.