The Edmonton Oilers fall victim to their Game 1 woes once again as they dropped their series opener to the Vegas Golden Knights and have lost 8/9 Game 1s since Connor McDavid and Leon Draisaitl have been a part of the team. While it isn't ideal to go down 1-0 in almost every series the dynamic duo has been a part of, the Oilers also have a 57 percent success rate at closing out the series when they do and lost the only time they went up 1-0 (2017 second round vs Anaheim Ducks), courtesy of Brian Swane of The Hockey Writers.
Draisaitl also put on a show with four goals last night in a losing effort. Not only was that the second night in a row that a player scored four goals and their team lost, but it also connects perfectly to the Game 1 effort and lack of success the Oilers have had over the past six years.
Draisaitl Shines, Oilers Don't
Draisaitl had one of the best performances in the playoffs, as he scored all four of the Oilers' goals. Unfortunately, he was the only one providing offence, and the team struggled defensively, costing the Oilers the game. He is the third player in NHL history to score 11 or more goals in his first seven games of a postseason, joining Newsy Lalonde (1919 – 15 goals) and Babe Dye (1922 – 11 goals). Draisaitl also happens to be the first player for the Oilers to score four goals in a playoff game since Jari Kurri did so in 1987 against the Los Angeles Kings.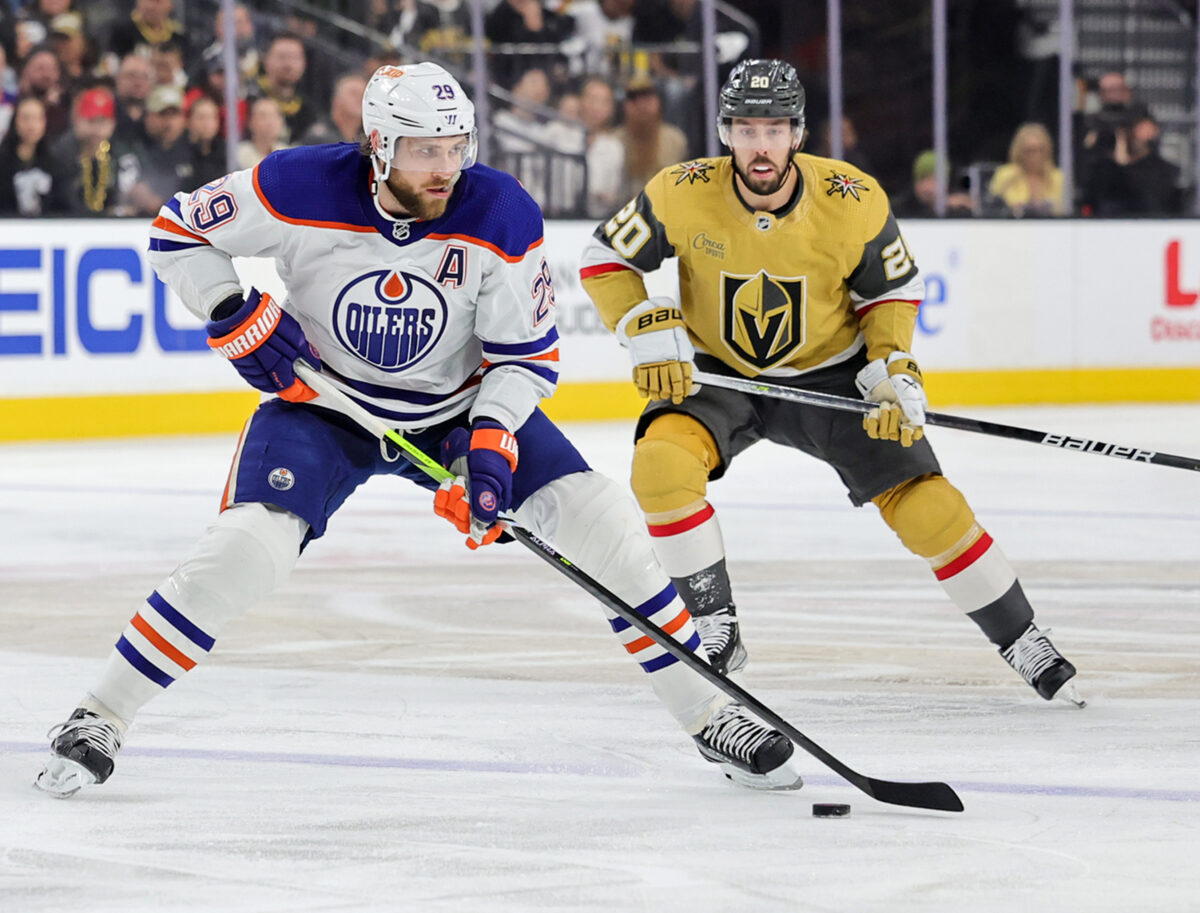 Four-goal games don't come very often, and they are even more rare in the playoffs. Before the second round started this season, teams were 33-3 when a player scored four goals. But after Joe Pavelski and Draisaitl did so and their teams lost on consecutive nights, that record is now 33-5.
---
Latest News & Highlights
---
Lots of credit can be given to the Oilers' power play which was amazing all season, setting the record for the highest power-play percentage (PP%). Just as much credit can be given to the power play in the playoffs that is running at a 57.9 PP% thanks to the top unit, but three players in particular – Draisaitl, McDavid, and Bouchard. Each of them has at least seven power-play points thus far, while Draisaitl leads the way with five power-play goals, two coming in Round 2, Game 1.
Oilers Continue to Fall Behind
Something we have started to expect is for the Oilers to go down 1-0 in the series, and they have done so eight of the last nine times under McDavid and Draisaitl. While some of it can be chalked up as a lack of effort all around as was present in Game 1 against the Golden Knights, there has to be more there. The Oilers started strong against the Kings in their opening game of Round 1 but choked two two-goal leads in the third period. The Oilers held just one lead in the game against Vegas, and it came early. These were two different lead-ups, but the same result.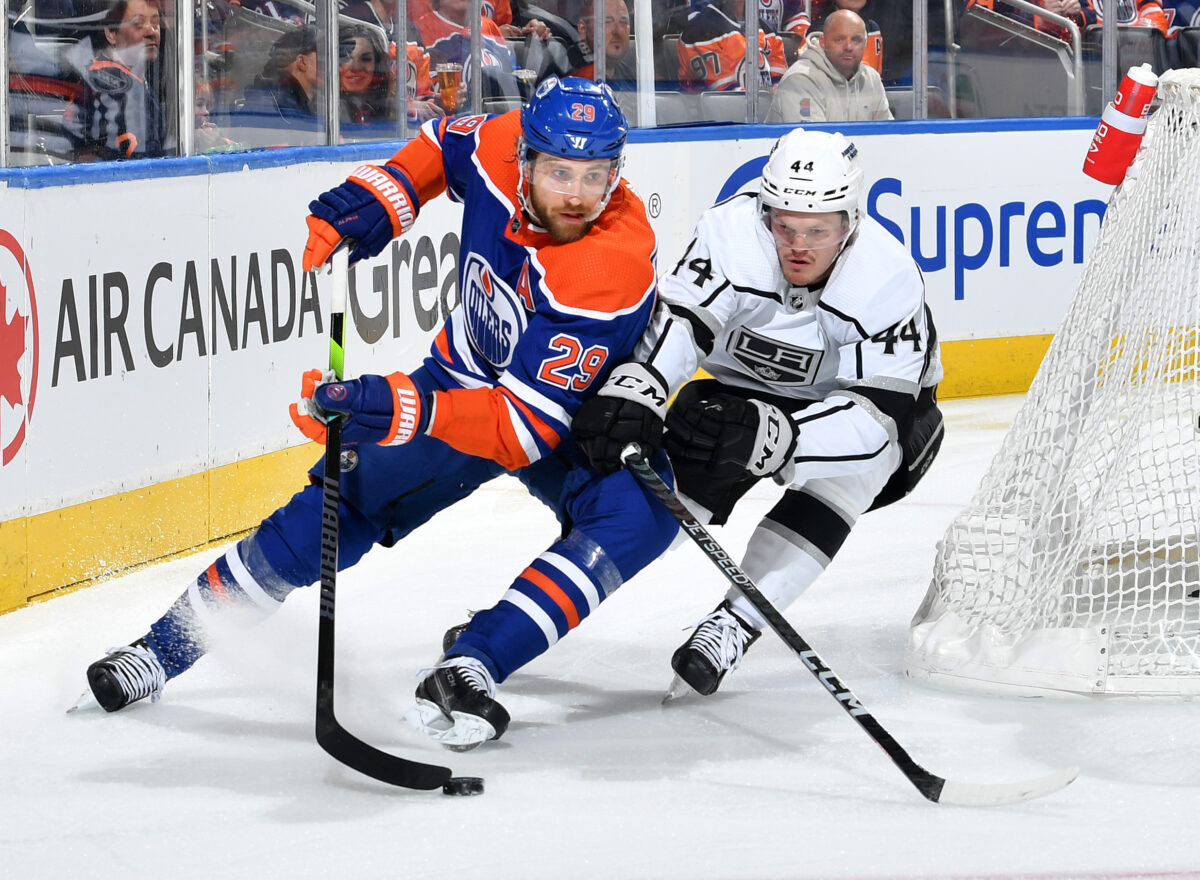 Jay Woodcroft noted post-game that the Oilers' loss to the Golden Knights in regulation played out the same way as their last loss in regulation came 22 games ago on March 11. The Oilers nearly went two full months without losing in regulation (from "Edmonton Oilers close out extraordinary season with a real shot at first place", Edmonton Journal, Apr. 12, 2023). Although they don't get a point from losing in overtime in the playoffs, it means they have had consistently close games at worst when they lose.
Related: 3 Key Matchups to Watch in Oilers vs. Golden Knights Series
Like the performances of McDavid, Draisaitl, Evander Kane, and Zach Hyman last season in the playoffs that went to waste with a third-round sweep, the Oilers, with how dominant they have been in the second half this season, can't let the performance of Draisaitl go to waste once again. Losing the first game of the series hasn't gone as bad for the Oilers as it does in general for teams, but it may eventually catch up to them. I expect a better effort in Game 2 all around, but this issue needs to be addressed moving forward and be changed for the hopeful Western Conference Final appearance this season.