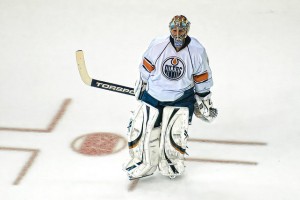 The NHL trade deadline is exactly one week away, and the basement dwelling Edmonton Oilers will likely once again be sellers. One of the players rumored to be on the block was veteran goaltender Nikolai Khabibulin. With just one year left on his current deal, Khabby's experience and Stanley Cup ring may have been tempting to contenders looking to for some insurance in net. While he has expressed his confidence that the Oilers are building the right way and heading in the right direction, he also made it clear that he would be okay with a trade if that's how the cards played out.
"For any athlete you want to play games that mean something," he said. "It would be nice to be in the playoffs, but having said that, I like this team, I want to see this team succeed and when it happens, I want to be a part of it." – Toronto Sun
Unfortunately, all of that might end up being moot, as Khabibulin currently finds himself on the shelf with a groin injury. He felt tightness during the Oilers recent game against the Vancouver Canucks and was forced to leave. The team is being cautious with their goalie, and he's expected to be out at least a week, and maybe longer. Could that scare off potential buyers? Possibly, given Khabibulin's age and injury history. It will interesting to see what happens at the deadline, so expect the Oilers to be forthcoming with updates in the next week. Devan Dubnyk is expected to carry the mail in Khabibulin's absence, and Yann Danis was called up to the back-up. Dubnyk is hoping to make the most of this opportunity, as he tries to prove he can be a number one goalie in the NHL. The Oilers aren't sold on whether or not he's the guy going forward. This season Dubnyk has a record of 10-14-1, with a .849 save percentage and .905 goals against average. The barrage of injuries on defence hasn't helped those numbers, but Dubnyk might be running out of time to prove himself.
The Oilers are in Calgary tonight to face the Flames. Edmonton has lost 4 of their past 5 games, and the Flames are a hot team at the moment, as they fight to hold onto a playoff spot. The Oilers would no doubt love to douse the hopes of their provincial rivals with a win tonight. Ryan Nugent-Hopkins has been skating with a non-contact jersey, but continues to make steps toward his return to the line-up. Coach Tom Renney is expected to miss at least the next two games as he continues to suffer from a concussion he sustained in practice. A bright spot in Oiler nation at the moment? The play of Magnus Paajarvi. After his extended goaless drought, and bouncing around from the NHL to the AHL, he has 2 goals in his past 5 games and is playing with a lot of jump. The Oilers count on players like Paajarvi to take the heat of the top scorers. If he keeps it up, he will likely find himself up with the big club for good. Unless he becomes another victim of a trade scenario that is.