Well, the Edmonton Oilers finally did it. They traded one of their core young stars – and to say many are unhappy about the decision would be a severe understatement.
The Oilers just traded Taylor Hall for a handful of beans. And not even magic beans. Like they reached into a dented can of baked beans.

— Down Goes Brown (@DownGoesBrown) June 29, 2016
Once the deal in its entirety had been announced, the hockey world let out a collective cry of disbelief in what appeared to be a heavily lopsided trade in favour of the New Jersey Devils. Taylor Hall had long been the face of the Oilers franchise, and since his arrival in 2010, had been looked upon to lead Edmonton back not only to relevance in the NHL, but also to the Playoffs.
However, six years came and went alongside Hall, and with each passing year the Oilers failed to take steps forward – in no way Hall's fault. In fact, the only true changes made were the endless input of first overall draft selections into a offensively laden roster, a combination which is now widely known for its futility.
As such, the Oilers have become, and have been for quite some time now, the NHL's ugly duckling: the butt of endless jokes and the framework for how not to rebuild a professional hockey roster.
So why the outrage in trading Hall? Sure, he was a fan favourite and arguably the team's best player, but at this point in the Oilers' history, is change of a different kind not good change? Its been ten years since the Oilers last reached the Playoffs, and their current mould has been proven to fail on an annual basis.
So, given their outrageous need for defence, how can adding Larsson be immediately viewed as a failure?
If anything, acquiring Larsson could be a blessing in disguise for Edmonton and their fanbase, as it has set in motion monumental yet necessary change within the Oilers' organization. 
No Trust in Chiarelli?
Peter Chiarelli is a Stanley Cup winning General Manager. As a result, it goes without saying that he has more than some idea of how to win at the NHL level.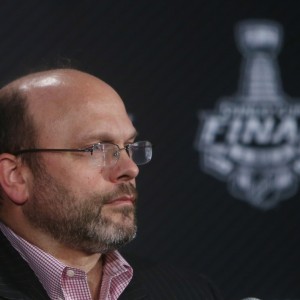 Sure, he has made his fair share of bad trades (see Tyler Seguin to Dallas), but he has in turn also made great trades, such as the one he orchestrated went he sent Phil Kessel to Toronto in exchange for two first round picks and a second, assets he then used to acquire Seguin as well as Dougie Hamilton in the first place.
On the other hand, since the Oilers last reached the Playoffs in the 2005-06 season, the franchise has burned through three different General Managers, being Kevin Lowe, Steve Tambellini and Craig MacTavish. All three of which shared a similar philosophy when it came to organizing the Oilers' roster: offense first. Of the 11 first round picks held by the Oilers since 2005-06, these three GM's selected a whopping three defensemen, in Alex Plante, Oscar Klefbom and Darnell Nurse.
The remainder of Edmonton's first round selections over the years were all used to select forwards, a decision which has led to a perennially porous back end and the second greatest number of goals against in the entire NHL over the past ten years with 2422!
So, why is it that a transition to defensive thinking has warranted outcry amongst the Edmonton faithful? The Oilers' model over the past ten years simply has not worked. So why beat it into the ground?
If it's not working, change it.
Is that not exactly what Chiarelli is attempting to do with this trade?
Larsson is No Chopped Liver
Taylor Hall is a tremendous player. Attempting to refute such would be absolutely ridiculous.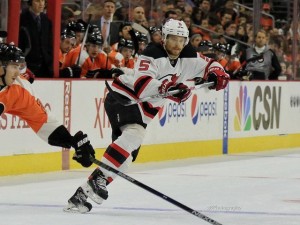 As such, he retains tremendous value in the NHL as well as in potential trades. Signing a seven-year, $42 Million contract certainly furthered his standing, as the deal was a tremendous bargain considering his annual offensive output.
Yet when he was traded on June 29th by Chiarelli and the Oilers, the immediate reaction was that Edmonton had surrendered a ton of value in return for a player of considerably lesser ability.
Well, they did, but Adam Larsson is by no means chopped liver, in fact, he is a tremendously skilled young player whose NHL game is on the rise – a fact Chiarelli was most certainly aware of.
In all, Larsson has played five NHL seasons as of 2015-16, and was the fourth overall selection in the 2011 NHL Entry Draft behind Ryan Nugent-Hopkins, Gabriel Landeskog and Jonathan Huberdeau.
Most recently in 2015-16, Larsson netted three goals and 18 points over 82 games played, in which he averaged an impressive 22:31 TOI, a total which ranked second best on the Devils and nearly two minutes greater than his career average. He has long played on the Devils' top-pairing against the oppositions top line on a nightly basis and still finished the season with a plus 15 +/- rating on a New Jersey team outscored by 20 goals.
Still think Larsson isn't worth Hall?
At the same time people that don't see how good Adam Larsson is on daily basis, can't appreciate him like we did! Edmonton got a real good d

— Ken Daneyko (@KenDaneykoMSG) June 29, 2016
If Ken Danyeko, who knows D-men, says Adam Larsson is a top pairing NHL D-man, that's good enough for me. Says he's equal of Hamonic

— Jim Matheson (@NHLbyMatty) June 30, 2016
While he hasn't spent his career in as notable a hockey market as Edmonton, Larsson undoubtedly impressed a number of people in his days with the Devils, and former teammate turned Minnesota Wild star Zach Parise too was one of them.
This Had To Happen
Well, if you've made it this far and still aren't convinced that Chiarelli and the Oilers didn't make a calculated, paradigm shifting gamble in the right direction in order to better the Oilers' future, this is the part where I tell you that this deal simply had to happen.
The facts are indisputable:
No Oilers Playoff appearance since 2005-56
Second most goals against since 2005-06 (2422)
League worst goals against in 2009-10, 2013-14 and 2014-15
3 Players drafted after first round since 2005-06 on current roster (68 picks)
Let's be honest, if the Oilers were to have held onto Hall and began the 2016-17 season with their pre-existing roster intact, would Edmonton be any more competitive than in years passed?
The answer is an unequivocal no.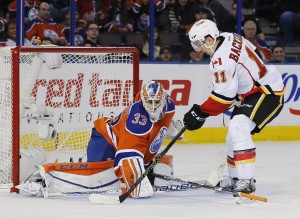 The team had stagnated. With such a porous blue-line, it wouldn't matter how potent the Oilers offense is, as no matter how many goals Edmonton scores, on most occasions, more would certainly have been going into their own goal on any given night.
The need to upgrade the Oilers blue-line has long been a well known issue, and one that has been restricting Edmonton's re-build over the past ten seasons. Sure, moving on from Hall was a painful decision, but at the end of the day, would one rather possess Hall, or a potential Playoff appearance, if not more?
This trade simply had to happen, and if the Oilers and Chiarelli are truly serious about becoming contenders in the big bad Western Conference, this move can only be the first of many major moves to come, the vast majority of which must also include additional pieces of Edmonton's young core.
Nail Yakupov has little to no opportunity remaining with the Oilers, while Ryan Nugent-Hopkins has essentially been relegated to a third line centre-ice role behind McDavid and Draisaitl, a position which both he and the Oilers know he surely is not deserving of. Both scenarios could and should warrant trades.
Moving Forward
At the end of the day, the Oilers' acquisition of Larsson was a calculated yet necessary gamble.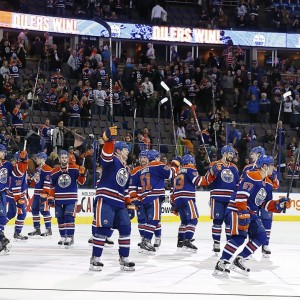 Edmonton's team has become a perennial pretender, a fact based strictly on their inability to defend their own zone. Watching the Oilers play defense on a nightly basis has almost become somewhat of a cruel joke, and the only way to change their fortune in the NHL is to break from their current, unsuccessful mould and build their blue-line.
Sure, this process will bring a tremendous amount of pain, with fan favourites and highly valuable players leaving town, but said moves will amount out of the sheer need to find success.
It has been ten years since an Oilers playoff appearance, and both Edmonton management, ownership, and ultimately their fanbase would quite obviously not like to see this trend continue. After years of ineptitude, Edmonton's roster is simply too skilled to continue to fail on an annual basis.
This team must begin to win games. Simply put.
If trading your best player in order to find team success it what it will take, it goes without saying that Chiarelli would make this move ten out of ten times if it would aid the Oilers in returning the City of Champions to its previous state.
Yes, Larsson is not as valuable as Hall. We get it. But at the end of the day, when trading to address a position of weakness, it is extremely common to overpay for the asset you drastically need. And, at this point in Edmonton's storied history, this has become incredibly necessary.
Years of mis-drafting will do that.