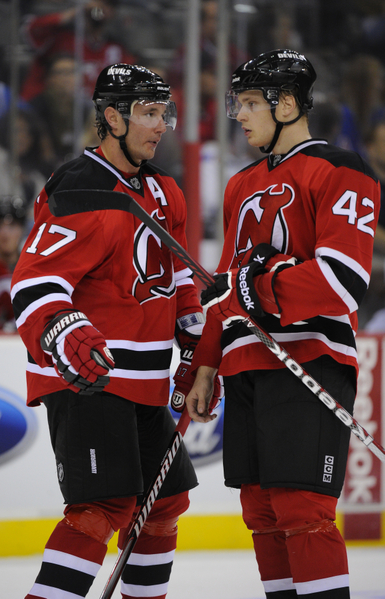 Starting the season, there was much speculation about the Devils 18-year-old rookie Adam Larsson. Larsson was the Devils first overall pick in the 2011 NHL Entry Draft, and made the team with a strong training camp and preseason.
When the team finally hit the ice to start the regular season, the spotlight was definitely on the youngster. So far, Larsson hasn't disappointed anyone. He's shown a presence on the ice and poise with the puck, requirements for a good defenseman in the NHL. Additionally, Larsson is second only to Ilya Kovalchuk in average time on the ice, with a workhorse-like 23:10 per game, and leads all Devils defensemen in shots on goal.
The question of how receptive the Devils veterans would be to dealing with the required learning curve of a player barely old enough to drive has been rendered moot by his solid play thus far. Devils captain Zach Parise summed up Larsson's play to start the season for NHL Live:
"It's impressive what he can do. This kid's going to be a dominant player in the league in the near future. The patience he has with the puck, the reads he makes, some of the passes he makes are insane. He's going to be an all star in this league in the real short future."
Parise's praise of Larsson is music to Devils fans ears. Larsson represents the future of an organization famous for it's tough defensemen and defensive team approach. Although it's certainly too soon to crown Larsson the next Ken Daneyko or Scott Stevens, the hope is that he plays a major part in bringing multiple Stanley Cups to New Jersey, like those players did.
Of course, the year is just getting underway, and there's another 80 games to be played in the regular season, but a prospect with as much raw talent and such a young age is going to be under a microscope every game. It's still very early, but Adam Larsson doesn't seem to be bothered by the bright lights or big hits of the NHL.
DEVILS NOTES
-Rod Pelley and Cam Janssen (both healthy scratches for the first two games of the season) practiced today on the fourth line with Brad Mills.
– Adam Henrique and Eric Boulton skated as extras in practice.
– Adam Larsson showed no effects from a stick to the groin vs. Carolina during Monday's win.