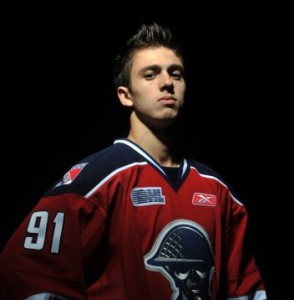 Matia Marcantuoni is one the top forward prospects available in the 2012 NHL Draft. His balance and power are major strengths of his game, and he uses them to go all out on every shift. Marcantuoni is viewed as a legitimate top ten pick, and it wouldn't be outrageous to say that he could even be selected in the top five. When Matia was chosen by the Kitchener Rangers in the 2010 OHL Priority Selection, the team was ecstatic to get him because they knew they would be getting a tremendous player. Marcantuoni is no stranger to putting up big numbers. With the Marlboros in 2009-2010, he posted 39 goals and 33 assists in 79 games. Scouts are especially high on his vision and his willingness to mix it up along the boards. More often than not Marcantuoni will go into a corner with a bigger opponent and come away with the puck. What most people notice right away about Matia Marcantuoni's game is that it's all about speed, and lots of it. National Hockey League scouts believe that as soon as his hands catch up to his feet, Marcantuoni will be a dynamite player on every shift. One of Matia's favourite plays on the ice is his trademark rush of bursting down the right side of the ice with speed and cutting hard to the net, while having no fear of crashing into the goalie.
When asked whether there is an NHL player that he tries to mold his game after, Marcantuoni said, " I try to mold my game after Sidney Crosby because he's the type of player that shows up in big games to get the job done, and I think I do that." It would certainly take a lot of effort to become such a superstar, but Matia is willing to put the work in. " During the week all my focus is strictly on school and hockey training, whether I'm shooting pucks in the basement, working on things to get better, or working out in the gym", Marcantuoni says. At 6.00″, 189 pounds, Marcantuoni certainly isn't going to be the biggest centre you'll ever see, but his skill and quickness definitely make up for his lack of size.
A Toronto native, Marcantuoni was selected by the Kitchener Rangers in the first round of the 2010 OHL Priority Selection, 18th overall, so expectations were high right from the start. He handled the pressure very well, recording a solid 27 points in 42 games played in his rookie season. Coming off that performance, Marcantuoni is expected to contribute more offensively, as well as improve on his 11 goals scored last season. Using his powerful skating, hard shot, and wicked Usain Bolt-like speed, Matia should be able to tally around fifty points in this his second year in the OHL. Just this past year, Marcantuoni captained Team Ontario to a gold medal victory at the 2011 Under-17 World Hockey Challenge, a very impressive feat. The leadership is clearly there, the skill is there, the speed is very much there, and his potential to be a future NHL star is unquestionably there. So don't be surprised if he's named captain of an NHL team in the future, because he'll very likely be the right man for the job.
Expect to see Matia Marcantuoni picked in the first round in the 2012 NHL Draft, very likely within the top twenty selections. Wherever Matia Marcantuoni ends up in the NHL, that team will be getting a real potential superstar on the ice, and a great teammate off the ice as well.
David O'Connor is a managing editor with the Sunbelt Hockey Journal. His writing has been on the Los Angeles Times' website, among other places. O'Connor also does some scouting work for the local Junior B hockey club. Please feel free to contact him at davidoconnorhockey@gmail.com.