Q: Do you actually believe it's realistic for Evander Kane to come to Edmonton?
A: I like Evander Kane. I don't know him personally, and while I understand his character has come under attack, I don't believe it's impossible for him to mature and grow. I realize that the Oilers have a lot of issues, and bringing in a player who could be an even bigger issue probably isn't what they need. But make no mistake. Kane is a player who brings the whole package. He's strong, he's fast, he can hit, and he can score. Now in terms of the Oilers needs, getting another winger isn't their most pressing issue. They need centers, they need a better goalie, and much better defense.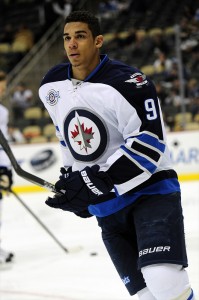 But the reason I wanted to look into the possibility is because I would rather have Kane than a lot of other guys on this team, and if a move can be made that makes them better, why not consider it? At this moment, with Kane out for the season, and the Oilers floundering in the standings, I agree there isn't much point in talking about bringing him in. The timing isn't right. But if he is available in the offseason, and his health isn't an issue, is it out of the realm of possibility to see if something can be worked out?
The Oilers have a few expiring contracts, and they have some roster decisions to make. If you don't like Kane because you think he's a problem, that is perfectly fine, and you have a right to feel that way. But from a hockey standpoint, he's a 23 year-old with tons of upside and skill. If you know anything about managing a hockey team, you would know that every possibility should be explored if it could make your team better. Doesn't mean you have to do it. (I feel I continually need to make it very clear that they have to focus on other positions first).
Q: Do you think the Oilers should keep Todd Nelson as their head coach?
In terms of wins and losses, the Oilers are clearly better under Todd Nelson than they were under Dallas Eakins. Players like Nail Yakupov ans Justin Schultz seem to be responding a little bit better to Nelson than they did under the other regime. But make no mistake. It's one step forward, two steps back with this team. The defensive coverage against Toronto on Saturday night was terrible. The special teams were a disaster. Yes, Nelson seems to be getting a little more out of his players, but the problems are far from fixed.
The Oilers have made so many mistakes in terms of their personal that the coach is probably the least of their worries right now. I believe they need to keep Nelson if only for a sense of continuity. Changing the coach again isn't going to make the team better. At this point, they have to keep the coaching stabilized and focus completely on the roster.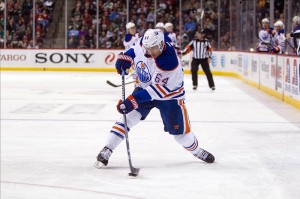 Q: Who should the Oilers trade to help make the team better?
Considering how bad the Oilers have been over the past few years you would think they'd have a cupboard filled with great prospects. But the reality is that poor drafting decisions have plagued this franchise and they don't have the plethora of assets that they probably should. Thus moving players has to handled very carefully. No one's trade value is especially high at the moment, and it puts the Oilers in a position of weakness.
Take for example Jeff Petry, who is rumored to be available. Would he thrive somewhere else in a different system? Possibly, but that system certainly isn't Edmonton. Watching him play on a regular basis is painful. How much could they get back for him? Probably not much, but if they have no intentions of re-signing him, they've got to at least get something back for him. I give a lot of credit to management for the return they got for David Perron.
I've said numerous times that I don't think it's a good idea to trade Taylor Hall unless they can get someone in return who is of equal or higher value, and that's not a simple trade to make. Jordan Eberle is an interesting possibility to move, but again, are you really going to get better by trading young players? The Oilers are not in a good position right now. Everyone knows they're desperate to improve and they don't have much to offer. I would love to see a young defenceman come in here, and I would give up a Nail Yakupov if that's what it takes. But making trades to help your club is so difficult. It's easier to make them up in your head than for a GM to actually pull the trigger.