Edmonton Oilers captain Connor McDavid is setting the tone for the upcoming season, having asked his teammates to gather in Edmonton early last week for the informal captain's skates at Rogers Place, two weeks ahead of training camp.
It's still early days, but there's a noticeable shift about this Oilers team, with a sentiment that anything short of winning a Stanley Cup this season is viewed as a significant disappointment. That said, the Oilers' captain is poised to elevate his game, and below we dive into three reasons why we anticipate an even more motivated McDavid this season.
McDavid Could Be Fueled by Matthews' Latest Contract
The Oilers made McDavid the highest-paid player in hockey when he signed his eight-year $100 million contract in 2017, and his $12.5 million annual average value (AAV) was the highest in the league until Nathan MacKinnon signed his deal last year ($12.6 million AAV), which kicks in this season.
Yet, that changed again when Toronto Maple Leafs forward Auston Matthews signed a recent new deal in August, making him the highest-paid player by AAV in 2024-25 with a $13.25 million cap hit.
Related: Oilers' Connor McDavid Will Surpass 160 Points This Season
---
Latest News & Highlights
---
Despite that, McDavid is often regarded as the best player in hockey, and I can't help but think with Matthews' latest deal set to make him the highest-paid NHLer per AAV, that it could have a ripple effect on the Oilers' captain's psyche and fuel his motivation further (more than the MacKinnon contract), because of how much more those two superstars are linked.
Before we dive deeper, let's explore why McDavid and Matthews are so closely linked. Both were taken first overall a year after the other, both are the marquee players on two storied Canadian franchises and while they play in different conferences and don't face each other frequently, the Oilers and Maple Leafs established a bit of rivalry when they played each other nine times during the shortened 2020-21 season in the North Division.
On top of that, Matthews won the Hart Trophy in June 2022, having become the first player to score 60 goals in a season that year since Steven Stamkos achieved the feat in 2011-12; yet at the same time, it was McDavid who led the league in points that season (123 points) and because he had 17 more points than the Maple Leafs forward, many were questioning whether he deserved the Hart Trophy instead.
So, what did McDavid do? He went out last season and dominated in every offensive category, leading the league in goals (64), and assists (89) for a 154-point campaign — and made it crystal clear who deserved the Hart Trophy last season. He'd never say outright that Matthews scoring 60 goals and winning it over him a season before was a motivator for his phenomenal year, but there's a possibility that it was.
Taking that into consideration, it's possible that McDavid may carry a chip on his shoulder knowing that Matthews has a contract in place that will make him the highest-paid player in terms of AAV, which could be a motivator this season for McDavid, to prove that he's still the best on the ice, regardless of contract numbers.
The Oilers Losing to the Golden Knights Last Season
McDavid will find extra motivation this season for another reason, and that reason is quite apparent, he has yet to win a Stanley Cup.
His Oilers were ousted by the Vegas Golden Knights in the second round in six games last playoffs, and that elimination particularly stung because the Cup was up for grabs with powerhouses like the Colorado Avalanche and Boston Bruins exiting early in the playoffs and the Oilers feeling they legitimately had a chance to win it all.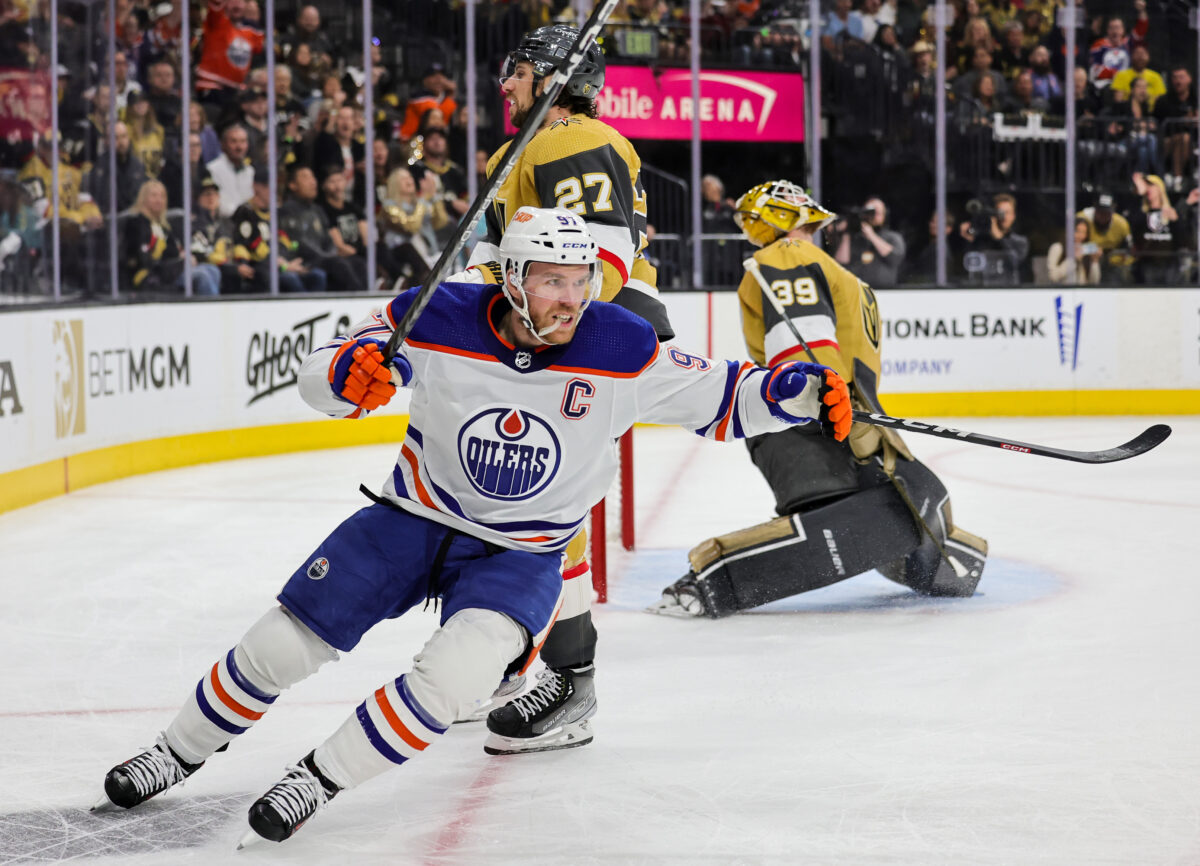 Moreover, it's been stated after the series loss to the Golden Knights that the Oilers' captain cleared the room except for those closest to the team, and set the framework for the future of the franchise moving forward.
That said, McDavid was recently on the "Oilers Now" show and Bob Stauffer posed the question of whether he used the loss to the Golden Knights as an extra drive, and he responded by saying:
"It's something that you don't forget about ever. I think you can see it just being around the rink again here, I know this is only our second day, just seeing how many guys are back, and everybody looks great, and everybody is hungry to get this thing going. It's something you use to motivate you — you learn from those little mistakes that cost us big, in a really tight series."

– Connor McDavid
It appears the Oilers are all business, and because McDavid hasn't tasted Stanley Cup victory yet, he'll especially be fired up this season.
The Connor Bedard Factor
Since McDavid was drafted in 2015, there hasn't been anyone else as highly touted as Connor Bedard, often dubbed "The Next McDavid" and the Chicago Blackhawks' forward does indeed look to be the next elite NHL superstar.
McDavid had a good bird's eye view of the up-and-coming hockey sensation, having skated with him at the BioSteel Camp, which took place at the end of last August. There were also viral videos of both players skating and working out together, and Bedard said thereafter about the three-time Hart Trophy winner, "I think he's kind of the pinnacle right now. And you're like, 'This guy is the best, or one of the best, [so] how can I get closer to him?'"
Yet, with the "Next McDavid" and potential generational superstar set to make his NHL debut this season, I'd imagine it could be extra motivation for the Oilers' captain to show that he isn't old news, has plenty left in the tank, with still plenty left to prove, and this could also serve as a catalyst for an even more spirited campaign in the coming season.
By and large, it seems the Oilers have one goal in mind this season and that's bringing home a championship to Edmonton, and they'll need an even more motivated McDavid to lead them to victory.
What are your expectations for McDavid in the upcoming season? Have your say in the comments below!
---

---