In today's NHL rumors rundown, a report offers up an explanation as to why Alex DeBrincat was so quick to want out of Ottawa. Meanwhile, a couple of well-connected Oilers' analysts say the odds the team trades their 2024 first-round pick is extremely high. Will Nick Robertson get a chance to make an impact on the Toronto Maple Leafs roster this season? Finally, is Steve Yzerman planning to go all-in this season in an attempt to make the playoffs in Detroit?
Alex DeBrincat Didn't Want to Play Second Fiddle to Brady Tkachuk
Contrary to initial speculation that Alex DeBrincat's departure from the Ottawa Senators was primarily motivated by a desire to return to his home state of Michigan, recent revelations suggest a more intricate narrative was at play. Reports have emerged linking his exit to a quest for a more prominent role within the team, with a particular focus on surpassing team captain Brady Tkachuk in the depth chart.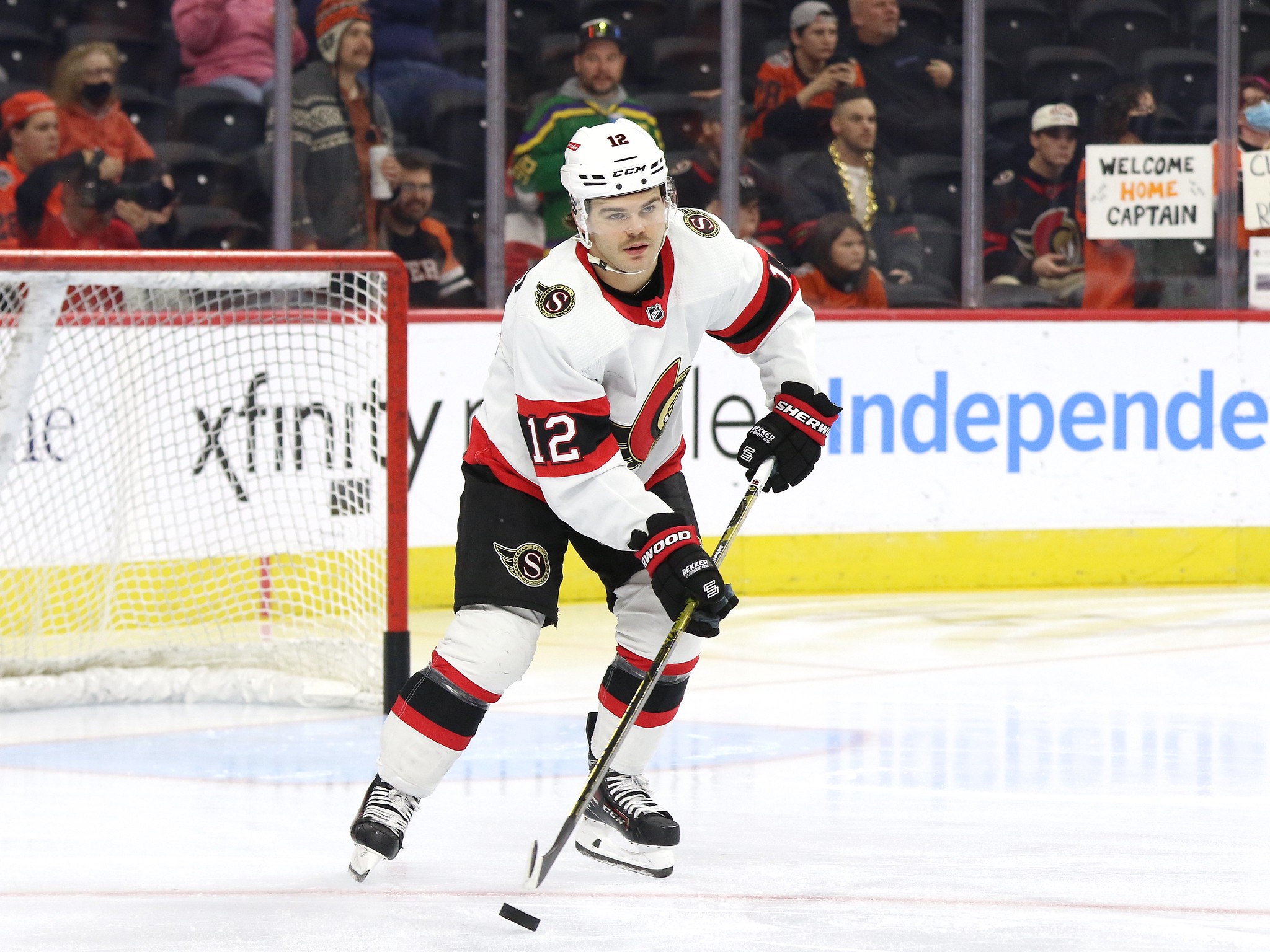 According to Bruce Garrioch's Ottawa Sun report, sources indicate that DeBrincat grew discontented with his position as a second-line winger behind Tkachuk, ultimately leading to his departure. He writes:
DeBrincat made it impossible for the Senators to bring him back and even more difficult to trade him to anywhere but the Detroit Red Wings. Sources say he didn't like his role as a second-line winger behind captain Brady Tkachuk. If that's the case then DeBrincat really did have to go.

source – 'GARRIOCH: As Michael Andlauer takes over Ottawa Senators, it's been an off-season of change' – Bruce Garrioch – Ottawa Sun – 09/09/2023
Additionally, it appears that DeBrincat's overall happiness as a team member was in question. During a recent interview on Sportsnet's "32 Thoughts" podcast, Senators' standout Tim Stutzle indirectly alluded to DeBrincat's dissatisfaction. Stutzle acknowledged the team's efforts to make him feel valued and wanted but emphasized that if DeBrincat did not wish to remain, they respected his decision not to force his presence.
Don't Expect to See Nick Robertson Much During 2023-24 Season
Sportsnet insider Luke Fox suggests that Nick Robertson's breakthrough with the Toronto Maple Leafs may have to wait until after the 2023-24 NHL season. In response to a fan's query about whether this would be the year for Robertson to establish himself in the NHL, Fox's answer was a negative one.
---
Latest News & Highlight
---
Fox went on to elaborate, citing several factors that could hinder Robertson's NHL debut. These include his current waiver-exempt status, the team's tight salary cap situation, and roster limitations that may prolong his path to the big league. He must outperform established players like Tyler Bertuzzi, Max Domi, Matthew Knies, and Sam Lafferty to secure a spot. Only Knies enjoys waiver exemption among these competitors, heightening the competition for Robertson's NHL berth.
Adding to the uncertainty, Robertson is still recovering from a shoulder injury that curtailed his 2022-23 season.
Oilers Will Likely Trade 2024 First-Round Pick
Despite the Edmonton Oilers' prowess in their offensive lineup, uncertainties cast shadows over their goaltending, right-defense, and right-wing positions. Allan Mitchell, in an analysis for The Athletic, identified five assets at General Manager Ken Holland's disposal for potential trade negotiations. Notably, Mitchell highlighted the possibility of including the 2024 first-round pick in trade talks.
Related: 3 Reasons Connor McDavid May Be Extra Motivated This Season
This notion finds support from Bob Stauffer of Oilers Now, who recently conversed with Frank Seravalli of Daily Faceoff. During their discussion, Stauffer made a bold prediction, suggesting a staggering 97% likelihood of the pick being traded. While this number may carry a symbolic nod to Connor McDavid's jersey number, it also underscores the strong belief within the hockey community that the Oilers are seriously considering shopping their 2024 first-round selection.

Given Stauffer's connections and insights, his assertion hints at a compelling possibility that the Oilers are actively exploring trade opportunities for the upcoming season.
Yzerman Isn't Solely Focused on Red Wings Making the Playoffs This Season
Yzmerman emphasized the team's objective isn't just making the playoffs but constructing a championship-worthy roster for sustained success this season. While the desire for a playoff return is strong, he noted the organization is prioritizing building a team capable of contending for championships. He stated, "We would love to make the playoffs (this season)," but clarified it's not a playoffs-or-bust mentality internally.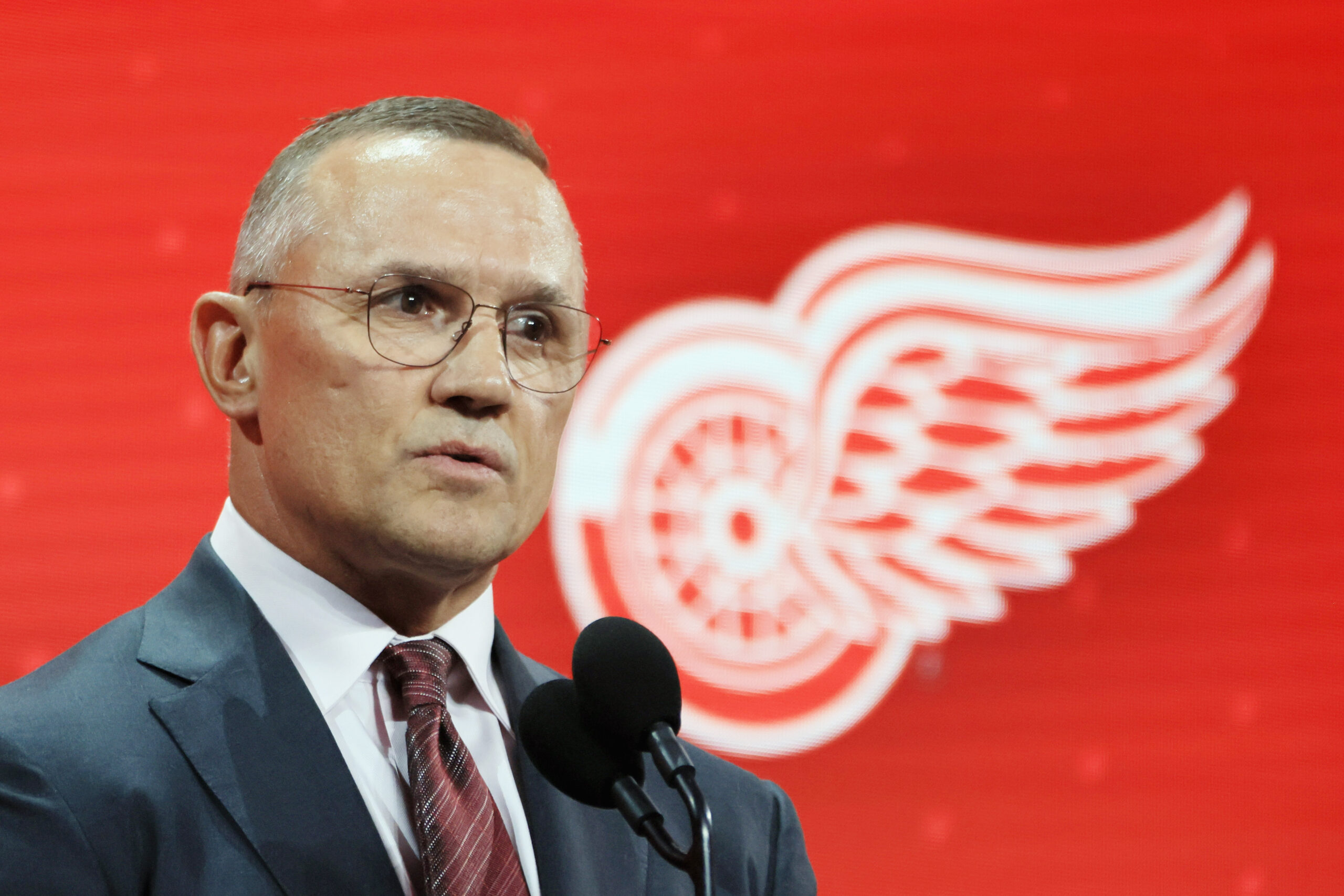 Speaking in Grand Rapids, Yzerman acknowledged the fanbase's yearning for success after enduring a demanding rebuilding phase. He reaffirmed his dedication to his role as GM and the responsibility of rebuilding a storied franchise, recognizing the pressure that accompanies this endeavor.
"The moves we're making along the way aren't necessarily designed toward, 'Oh my god, we gotta make the playoffs this year, or playoffs-or-bust,'" Yzerman explained. "We're trying to build a nucleus of a young team that's going to be together for a long time that can compete in the playoffs for the Stanley Cup, and we're sticking with that path."