In New Jersey's lore, few symbols are more iconic than Bruce Springsteen and the New Jersey Devils. Add in that both forged legendary success in the swamps of New Jersey's Meadowlands and the bond is evident. Springsteen's catalog is as diverse as New Jersey's hockey team, spanning genres, cultures, and generations. As the players start to assemble in Newark from all over the world to begin working on their dream to return to the promised land and be the last men standing, here is a Springsteen lyric for each player likely to make the opening night roster.
Nico Hischier, Center
Everybody's got a hunger, a hunger they can't resist,
There's so much that you want, you deserve much more than this,
But if dreams came true, oh, wouldn't that be nice,
But this ain't no dream we're living through tonight,
You want it, you take it, you pay the price – Prove It All Night (1978)
Nico Hischier has gone from being the youngest captain in the NHL to a veteran leader in the room and one of the premier two-way forwards in the league. He plays bigger and stronger than his listed size and in many ways is the heart and soul of the team. He is mentioned as the heir apparent to newly retired Boston Bruin Patrice Bergeron for his ability to drive a top line while matching against, and shutting down, the top lines of the opponent. Hischier is constantly targeted by other teams for punishment behind the play and after the whistle and if he continues to be willing to pay the required price, he will deliver the dream to New Jersey. His 80-point, Selke Trophy finalist season a year ago should serve as the floor for his seasons to come. All doubt has been removed as to whether Hischier is the leader the Devils need.
Jesper Bratt, Winger
Dreams will not be thwarted
Faith will be rewarded – Land of Hope and Dreams (2001)
In the summer of 2022 coming off of a breakout season where Jesper Bratt led the team in points with 73, he had three options. He could have compromised and accepted a team-friendly deal with term, taken the team to arbitration, or sign a one-year deal betting on himself to be able to repeat his All-Star caliber play. For Bratt and the Devils, faith was rewarded.
---
Latest News & Highlights
---
The speedy winger's bet paid off with him having another 73-point season that included his first time scoring 30 goals and signing a contract that will keep him in New Jersey for the next eight seasons. He spent another summer in Sweden working on improving his speed, agility, and strength, which should translate into another stellar season. With the additions of Timo Meier and Tyler Toffoli, the burden Bratt often felt to light the lamp will be diminished. This should allow him to play more freely and find his groove as a playmaker. His numbers may dip with less power-play time, however, the ice time he will get with lethal offensive talent should allow him to climb up near 80 points.
Dougie Hamilton, Defenseman
When the change was made uptown
And the Big Man joined the band
From the coastline to the city
All the little pretties raise their hands
I'm gonna sit back right easy and laugh
When Scooter and the Big Man bust this city in half – Tenth Ave Freeze Out (1975)
Certainly drafting Nico Hischier and Jack Hughes first overall two years apart set the Devils up for the run that began last season, but the true starting point was when the big man Dougie Hamilton joined the band. Hamilton signed as a free agent, setting the tone for New Jersey becoming a sought-after destination for players not simply looking to play out the string lucratively but instead for stars who want to be a part of a winner. Hamilton's first season was marred by debilitating fractures to his jaw and toe that sapped his ability to be effective.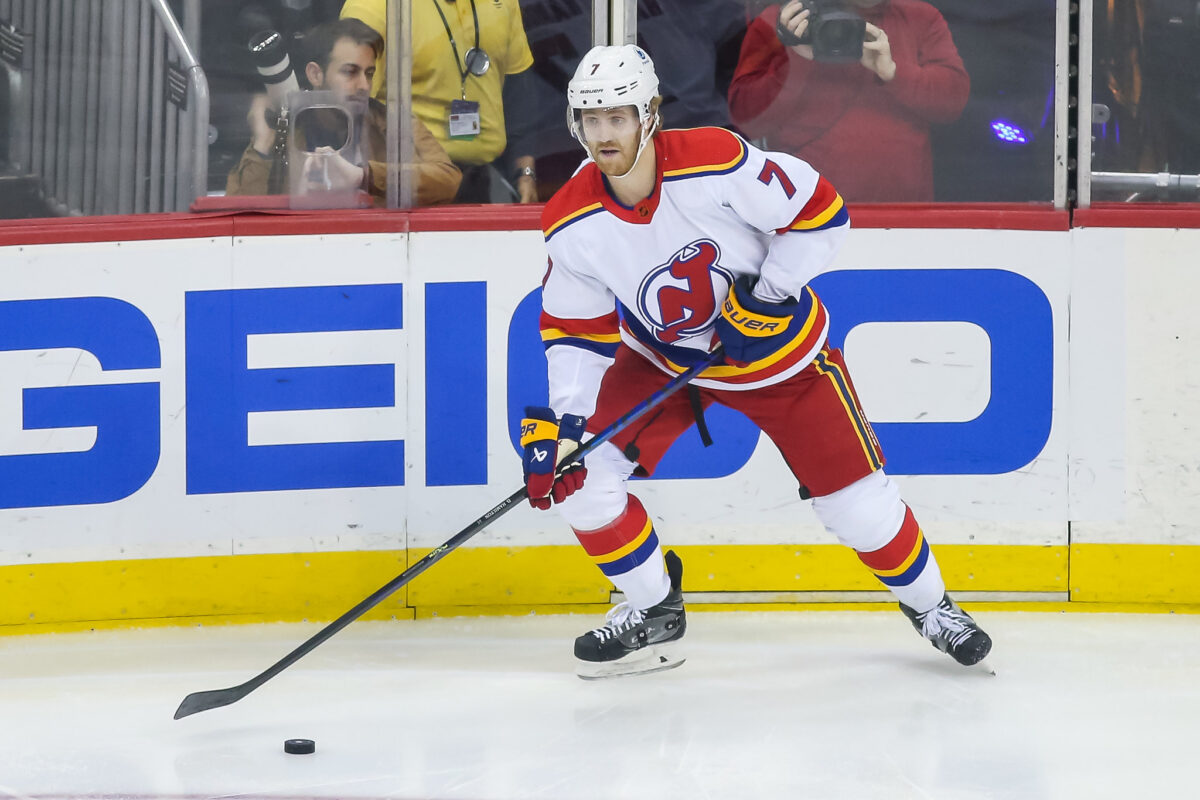 Last season, he demonstrated the value of a fully healthy Hamilton by being an offensive force totaling 74 points, 28 of which came on the power play. He also found a knack for scoring big goals, with seven game-winning goals in the regular season and an overtime winner in Game 3 against the New York Rangers. This propelled the Devils back into the series they would ultimately win. With more weapons on the power play, there is no reason why Hamilton can't continue to augment his gaudy stats and enter the race for the Norris Trophy.
Ondrej Palat, Winger
So you're scared and you're thinking
That maybe we ain't that young anymore
Show a little faith, there's magic in the night
You ain't a beauty but hey you're all right
Oh and that's all right with me – Thunder Road (1975)
In many ways, Ondrej Palat's season echoed that of Hamilton's first season after signing in free agency, replete with frustration, injury, and an inability to just get comfortable. Fans have expressed concern that the team overpaid for Palat, but the contract was an investment in leadership and experience. He doesn't play the prettiest game, but he fills a huge need of this team, a middle-six winger with grit and a wealth of playoff experience with success. Much like Hamilton, fans should expect Palat to settle in and thrive in his second season with the team. The current roster is well constructed so as the team is not reliant on him for offense, but a 25-goal season is not out of the question. Winning teams need players like Palat and he will pay dividends for the team over the life of his deal.
Alexander Holtz, Winger
Down here it's just winners and losers and don't get caught on the wrong side of that line – Atlantic City (1982)
It is put up or shut up time for Alexander Holtz. The seventh overall pick in the 2020 draft was told in his exit interview that this would be a make-or-break summer. He has shown that he has little to gain from more playing time in the American Hockey League. General manager Tom Fitzgerald conspicuously did not fill a middle-six right wing position choosing instead to place it up for grabs in training camp. Holtz will be given every opportunity to earn that spot but he will need to display more than the elite shot that led to his being a lofty pick. After training alongside Bratt all summer, Holtz will need to display more quickness and three-zone awareness in camp or he risks getting caught on the wrong side of the cut line.
Erik Haula, Forward
Tonight I'll be on that hill 'cause I can't stop
I'll be on that hill with everything I got
Lives on the line where dreams are found and lost
I'll be there on time and I'll pay the cost – Darkness on the Edge of Town (1978)
Few players in the league play with as much raw emotion as Erik Haula. He did not let an at times farcical inability to score over the first 50 games of the season impact his play in other facets of the game. Initially brought in to play 3C, he was quickly paired with Jack Hughes and the pair instantly took off. They played to a 60.5 expected goals percentage (xGF%) when on the ice together. Haula also brought toughness to the penalty kill and the faceoff dot and was a big reason for the team's success in both areas.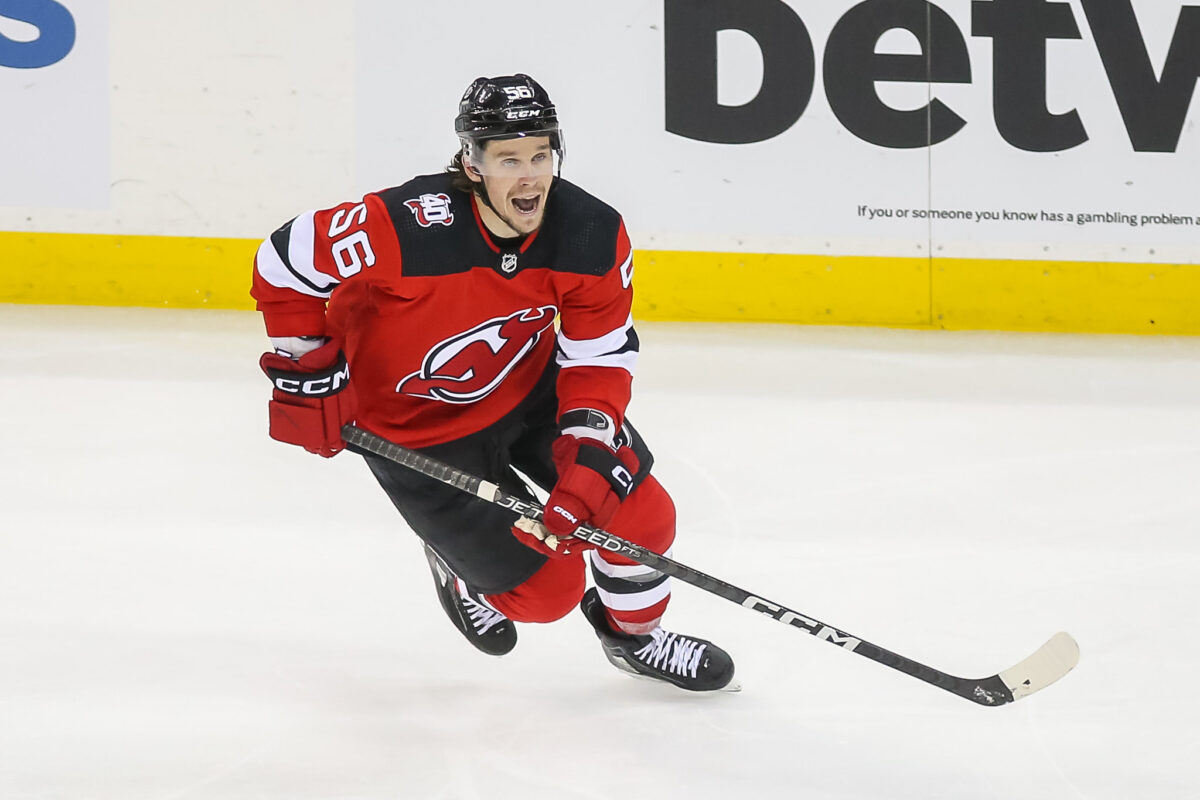 Haula's play in the first round of the playoffs was inspired, driving the team emotionally and scoring clutch goals. A vocal presence in the locker room, he preached paying the cost to win at that stage of the season. At the end of the season, the well-traveled forward demanded to be reunited with his "family" and Fitzgerald obliged by signing Haula to an extension. Whichever role he is called on to fill this season he will certainly be ready. It is not unreasonable to expect a 20-goal, 55-point season.
Kevin Bahl, Defenseman
And it don't matter just what you say
Are you tough enough to play the game they play
Or will you just do your time and fade away – Jackson Cage (1980)
Kevin Bahl took a huge step forward last season, ultimately making both Ryan Graves and Nikita Okhotiuk expendable. By the end of the season, he had supplanted Brendan Smith as the left-side mainstay on the third pair. His first foray into the playoffs was uneven but such is to be expected from a player with his experience. The challenge for Bahl is to get more consistent in how he defends in his zone and to improve his puck moving. The Devils will need him to emerge as a strong penalty killer to replace the losses of Graves and Damon Severson. Otherwise, he may cede playing time back to Smith or others. Bahl recognized that he had areas to improve and that playing time is not a given but there is plenty for the taking.
Dawson Mercer, Forward
There's something happening somewhere
baby I just know there is – Dancing In the Dark (1984)
When watching the Devils, it seems that Dawson Mercer is ever-present. The young forward is the only player to have played every game over the last two seasons. He plays center, wing, power play, and penalty kill. If there is something happening on the ice, there is a good chance Mercer is involved. In his first two seasons, he increased his goal output from 17 to 27, and there is no reason to believe that he has reached his ceiling, especially if he receives consistent top-six minutes this season alongside Hughes or Hischier.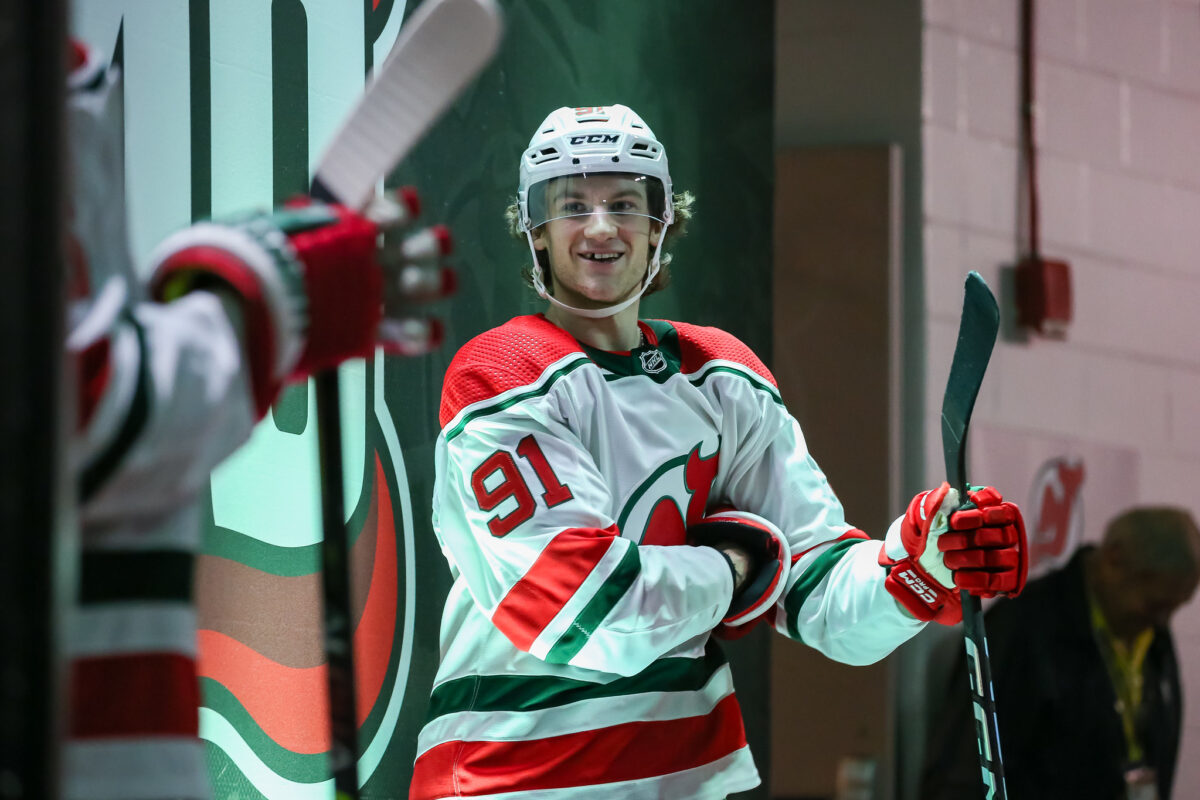 Mercer entered the league as a natural center but has played his best hockey to Hischier's right. While the xGF% is expectedly high (62), the more impressive stat is that they played together for 330 minutes and only surrendered 12 goals, just over 2.1 per 60 minutes. As discussed above, Ruff often matches Hischier's line against one of the opponent's top lines, so having another 200-foot player like Mercer on his wing will allow this to continue.
Nathan Bastian, Winger
What I got I have earned
What I'm not I have learned – Because the Night (1978)
Fan-favorite Nathan Bastian's season was derailed just as it started. The winger suffered a shoulder injury in November that never fully healed and limited him to only 43 games during the regular season. There was a stark difference in the play of the fourth line when Bastian was present. Like Mercer, he contributes in all three phases of the game, though his power-play time diminished as the season moved forward. This lyric fits Bastian, as he has transitioned from an offensive-minded second-round draft pick to a tough, defensive forward who embodies the heart and soul of this team. Fourth-line minutes will be hard to come by this season with at least five experienced forwards vying for playing time. Bastian's versatility and competitiveness will serve him well and ensure he will have every opportunity to continue to earn ice time.
RELATED: Devils' Ideal Line Combinations for 2023-24
Michael McLeod, Center
Early in the morning factory whistle blows,
Man rises from bed and puts on his clothes,
Man takes his lunch, walks out in the morning light,
It's the working, the working, just the working life. – Factory (1978)
Like his close pal Bastian, Michael McLeod has transformed himself from a first-round pick expecting to play top-six minutes to one of the finest fourth-line centers in all of the NHL. McLeod brings a lunch pail mentality to the team utilizing his intensity, competitiveness, and natural skill to inspire his teammates. Despite not being a fighter per se, McLeod was quick to stand up for teammates and unafraid to fight much larger men.
At the end of every practice, McLeod can be found working on faceoffs with assistant coach Chris Taylor. He credits this work, as well as his studying of tendencies for his ascent up the league leaders in faceoffs this season where he finished third in the NHL. McLeod's faceoff prowess proved indispensable for the team, and he was deployed in all three zones and in all three phases, and overtime, when the team needed to win draws on the right-hand side. McLeod will long be remembered by Devils fans for his series-winning goal in Game 7 against the Rangers, but there is a good chance that much of his story remains unwritten.
Vitek Vanecek, Goaltender
God have mercy on the man
Who doubts what he's sure of – Brilliant Disguise (1987)
Last anyone saw Vitek Vanecek he was in front of his locker answering questions after a Game 4 loss to the Carolina Hurricanes. It was clear, after a record-setting regular season, that the young goalie had lost his edge. Had the series continued much further, there were real questions about whether the team would even consider putting him back between the pipes.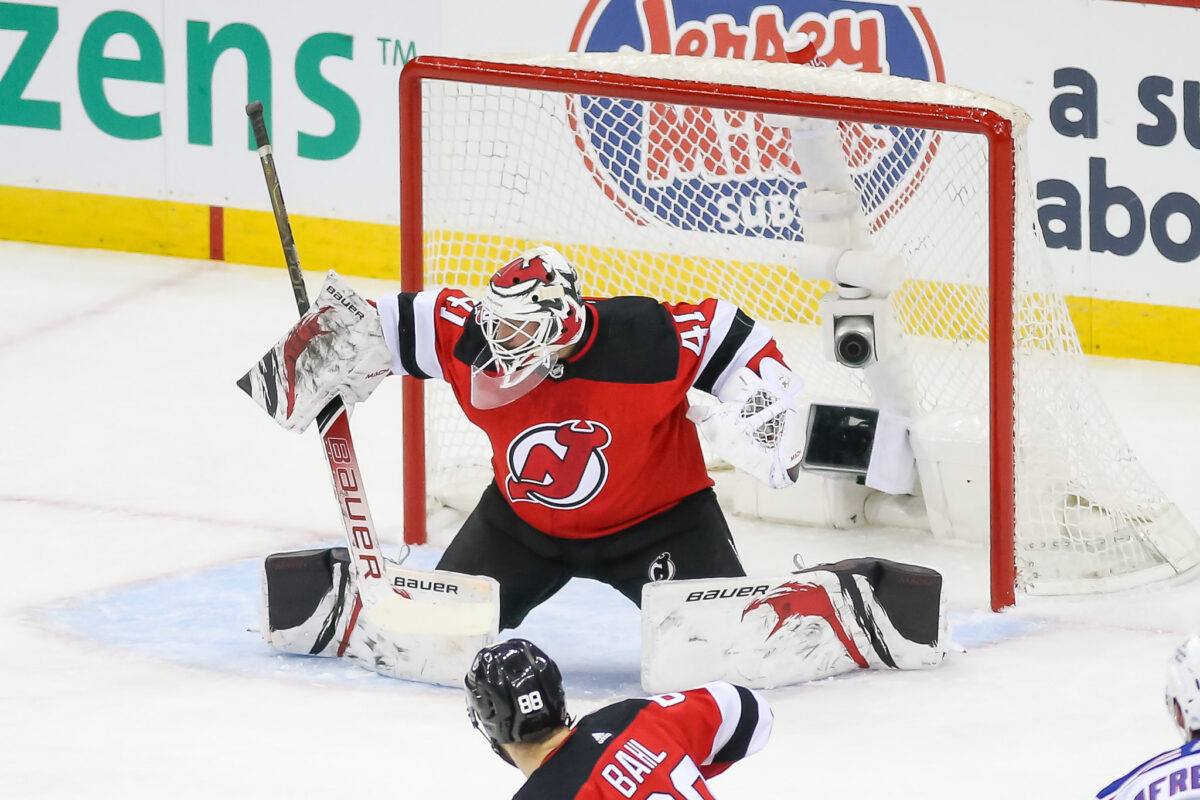 Over his three-year career, Vanecek has struggled at every opportunity in the playoffs, which must give Fitzgerald and Ruff pause at running it back with him as the de-facto starter in net. The hope has to be that the loose, energetic player that everyone saw for the first three-quarters of the season is the real Vanecek, and the playoff issues were more due to fatigue, overuse, and possibly nagging injuries. Otherwise, the Devils will desperately need another goaltender come playoff time.
Jonas Siegenthaler, Defenseman
This whole world is out there just trying to score
I've seen enough I don't want to see any more,
Cover me, come on and cover me – Cover Me (1984)
One of the shrewdest moves of the Fitzgerald era was not only trading for Jonas Siegenthaler, but then locking him up long-term. He has quietly evolved into one of the best shutdown defenders in the sport. Fitzgerald seeks out mobile, puck-moving defensemen with reach. Siegenthaler checks all those boxes. Add in the fact that he is an excellent penalty killer, and he is the perfect match with Dougie Hamilton. Siegenthaler's ability to cover for Hamilton when the latter jumps into the play in the offensive zone is a huge part of unlocking Hamilton's offense last year. Siegenthaler had some difficulty last season with positioning and reading plays leading to late-season scratches, but he was stellar in the postseason and should continue to grow into a top-pair defensive defenseman.
Curtis Lazar, Forward
Now they'd come so far and they'd waited so long
Just to end up caught in a dream where everything goes wrong
Where the dark of night holds back the light of day
And you've gotta stand and fight for the price you pay – The Price You Pay (1980)
The Devils added Curtis Lazar at the trade deadline for his experience, toughness, and versatility. Unfortunately for him, almost everything that could have gone wrong did. First, he had difficulty obtaining immigration paperwork, then he learned his pregnant wife and young son couldn't travel with him to New Jersey, and then finally he suffered a serious lower body injury almost immediately upon his arrival. Showing his characteristic toughness Lazar, battled back into the lineup and returned to contribute in the playoffs with a goal against the Rangers. He should enter this year healthy and hungry to find a permanent role with the team. The fourth line is crowded but with Lazar's faceoff ability and speed, he should find a way to crack the lineup on a regular basis.
Timo Meier, Winger
There's a dark cloud rising from the desert floor
I packed my bags and I'm heading straight into the storm
Gonna be a twister to blow everything down
That ain't got the faith to stand its ground – The Promised Land (1978)
In a league devoid of true power forwards, the Devils were willing to part with significant assets to acquire Timo Meier at the trade deadline. From the first time he hit the ice in Arizona through Game 5 in Carolina, he demonstrated why those assets were well spent. Meier led the team in goals scored from the time he joined the team through the end of the regular season. He appears to be the missing piece that can deliver the Devils to the promised land, as his tenacity, speed, and skill are rare but truly necessary for a winning team.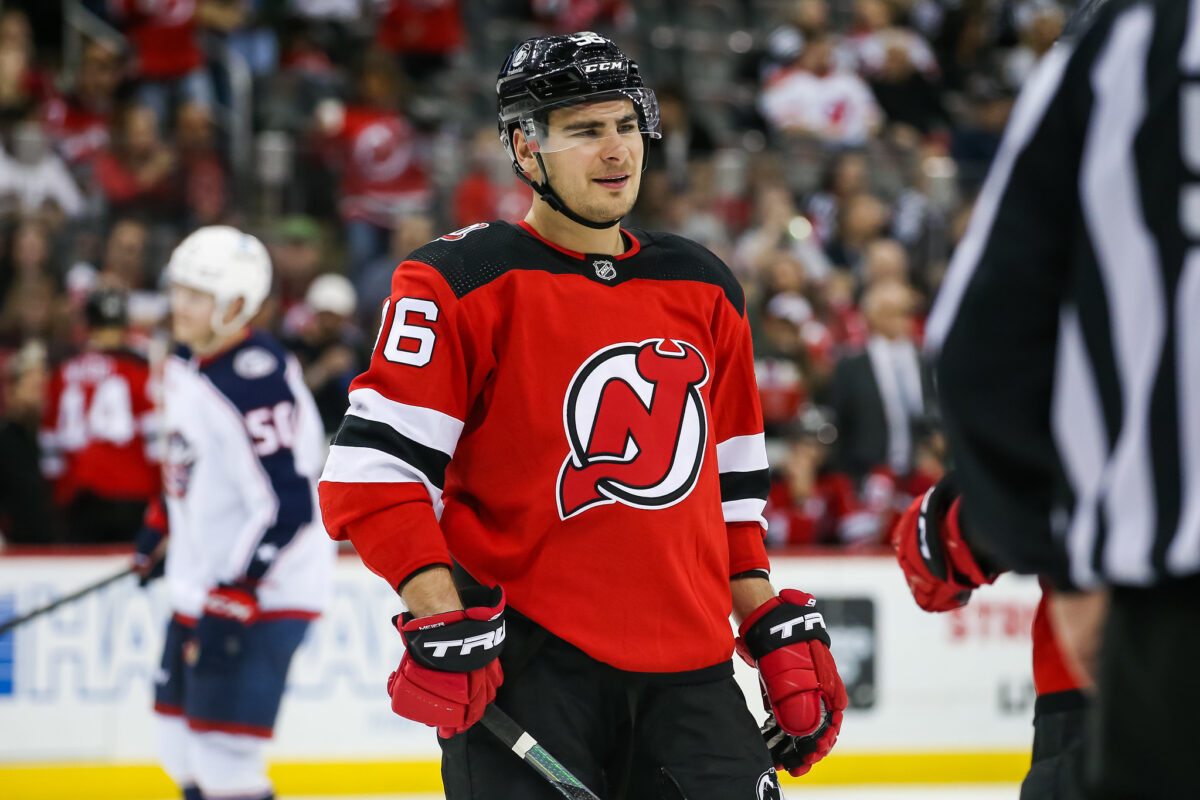 Meier immediately improves all facets of the team. He scored more power-play goals than any other player on the roster immediately upgrading that unit. He also evoked the play of his agent and former Devils Conn Smythe winner Claude Lemieux by showing against the Rangers how much of an impact he can have on the game even without scoring by completely taking Igor Shesterkin out of Games 3 and 4 at Madison Square Garden. With his future now secured and with a full offseason to gain comfort in the Devils system, there is no reason Meier can't vie with Jack Hughes for the team record for goals in a season (48). With some puck luck, Meier is in line to become the team's first-ever 50-goal scorer.
Brendan Smith, Defenseman
I don't give a damn
For the same old played out scenes
I don't give a damn
For just the in-betweens
Honey, I want the heart, I want the soul
I want control right now
You better listen to me baby
Talk about a dream
Try to make it real
you wake up in the night
With a fear so real
Spend your life waiting
for a moment that just won't come
Well don't waste your time waiting – Badlands (1978)
Brendan Smith played a vital role in the metamorphosis of the Devils from fun to watch to a legitimate contender. Anchoring the third pair for much of the season, Smith was a steady presence on the back end until he was supplanted by Kevin Bahl. Often maligned for penalties, the advanced stats were bullish on his play. He finished third amongst defensemen with a xGF% of 57.46 at even strength, ahead of Hamilton, John Marino, and Ryan Graves. Smith's veteran presence and leadership in the dressing room did not go unnoticed by players and staff. Several players noted that spending games sitting beside Smith in the scratch suite was a tremendous benefit to hearing how he read the game.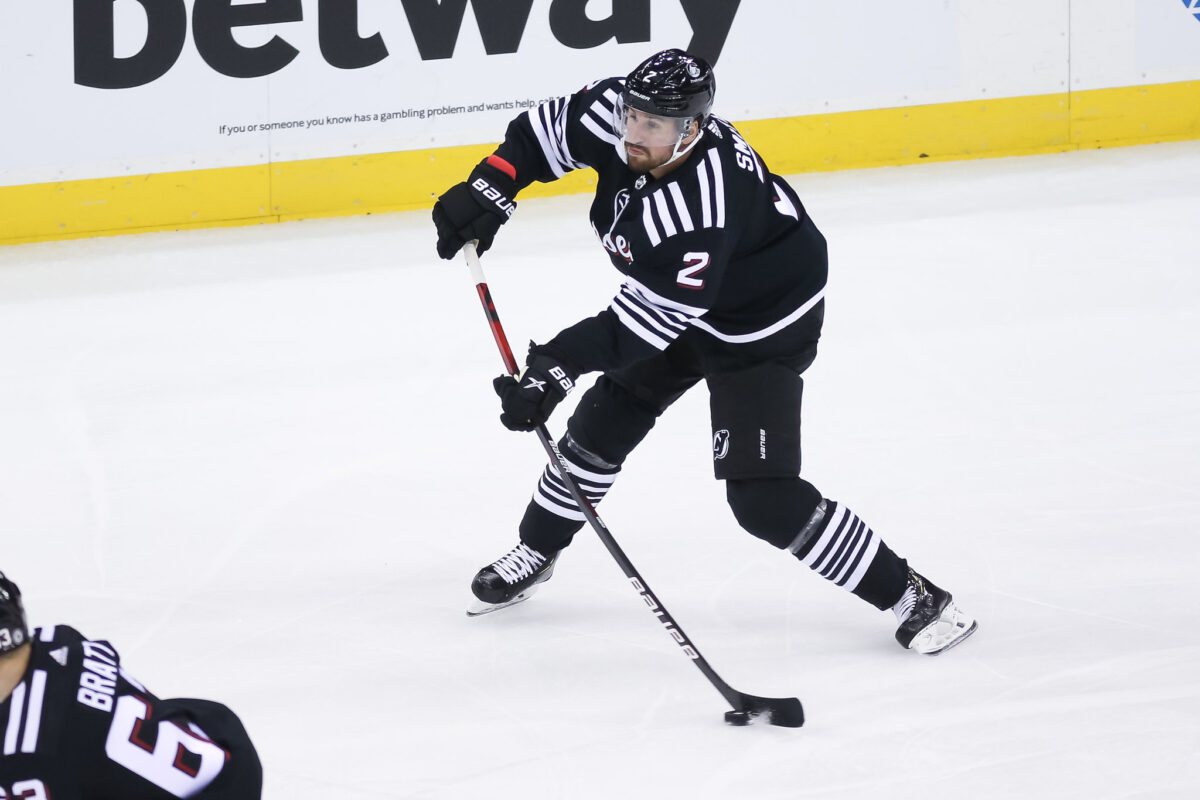 Smith is not shy about being closer to the end of his career than the beginning, and he is willing to do whatever it takes to be the second in his family to have his name etched on the Stanley Cup. One thing that is for sure about Smith is he will not passively sit by and wait for opportunities. He will do everything in his power to grab them. It is likely that he begins the season as the odd man out in the starting lineup, but his ability to play both sides and his toughness combined with Ruff's faith in his competence in the defensive zone should result in chances for Smith to contribute before the season ends.
Tyler Toffoli, Winger
We cannot undo these things we've done – Outlaw Pete (2009)
The biggest offseason addition to the team was undoubtedly Tyler Toffoli. Assessing the team at the end of the season, they needed a right-handed scoring forward with experience. Toffoli checks all of those boxes and then some. He comes to New Jersey off of his highest-scoring season in his 11-year career. He lit the lamp 34 times last season in Calgary including 10 power-play goals, which would have led the Devils. He also brings the experience of playing in 88 playoff games including twice making the Stanley Cup Final and winning once. Likely to be slotted in the middle six, he should find a plethora of scoring opportunities at even strength and should find space and time on the power play. He may not be the defensive forward that Tomas Tatar is, but he is a clear upgrade offensively and a career .5 point-per-game player in the playoffs.
Tomas Nosek, Forward
It takes a leap of faith to get things going
It takes a leap of faith you gotta show some guts
It takes a leap of faith to get things going
In your heart you must trust – Leap of Faith (1992)
Faced with a choice of trying to work out a new contract with Boston or test free agency, Tomas Nosek said he was hoping to stay in Boston and not have to resettle his family. When it appeared that he would be looking for a new home, he had a conversation with Devils legend Patrik Elias, who helped convince Nosek to take a leap of faith and sign with New Jersey. Like Toffoli, he brings a wealth of playoff experience (52 games), and he provides insurance on the fourth line as he can play all three forward positions and is a skilled penalty killer. The Devils were fortunate to get a player of Nosek's caliber so late in free agency and for only $1 million against the cap. He will likely battle with Lazar and Bastian for playing time and push McLeod to continue to improve.
Luke Hughes, Defenseman
Well, my feet they finally took root in the earth but I got me a nice little place in the stars – Growin Up (1973)
The hype was fierce and there was no way Luke Hughes, just a few days from playing college hockey, was going to live up to the expectations. Wrong. He took New Jersey by storm finishing off the regular season with an overtime game-winning wrap-around to defeat the Washington Capitals. He then sat out the entire Rangers series and was inserted into the second-round matchup against the Hurricanes with the Devils down 2-0 in the series. He more than held his own, playing to a 53.75 xGF% over the course of three games. He also earned the faith of Ruff in critical moments as he was deployed for over 25 minutes as the Devils faced elimination in Game 5.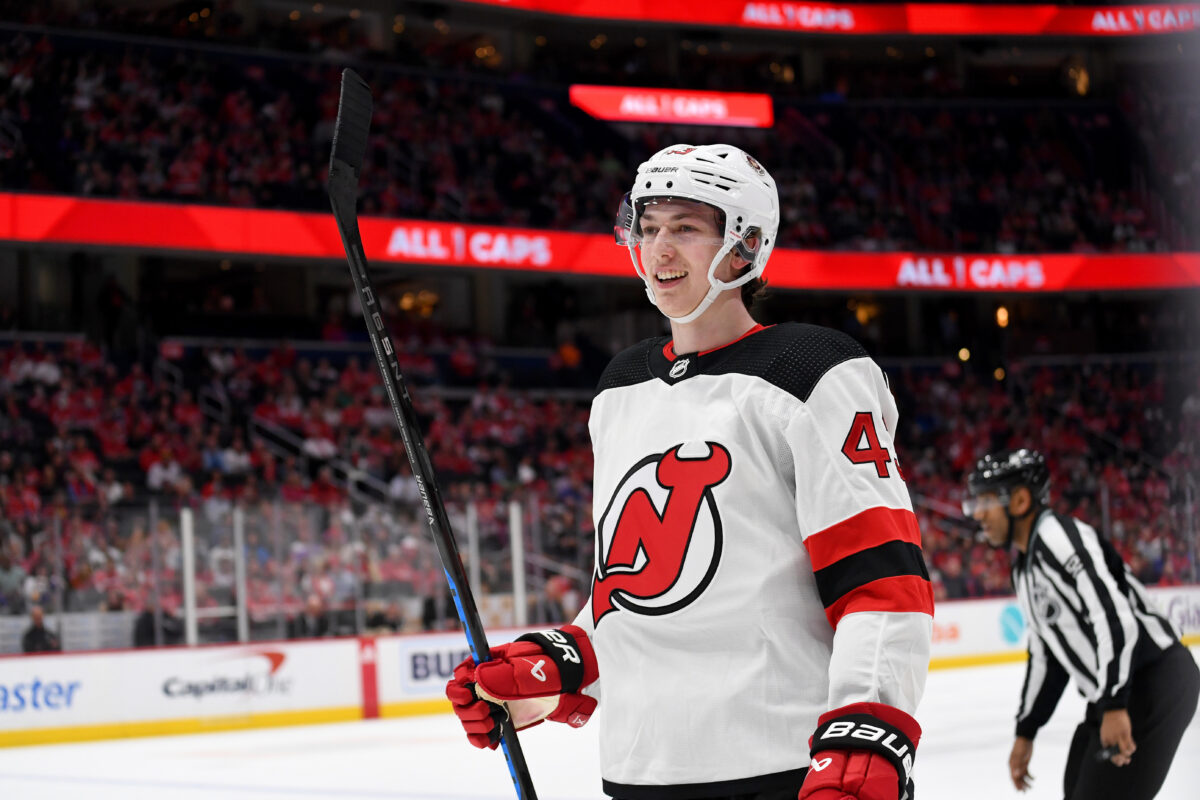 Hughes has all the makings of the star he was projected to be when the Devils grabbed him with the fourth overall pick in 2021. He has shown dominance at every level and did not look out of place in his brief NHL stint. The Devils will try to shield him by playing him with John Marino and likely limit his penalty kill time, but he should be getting top-four minutes in all three phases by the All-Star break. Hughes will be given the keys to second power-play unit and with the infusion of power-play talent, should be able to use that role to vault himself into contention for the Calder Trophy.
John Marino, Defenseman
Now sometimes tomorrow comes soaked in treasure and blood
We stood the drought, now we'll stand the flood
There's a new world coming, I can see the light
I'm a jack of all trades, we'll be all right – Jack of All Trades (2012)
When the Devils acquired John Marino from the Pittsburgh Penguins in the summer of 2022, few understood how important that move would be in the ascent of the Devils. Unlocked in Ruff's system, he displayed a flair for offensive hockey that was absent in Pittsburgh. Marino was a true Jack of All Trades for the Devils last season, able to provide the team with whatever it needed. He played on all three phases of the game and grew into the role of shutdown defender. He was matched up against Connor McDavid, Nathan McKinnon, and Auston Matthews and held his own each time.
Most impressive is that despite these unfavorable matchups, he never allowed the ice to be tilted against him. He played to a 54 xGF% and when on the ice, the Devils out-chanced their opponents in all scoring chances and high-danger chances, both at over 55%. His performance in the final game of the season, logging more than 30 minutes of ice time, was indicative of how much he means to the team both in the present and moving forward.
Akira Schmid, Goaltender
Still at the end of every hard earned day people find some reason to believe – Reason to Believe (1982)
Devils fans have many reasons to believe, none more than the performance of rookie Akira Schmid. He doubled down on a stellar regular season by outplaying Vezina Trophy winner Igor Shesterkin in the first round. Schmid posted a .950 SV% in bringing the team back from a 2-0 deficit. He shut out the Rangers in pivotal Games 5 & 7. While his play in the second round was not on par with the Rangers series, he certainly left fans wanting more.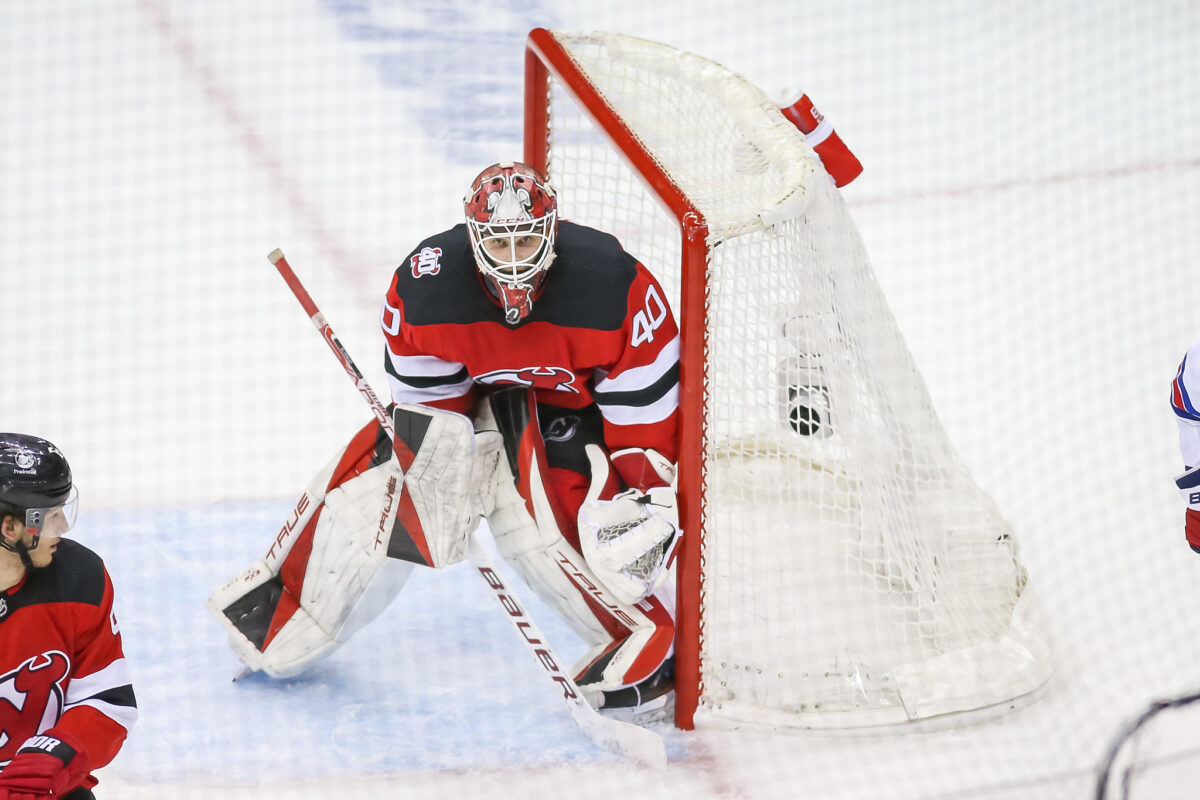 As of now, it appears Schmid will begin the season in New Jersey, fighting Vanecek for the starter's net. Fitzgerald is reportedly concerned about overworking the 23-year-old Swiss goalie who only has 18 regular season starts in his career. Schmid will likely enter as the 1B to Vanecek's 1A and should he be faced with backing up for stretches, it would not be a surprise to see him shipped to Utica so he can build up his stamina. Keep in mind, he still does not need to clear waivers to be sent down. Devils fans have every reason to believe that their future starter is now on the roster.
Jack Hughes, Center
Poor man wanna be rich
Rich man wanna be king
And a king ain't satisfied
Till he rules everything
I wanna go out tonight,
I wanna find out what I got – Badlands (1978)
An intense competitor exists beneath the elite skating, silky mitts, and lethal shot of Jack Hughes. In his first foray into playoff hockey, a different Hughes emerged. He turned weaknesses into strengths, increasing his faceoff win percentage by almost 15 points and demonstrating a newfound physicality. He was unafraid to take the body. He was credited with 12 hits throughout the regular season, yet ended the playoffs with five credited hits in 12 games. Sebastian Aho was introduced to this version when he was tossed to the ground and pummeled by Hughes after absorbing a torrent of cross-checks. Any questions about his ability to weather playoff storms were put to bed when he gutted out, having a tooth knocked out and then a significant upper-body injury to play in an elimination game. Even his coach doubted he could get in the lineup.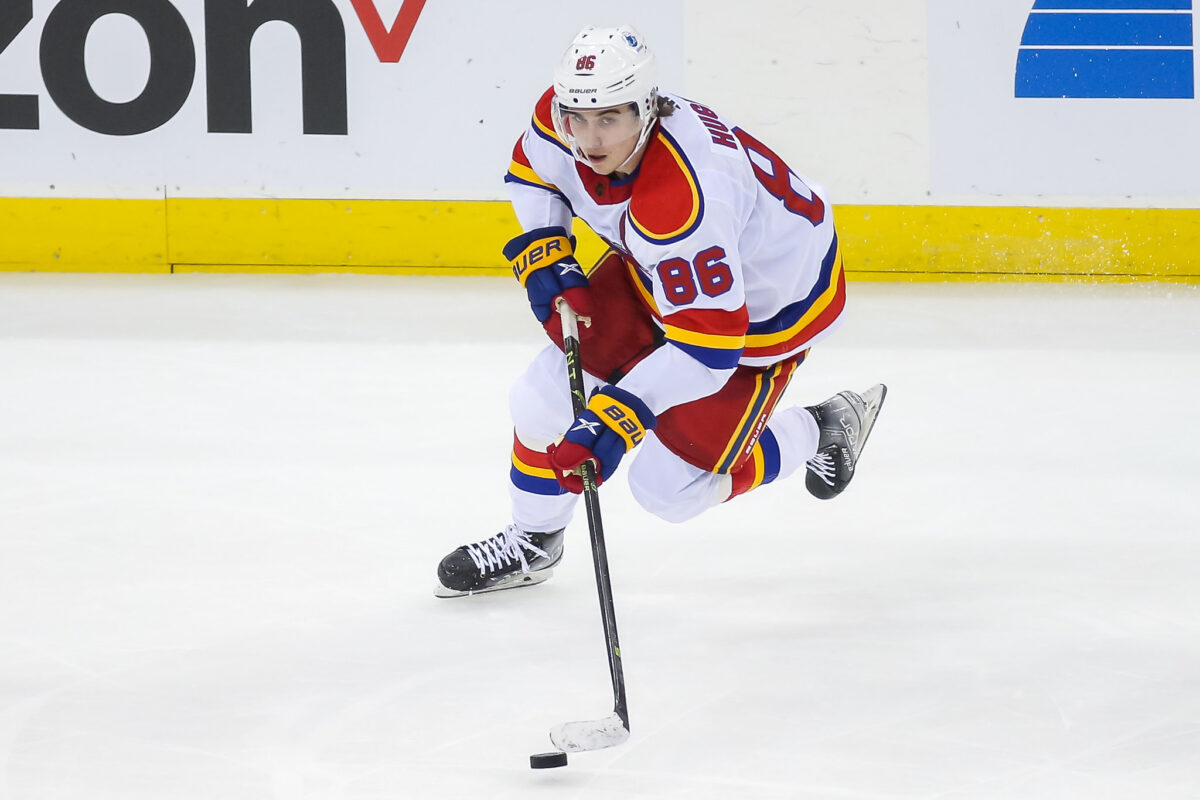 He may already be the most naturally gifted forward in the Devils' history. The immortal players all have another gear and are driven by a deep need to be great. Hughes is no different. Like the truly great players, he also rises when the team needs him most. Much to the fortune of Devils fans, there is no ceiling to how good Hughes can become. He has already been talked about as a Hart Trophy candidate and finished a point shy of 100 and he enters this season at 22. Having now entered the realm of superstardom on an ascendant team, what is the next level for him to unlock? If asked, Hughes would no doubt say personally he wants to smash his own team record for points in a season. However, it is clear that to him the most important goal is to hoist the Cup, and the fire that burns inside him won't be extinguished until he reaches the promised land.
This season's Devils will no longer be able to sneak up on opponents or feast on backup goalies. They have transitioned from the hunter to the hunted. There is no more climbing through windows, to get to the land of hope and dreams they will have to use the door.
---

---