Social media was abuzz last night as news came out that seems to officially confirm the rumor the Edmonton Oilers are looking to extend defenseman Kris Russell to another contract. Doing so would likely keep Russell as part of the Oilers' top four, and of course barring a trade, means the Oilers plan to compete for a Stanley Cup with a core of Andrej Sekera, Adam Larsson, Oscar Klefbom and Kris Russell.
The buzz comes from an article written by Oilers insider of all insiders, Jim Matheson. In a post about Sekera being the leader of the Oilers' blue line, Matheson added a tidbit on a few other Oilers defensemen, including Russell. That one sentence on Russell — who is a polarizing analytics player — seems to have gotten all the attention.
… And Adam Larsson, who looks a whole lot like a young Jason Smith without Gator's mean streak. And Kris Russell, who will never win over the analytics crowd but will get offered a new contract after Jan. 1, no matter what the naysayers gripe. Oscar Klefbom, with only 142 NHL games, well short of the acknowledged 300 when D-man should show us what they really are. Brandon Davidson, whom GM Peter Chiarelli has to find a way to not lose to the Vegas expansion team…
If anyone would know that the Oilers are planning to make an offer, it's probably Jim Matheson, who has been on the inside of a lot of Oilers news for decades. To say something so matter of factly means there must be something to it. If this news is true, there are a number of problems with extending Russell at this time.
A Core That's Too Weak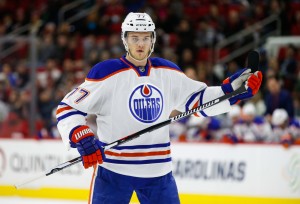 Russell, Sekera, Larsson and Klefbom is a good top four, it's just not a great one. It's definitely not a championship group. That they could develop into one is a theory that has very low odds and it means that the Oilers will be forced to make a trade for a top-tier defenseman the minute they realize they can't win the big playoff games.
If a trade looms on the horizon, who do you move? Larsson is a righty who the Oilers lost Taylor Hall for. He's probably not going anywhere. Sekera has been Edmonton's best blueliner and comes with a no-movement clause in his contract. Russell, in this scenario, just got extended. That leaves Oscar Klefbom.
Klefbom isn't without his issues. He's often the Oilers top defensemen and only a matter of a few games later, one of Edmonton's weakest prone to making ten-bell mistakes. That said, Klefbom has the potential to be a building-block for the Oilers for years moving forward. At the very worst he's an excellent No. 3 defenseman. At best, he's a top-pair lefty. If you sign Russell, it seems clear that it's only a matter of time before you say goodbye to Klefbom since he's the piece that may gather you the offensive defenseman the Oilers need.
Bye-Bye Davidson or Maroon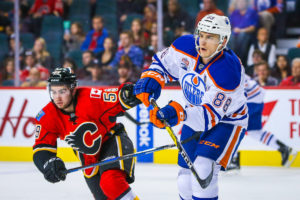 If the idea that losing Klefbom has your undies in a bunch, add to that the idea of losing Brandon Davidson or Patrick Maroon. That's almost a guarantee if you sign Russell come January 1st.
The minute you sign Russell, the plan changes in terms of what the Oilers do for the upcoming NHL Expansion Draft. There is a slight chance the Oilers sign Russell and leave him unprotected come the draft, thus finding a "creative way" to protect other assets without officially protecting them, but that plan makes little sense if the Oilers truly believe Russell is an answer to a number of their problems. The more logical result is that the Oilers then have to leave Brandon Davidson exposed and will most certainly lose him.
One expansion option allows teams to protect seven forwards, three defensemen and a goaltender. If the Oilers go this route, they could lose Russell after extending him. If Las Vegas doesn't take Russell, the Oilers keep him but lose Davidson.
The second expansion option allows teams to protect eight skaters and a goaltender. In this scenario, Edmonton can protect all of their blue line core, but again leave Davidson or other players like key forward Patrick Maroon exposed.
Russell Isn't as Good as the Oilers Think He Is
Why there's such furious disagreement on the merit of Kris Russell of the Oilershttps://t.co/OJceWScSiw pic.twitter.com/qkF8POlg47

— David Staples (@dstaples) December 27, 2016
If you believe the pro-analytics crowd, there is another potential issue. The issue is that by signing and extending Russell, Edmonton is investing a valuable spot to a player who isn't as good as the Oilers think he is. I'm not necessarily in this group, but much of that depends on what the numbers look like on a new Russell contract.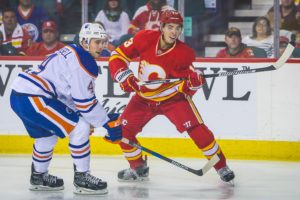 Outside of Russell's obvious ability to block shots, Oilers-GM Peter Chiarelli believes that Russell is one of the better blueliners in the NHL at getting his forwards in an attack position. That said, he provides literally next to no offense. He's clearly a limited skillset player and while his skillset has some value, many believe that on the Oilers' depth chart, Russell isn't in the top-five. This is a big problem if Russell's game goes downhill on the back-half of the season. It's also the type of player that if you invest in, you'd better make sure the dollar value makes sense. In my eyes, that dollar value would be under what he's making now.
I'm not opposed to the Edmonton Oilers extending Kris Russell to a new contract. I see major issues with Edmonton doing so at their first opportunity come January 1st. The Oilers are a better team now than they wer yesterday. They have a long way to go to be a championship team. One of the key pieces missing is an offensive defenseman. Russell doesn't fill that need and signing him now makes it harder to obtain that piece in the future.