From a team standpoint, there is not much to complain about when it comes to the Edmonton Oilers season.  With eight wins in their first thirteen games, things are going as well as anyone could have hoped in the Alberta capital but there is an area of some concern…the deployment of Jesse Puljujarvi and Kailer Yamamoto.
In fact, the argument can be made the best place for the pair, in the here and now, would be in the AHL playing for the Bakersfield Condors. The two, who along with Ty Rattie, had Oilers fans salivating at what might be during pre-season action, have hit a wall to start the 2018-19 campaign.
So Much for All the Hoopla
Those Struggles have led directly to both spending time in the press box and the masses are starting to wonder aloud if the organization is doing the pair a disservice by keeping them in Edmonton? A fair question to be sure and as each day passes, the answer becomes clearer by the minute.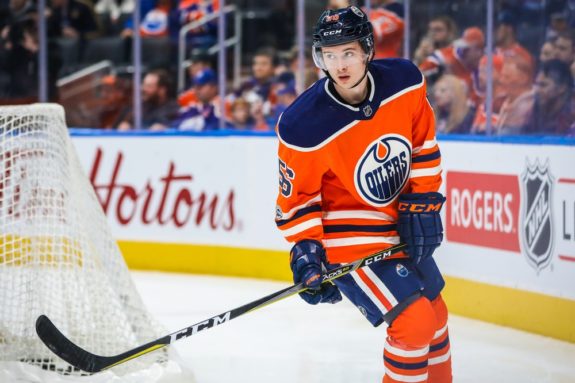 Be it due to not being quite ready for the NHL, an inability or unwillingness to play the kind of game the coaching staff wants, a lack of production, other players stepping up their game or a combination of all of the above. Whatever the reason, the reality of the situation is what it is and pretending as if it doesn't exist would be a mistake.
With Rattie set to return to the lineup from injury, Drake Caggiula and Alex Chiasson on respective hot-streaks, keeping a spot in the Oilers lineup is no small task these days. Add to that the fact both Puljujarvi and Yamamoto are best suited to play with other skilled players and the math simply doesn't add up.
EDM vs CHI:

Looks like Caggiula remains on top line, as Rattie won't play. Puljujärvi back in w/Lucic & Strome, Yamamoto likely to sit.

D-pairs remain the same.

— Jack Michaels (@EdmontonJack) November 1, 2018
Like most coaches, Todd McLellan prefers to run his top three lines in pairs and at least for the moment, those duos are locked in place. Connor McDavid with Ryan Nugent-Hopkins, Leon Draisaitl is skating next to Tobias Rieder and Ryan Strome is paired with Milan Lucic.
Finding the Right Fit
Caggiula has made the most of his opportunity and Rattie's misfortune to grab the spot on the team's top line with his run of late. Ditto for Chiasson, who has come out of nowhere to score six times on thirteen shots in his first eight games in Oilers silks and has been a key cog in getting the second unit on track for the first time this season.
This leaves right-wing on the third line as the lone opening. Puljujarvi has seen much of his time in that exact spot and the third line has been, without question, Edmonton's most disappointing to date. With that said, if you're looking to point a finger, Lucic and Strome have one even-strength point between them in thirteen games and it came when the former found himself on the ice with Draisaitl and McDavid in the season opener.
Related: Finding Leon a Running Mate
Again, with Rattie ready to go, it would only make sense for him to draw back in for the big Finn, who has yet to find his groove at the NHL level. Nine names, for nine spots and neither Puljujarvi nor Yamamoto, have done enough to grab one of those spots…at least for the time being.
With three games in the next four nights, chances are both will remain with the club for the next couple of games but barring injury, there is absolutely no reason for them not to be sent to Bakersfield shortly thereafter. Who comes up is of no great consequence but getting these kids playing time in all situations, and plenty of it, is imperative for their individual development and the club's long-term future.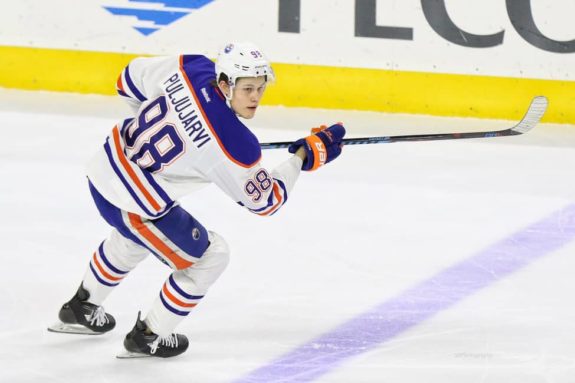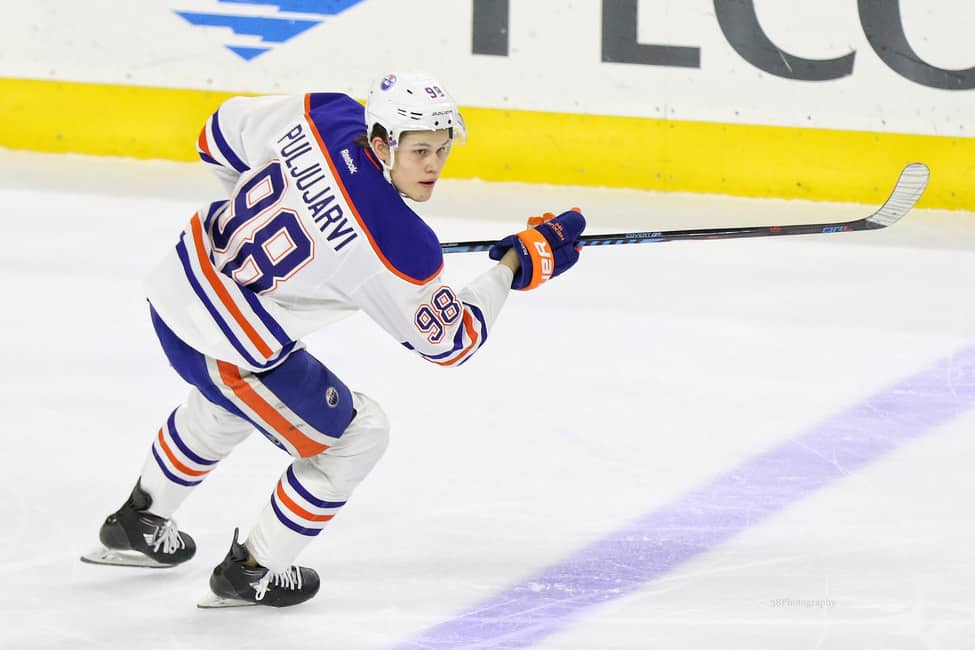 In my mind, Puljujarvi should have been given more of an opportunity to earn his place but at the end of the day, that isn't how the coaching staff and/or organization see it and that is all that matters. In their defence, the player hasn't done much with the chances he has had and they can ill afford to take a wait and see approach this season.
Again, though much of his ice-time has come on the third line, with limited looks on the man advantage and no time whatsoever on the penalty kill, Puljujarvi has been AWOL more often than not. Those who are familiar with my writing know full well of my support for the kid, some would argue to a fault, but the results or lack thereof, speak for themselves…be it of his own doing or decisions made by others.
Making the Most of an Opportunity
Yamamoto isn't in quite the same situation, as the former Spokane Chiefs standout has been given an extended look inside the top six and hasn't looked completely out of place. However, two points in eleven games, most of which has come skating alongside McDavid, isn't enough production.
Not surprisingly, McLellan looked to make a move a couple of games ago and it has certainly helped spark the lineup. By the sounds of it, Yamamoto will be sitting for the third straight time during tonight's tilt with the Washington Capitals and it comes on the heels of Puljujarvi taking a seat during the four previous games.
Related: Nugent-Hopkins Primed for Career Season
Far from an ideal situation to be sure but the Oilers are in win-now mode. There is no question the hope was for one or both to have big seasons but as we know, there is no such thing as guarantees in the world of sport. Unfortunate to be sure but having them stay and not play can't be allowed to continue.
In a year where there was question marks on the roster, the thought of sending Bouchard back to London and having both Puljujarvi and Yamamoto play top line minutes in the AHL would've been the dream scenario for the #Oilers. Let these kids develop properly!!!!

— Mohammad Jaber (@Moe_Jaber) November 5, 2018
Let's not forget, we're talking about kids who are still babies. At 20-years of age, if they aren't going to be seeing regular duty in the NHL, playing them a ton and in all situations, should be priority one…even in the AHL. Make no mistake, neither will be happy to do it but that is of little consequence.
In my mind, the perfect scenario would see the pair head to Bakersfield and immediately be put together on the Condors top line. Despite both having spent much of their time on the right side, Yamamoto has shown capable of playing either wing and perhaps they will push one another to get better.
Development, Development, Development
Unless you haven't been paying attention, it is rather obvious Puljujarvi is frustrated with his current lot in life and lost his confidence. The only way that gets fixed is with individual success and the only place that is going to happen, in the short-term, is in the minors and there is no shame in that.
From an organizational standpoint, it should be fairly cut and dry. Feed them ice-time at even strength, on the power play, on the penalty kill and help them get their "mojo" back. With all due respect to the other forwards in Bakersfield, the development of these two players is imperative and need to take precedent.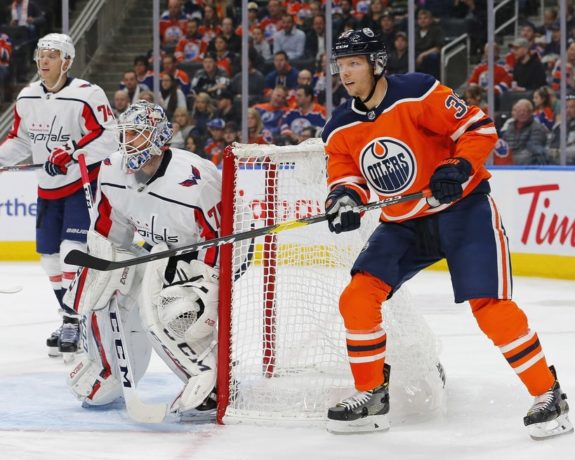 That won't happen in Edmonton and that is the precise reason why neither one should remain where they are. Logic suggests neither Alex Chiasson nor Drake Caggiula will be able to maintain their current pace and when that cooling off period hits, someone is going to need to fill that void. Hopefully, both Jesse Puljujarvi and Kailer Yamamoto will be clicking on all cylinders and ready to make the jump because this team is going to need them by season's end.