In Saturday's beatdown of the Pittsburgh Penguins, Morgan Rielly tallied two goals. He is, to this point in the season, the NHL's top-scoring defender with six goals and 12 assists (18 points in 14 games) and Rielly has now scored in three straight games (two goals and two assists), which makes him both the NHL's top scoring d-man and the Maple Leafs's top scorer (tied with Mitch Marner).
Sure, even with Auston Matthews projected to be out four more weeks, Reilly is helped by playing with a strong core of forwards. But, he is the real deal as a defenseman. He consistently averages over 23 minutes of ice time per game, only dropping to 21 minutes against the Penguins because the score was lop-sided.
Rielly Was Often Overlooked
As Maple Leafs' fans know, the Leafs drafted Rielly in round one, fifth overall, of the 2012 NHL Entry Draft. At 6′ 1″, 221 pounds, Rielly (now age 24) came with the handle of being an offensive defenceman. In fact, the word from Elite Prospects in 2012 was that Rielly was "An offensively very skilled defenseman that plays a decent defensive game at the same time. Gifted skater with nice puck skills and a good shot. Not a very physical player."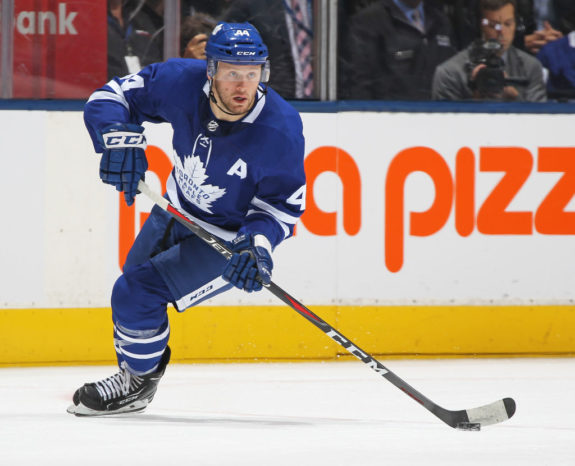 The NHL is blessed with strong blueliners, but almost always Rielly seems missing when the so-called experts list who's who in the zoo with it comes to "elite" d-men. For example, in the NHL Network's 2018 rankings of the Top 20 defenders, Rielly didn't make the cut. Brian Burke obviously ranked Rielly higher than other now star defensemen Hampus Lindholm, Jacob Trouba, and Shayne Gostibhere; but, it wasn't until Mike Babcock came in as Leaf's coach in 2015 that Rielly's game started to grow. Babcock's decision to focus on Rielly's even-strength production is the thing veteran coaches see that others miss.
Related: With Matthews Down – Who Rises?
Rielly Overlooked No Longer
This year, the pressure is on the team to produce. Most believe this year's Maple Leafs are among the favourites. On November 2, CBS Sports' Cody Benjamin reported that Bovada's 2018-19 Stanley Cup odds currently ranked the Maple Leafs as 13/2 favourites to win the Stanley Cup (followed by Tampa Bay at 7/1 and Nashville at 17/2). Obviously, Matthews' maturation into a star and the Leafs' signing of John Tavares make it a must-win year, but one shouldn't discount Rielly's role in the team's ability to find success.
The Leafs' blueline needed to improve. As it stands, most experts see the Leafs as having elite forwards: not-so-elite defencemen. While there were no Leafs' defencemen in their top 20, the Leafs' Rielly, Jake Gardiner, and Nikita Zaitsev are certainly top-four talents. Babcock especially seems to like Rielly, reflecting upon Rielly's record-setting start to the season when he had 12 points in five games, "Mo has got confidence. No one gives it to you. You've got to earn it." Babcock went on to say, "I think he earned a lot last year and he's really come on this year. He feels like every night he goes out there, he can do something."
Related: NHL Rumors: Bobrovsky, Rask, Nylander, More
But is Rielly a Norris Trophy Defenseman?
With Rielly's vast improvement, it is time to ask: "Is Morgan Rielly ready to challenge for the Norris?" As NHL fans know, the James Norris Memorial Trophy is awarded to the National Hockey League's top defensive player who annually demonstrates throughout the season the greatest all-around ability in the position. It is named after James E. Norris, the legendary owner of the Detroit Red Wings.
The Boston Bruins' Bobby Orr of won the award for a record eight seasons in a row (1968–75). The Habs' Doug Harvey won the award seven times, the Wings' Nicklas Lidstrom won it six times in his career, and Bruins' great Ray Bourque won it five times.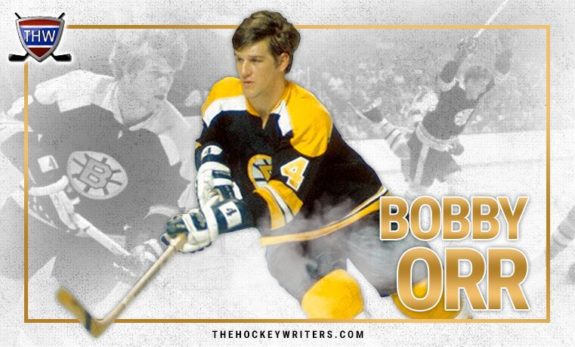 It would be premature to mention Rielly in the same sentence as any of these greats, but it is hard to argue that, so far, this years' version of Morgan Rielly is the best defenceman in the NHL. He leads all NHL d-men in points and is critically valuable on his own team. Moreso, Rielly has been instrumental in a number of Leafs' wins. Besides the most recent win, and his two goals against the Penguins, less than 30 seconds into overtime against the Blackhawks, a Rielly goal gave the Maple Leafs a 7-6 win in Chicago after they fought from behind to get back into the game.
Each year Rielly gets better. He was ranked highly as a draftee, became a regular in his first year when, in his 73 games, he ranked second in the NHL in assists (25) and sixth in points (27) among rookie defensemen, and Rielly played all 82 Leafs' games in 2015-16, finishing second on the Maple Leafs with 27 assists and tied for third with 36 points. His production dropped in 2016-17 but he finished with 52 points last season and is on pace to shatter that total this season.
Time will tell where Rielly ends up in the Norris voting as there's still more than eighty percent of the season left to play. But, in the early going, if nothing else, he should be watched closely this year. Those that choose to exclude him in the conversation (he's been relatively excluded to date) may realize they overlooked him.