Opening night in Edmonton was a site to be seen. With about an hour's worth of opening ceremonies, a fantastic light display, moving tribute video to a new 2016-17 season, Gretzky and Messier on the ice and a 7-4 win over the Calgary Flames, without knowing more, you'd think it was all daisies and roses at Rogers Place. After all, it took the Oilers five games to reach seven goals in the previous season: they reached seven in one game to open 2016-17.
Unfortunately, a closer look at the game log and scoresheet and you'll see a different tale. Not all bad, but not all good and a story that requires some heavy lifting to get the Oilers where they want to be.
The Good
Connor McDavid, full stop. Whether it was the idea of playing the first regular season game at Rogers Place as the captain of the Edmonton Oilers or the four-goal performance by Auston Matthews just minutes before Edmonton hit the ice, McDavid was a man possessed. He scored two goals and one assist, had six shots on goal and was in on a ton of scoring chances.
The Flames tried to rough him up physically in an effort to slow him down and when it looked like Calgary was about to bring the game back around in their favor — tieing it up at three goals each— McDavid single-handedly put the game out of reach. He left the Great One, Wayne Gretzky, shaking his head in disbelief.
The Pretty Good
Kris Russell, Adam Larsson, Patrick Maroon, Tyler Pitlick and Jesse Puljujarvi were wonderful for the Oilers in a more unexpected way. None of these players would be the guys you might call upon to pick up the slack or become game changers for your team, but all of them had strong performances in a winning effort. Russell was especially good, earning the second star of the hockey game.
Related: Yakupov and Russell Deals Show Changed Focus
Maroon looks to be a faster version of the player he was last season (which was a really good player for Edmonton), Russell quieted some of his doubters with a strong performance, and Pitlick and Puljujarvi showed they potentially have the stuff to play regular games in the NHL this season.
For the record, I thought Zack Kassian had a whale of a game in a more limited role. He made the most of every shift, making hits and scoring when it counted. He beautifully teetered near the edge of nastiness without getting in trouble with the referees.
The Bad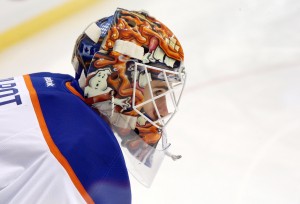 There was, surprisingly, a lot of bad in a 7-4 win. Edmonton got away with some major mistakes and while they were still able to pull out the win, won't be able to do so against some of the stronger teams. If the Oilers want to string together a strong start, they'll need to shore up the issues that almost got away from them.
Edmonton was badly out-shot by a tally of 41 to 28. While he did the job asked of him, Cam Talbot didn't look tremendously comfortable in net and if he's going to get the bulk of the starts in October, Edmonton can't get this badly out-chanced and expect to win. It was Brian Elliott's extremely weak performance in net for the Flames that helped ensure Edmonton left the building with their first win of the season.
Edmonton was also poor on faceoffs — namely Ryan Nugent-Hopkins, who went 3 for 17 at a rate of 18 percent. Draisaitl was 33 percent and McDavid was 47 percent. Only Mark Letestu was a positive faceoff contributor at 64 percent and it skewed Edmonton's overall faceoff percentage at 40 percent to look better than it actually was. Frankly, it was ugly in that respect. If the faceoff struggles continue, this could provide an opening for a player like Anton Lander.
Related: Lander Demotion a Wake-up Call
Finally, the power play was 1-for-6. Milan Lucic did a good thing by standing up for McDavid after what was a clean hit by Derek Engelland, but what did it really mean?.  Yes, Lucic needed to set a precedent that taking liberties — cheap or not cheap — with McDavid wouldn't be tolerated. But, this isn't something Lucic can do every time someone touches his superstar. The only way to make the opposition play McDavid straight up is by burning them every time Edmonton has the man-advantage.
With the way Edmonton's power play flopped on Wednesday, the Oilers' firepower isn't scaring anyone. This is especially true when you let in two short-handed goals in a single game and have major turnovers that cost you goals Edmonton shouldn't be handing to other teams.
The Oilers, and more importantly, coach Todd McLellan, realize that while this game had a lot of great and memorable moments, things need tightening. For now, it's only Game 1 and Edmonton will take wins any way they can get them, including greasy, ugly victories.
It's not as though Edmonton didn't deserve to win this game — they did. But, getting off to a good start over the first nine games of their favorable schedule to start the season in imperative. Lapses like the ones they had Wednesday evening could cost them, and as every Oilers fan knows, counting on seven goals to win you a hockey game isn't the most logical plan ever constructed.