In their Game 5 victory over the Los Angeles Kings on Tuesday (April 25), the Edmonton Oilers scored six goals. Connor McDavid scored none. In their Game 4 victory over the Kings on Sunday (April 23), the Oilers scored five goals. None came off the stick off McDavid. 
Related: 3 Takeaways From Oilers' Game 5 Win Over Kings
In Edmonton's Game 2 victory over L.A. last Wednesday (April 19), the Oilers scored four goals. Their captain wasn't credited with any of them. 
McDavid Hasn't Scored in Oilers' Playoff Victories
The Oilers have defeated the Kings three times in their best-of-seven, first-round Stanley Cup Playoff series and haven't needed a single goal from McDavid to do it. The best player on the planet has scored just two goals in the first five games of the series, both coming in defeat in Game 3 last Friday (April 24).  
This is eyebrow-raising for a couple of reasons. Firstly, McDavid is coming off a campaign in which he notched 64 goals, the most in a single season by an NHL player since Alex Ovechkin in 2007-08; McDavid's goals-per-game average in the series (0.40) is virtually half of what it was in the regular season (0.78). 
But secondly, and most notably, it wasn't that long ago that the Oilers' success hinged largely on the output of McDavid and Leon Draisaitl: Edmonton sometimes swam when the Dynamic Duo scored, usually sank when they didn't. That's why the Oilers went four straight years, from 2018 to 2021, without winning a playoff series. 
Oilers Are 1 Win From Reaching Round 2
Now Edmonton has a 3-2 lead over the Kings and is one win away from advancing beyond the opening round in consecutive postseasons for the first time in 25 years. That could happen tonight (April 29) when the Pacific Division rivals clash in Game 6 at Crypto.com Arena. 
When the Oilers were swept by the Winnipeg Jets in the first round of the 2021 Playoffs, Draisaitl was the only Edmonton player to score more than once. Through the first five games this postseason, six Edmonton players have at least two goals, and all three of Edmonton's game-winning goals have been scored by players that weren't with the Oilers when they were eliminated by Winnipeg two years ago: Nick Bjugstad, Zach Hyman, and Klim Kostin.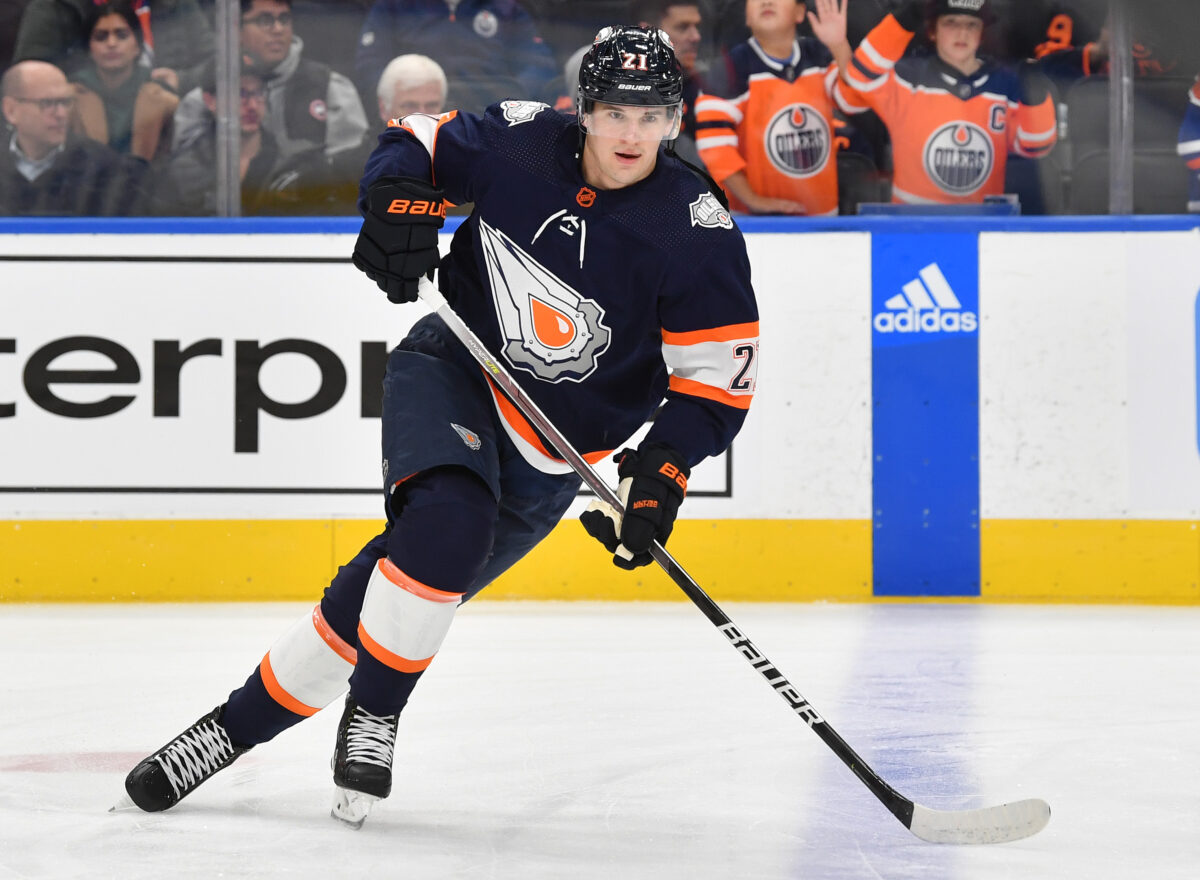 Bolstered by the likes of the aforementioned three forwards, these Oilers are significantly deeper than their predecessors (13 players scored at least 10 times for Edmonton in 2022-23, the most of any Oilers team since 1991-92), which is why Edmonton has a stranglehold on this series despite a relatively quiet five games from McDavid.
Championship runs don't happen without a supporting cast shouldering the burden from time to time, but if the Oilers are going to challenge for Lord Stanley's mug, Edmonton's superstars are going to have to do superhuman things. 
Draisaitl is certainly holding up his end of the bargain; the 2020 Hart Memorial Trophy recipient leads all NHL players with six goals so far this postseason. McDavid has eight points in five games, which is tremendous by most players' standards, but the two-time (almost certainly soon to be three-time) Hart Memorial Trophy winner has impacted the game a lot less than usual. 
Questions Raised by McDavid's Play
Is McDavid hurt? Speculation of such was further fueled on Thursday (April 27) by a video taken at Oilers practice that showed McDavid favouring his leg. It's worth noting that the dip in McDavid's production extends back to the end of the regular season, when he also was held goalless in four of Edmonton's final five games. In fact, McDavid has goals in only four of 15 games since he scored his 60th goal of the season on March 22.  
---
Latest News & Highlights
---
There's also the fact that McDavid only had three points in four regular-season meetings with the Kings — the only team he averaged less than one point per game against in 2022-23. Los Angeles is the rare opponent that seems to have figured out how to limit the damage inflicted by McDavid. 
Edmonton wouldn't have won the Stanley Cup so many times in the '80s without Wayne Gretzky and Mark Messier, who wouldn't have been able to lead the Oilers to all those championships were it not for teammates such as Glenn Anderson, Jari Kurri, and Esa Tikkanen.
For the first time since those glory years, Edmonton has Stanley Cup-caliber secondary scoring. But Hyman, Evander Kane and Ryan Nugent-Hopkins won't make it to the promised land without Draisaitl and McDavid taking them there. All the Oilers need is for their captain to perform like he has so often shown himself to be: the greatest player since Gretzky.
---
---