One of hockey's brightest stars, Alexander Ovechkin, is rumored to be on the trading block. There are reasons a deal makes sense for the Washington Capitals. The elite goal scorer had a down season (yes, 33 goals is a down season for him), finished it injured and has a very pricey $9.54 million annual cap hit.
The Caps, expected to be tight to the salary cap, have several key players with expiring deals, including T. J. Oshie, Andre Burakovsky, Evgeny Kuznetsov, Dmitry Orlov and Karl Alzner. Unless Ovechkin is moved, it is highly unlikely they even attempt to keep Kevin Shattenkirk, an unrestricted free agent.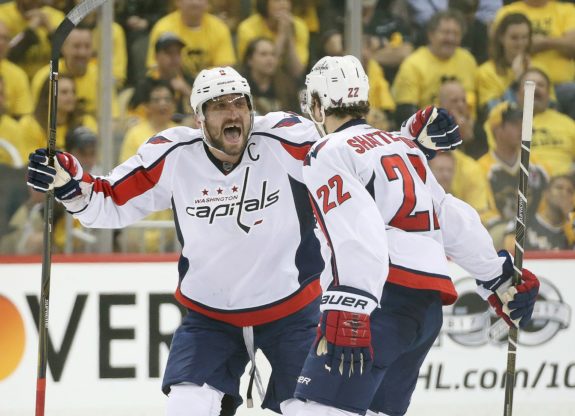 Rumors not withstanding, it is hard to imagine the Capitals trading both the face of the franchise and the guy who has easily sold the most jerseys in franchise history. Yet, there are practical reasons to consider this and practical reasons San Jose could be among the teams inquiring.
Sharks Are a 'Soon' Team
The Sharks roster, much like the Capitals roster, is strong and deep. But with the expected decline of Joe Thornton, due to age and his knee injury, they are in need of a forward 'matchup problem' they can present to other teams.
The Sharks are constructed to win in the next few years. Joe Pavelski, Brent Burns and Marc-Edouard Vlasic are all in their early 30's. They have a few prime seasons remaining, but it's a good bet at least one will start to decline within 3-4 years. Ovechkin has another four seasons left on his deal, which equates to San Jose's window with Pavelski, Burns and Vlasic.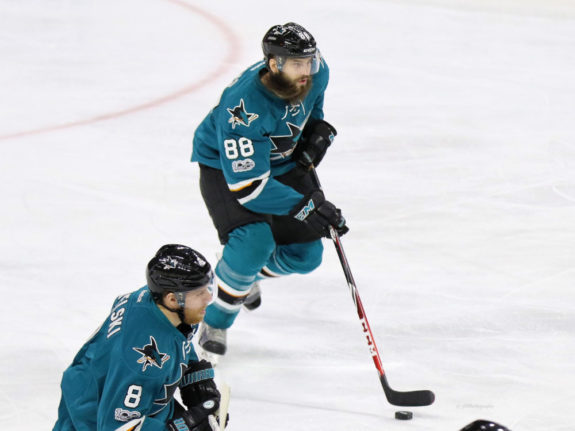 The Sharks have others in this age range as well, notably David Schlemko and Justin Braun. Key cogs Logan Couture and Martin Jones are both in their prime. Beyond these players, the Sharks have good depth at both forward and on defense.
The Sharks have a Stanley Cup window still open if they can add the right high-end piece. It is not 'now or never' for San Jose, but a run better come soon.
A Notable Loss
The kicker, of course, is what Washington needs to part with to get Ovechkin. You don't get Ovechkin, even at his age and on the downside of his expensive deal, for cheap. Complicating things further, the Sharks may require Washington to retain some cap space, perhaps around $2 million a year.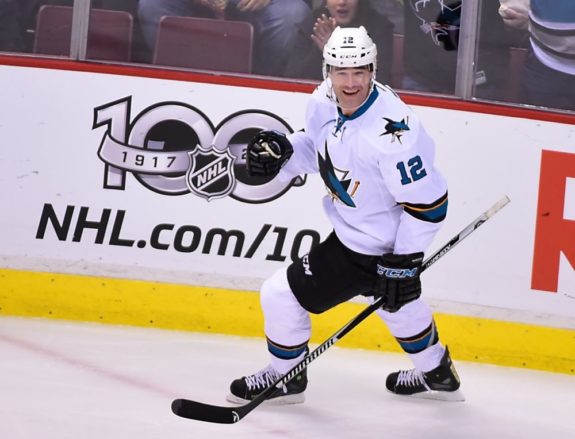 One likely loss for San Jose in this scenario is Patrick Marleau. While Marleau had a good season in 2016-17, Ovechkin is the better player and he is six years younger. Marleau, an unrestricted free agent if he remains unsigned by July 1, can command an annual salary in excess of $4 million on multi-year deal.
For San Jose, having both players would be cost prohibitive, unless Marleau decides he'll take a massive hometown discount or the Sharks get highly creative with him — say seven years, $14 million with the expectation he retires long before the deal ends.
Marleau, for multiple reasons, won't be part of the compensation going to Washington for Ovechkin. But acquiring Ovechkin almost certainly means Marleau leaves San Jose.
San Jose Trade Pieces
What does Washington need? No doubt, they'd like Joe Pavelski, a center who has played on Joe Thornton's wing the past several seasons. Pavelski is a strong goal scorer, averaging 36 goals per season over the last four, and plays effectively in all zones. A case of trading eights? Sorry, but trading captains who happen to share the same jersey number won't happen. These players are too similar, making it unclear the benefit this trade brings to either team.
More likely, Washington will want to upgrade their blue line and add quality youth. The Capitals are a relatively young team. The players older than Ovechkin are not difficult to replace with younger players. A trade with San Jose can add to the Caps' core.
Washington can expect a high draft pick, if not two. Players like Justin Braun, Tomas Hertl and prized youngster Timo Meier could be part of the equation. Tim Heed, who averaged a point a game as a defenseman in the AHL, is another candidate to get moved. The Capitals, like San Jose, are a deep team, so the Capitals might make another trade, likely parting with an older player, to get full value from this deal.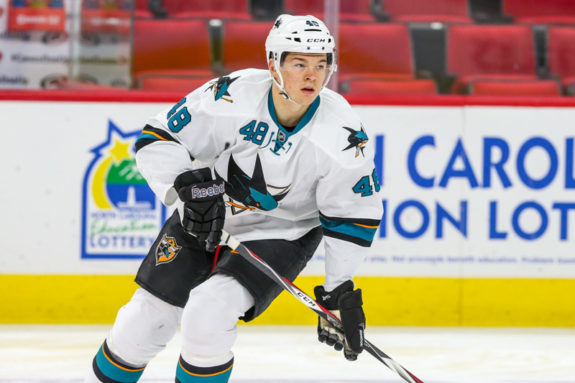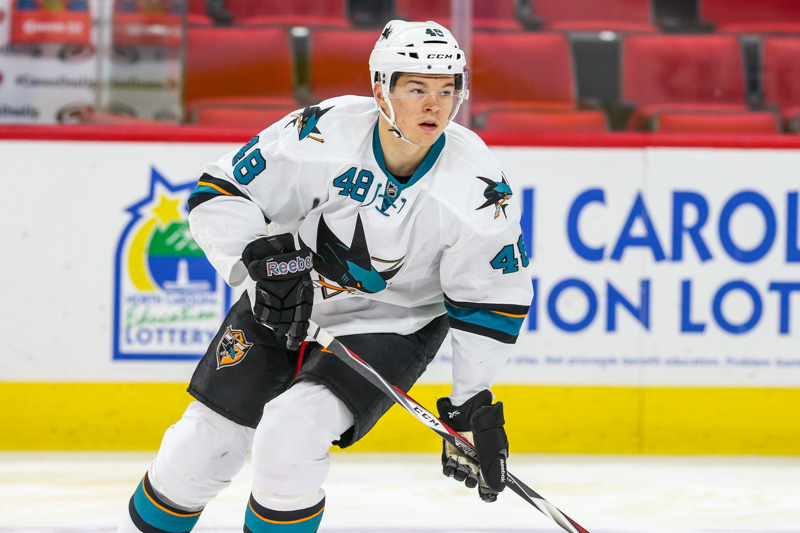 For the Capitals, Justin Braun becomes a top-four defenseman, the sort who could push Brooks Orpik out of the lineup or comfortably replace Alzner should he depart. Tomas Hertl is a second or third line center, though he'd also be a fit on Nicklas Backstrom's wing. Timo Meier is a top-9 forward who is projected soon to be top-6.
Trading Ovechkin is a risk, yet the compensation described gives the Capitals a tremendously deep team, likely the deepest in the league by a good bit.
A New Line-up
How would a Sharks line-up look if Braun, Hertl and Meier all get moved, Marleau does not return and defenseman David Schlemko is taken by Vegas? For a team losing five starters while adding only one, the result is surprisingly good.
An updated blue line features Burns-Paul Martin, Marc-Edouard Vlasic-Dylan DeMelo and Brenden Dillon-Heed. This is not as good as last season's defensive group, but appears solid. Joakim Ryan, who had a strong season opposite Heed in the AHL, is likely the seventh defenseman and may even encroach on the playing time of Martin.
Up front, there are many forward combinations, I'll offer these up for starters.
Couture-Joonas Donskoi-Ovechkin
Pavelski-Jannik Hansen-Mikkel Boedker
Thornton-Melker Karlsson-Kevin Labanc
Chris Tierney-Ryan Carpenter-Marcus Sorensen
Joel Ward and Micheal Haley round out the forwards.
Losing Meier, Marleau and Hertl is a lot to lose from the forward group.  Yet, Ovechkin is the forward matchup problem which opponents fear and Cup contenders need. San Jose, post-Thornton's knee surgery, no longer has this piece.
The Sharks roster described is very health-dependent since losing five projected starters cuts deeply into depth. Some of the younger players will need to take steps forward and Thornton must become serviceable in a third line role. Yet if things break right, this roster is good enough to compete for a Stanley Cup. Not just this upcoming season, but also for the next few seasons.
Zeke's Notes
Much is being made of the tight salary cap situation for San Jose. It is not as dire as some suggest. Last season, the Sharks had about $22 million in cap space assigned to Thornton, Marleau, Ward and Martin — all are 36 or older. Thornton and Marleau's deals expire on June 30. New deals, if they happen, will be for considerably less. Ward's deal finishes in a year and Martin's in two years; neither is like to get re-signed. General manager Doug Wilson has some tricky salary cap waters to navigate in the near term. But even with raises coming for some key players, San Jose has room to maneuver.