Ray Whitney's first duties in the NHL were as a stick boy for the Edmonton Oilers. How times have changed.
Hockey sticks remain largely in his life, only now they are used solely for his benefit as a left winger with the Carolina Hurricanes. Whitney must have gotten closely acquainted with them in Edmonton because he has recorded 811 points thus far in a fantastic career which has stretched to 17 seasons.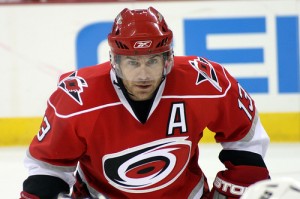 Not to be confused with a veteran who is far from his hey-day refusing to accept retirement, he just keeps going about his business remarkably and quite honestly, the team needs him. The Saskatchewan native has been a journeyman playing for six teams, however, it's Raleigh that has become his home.
Were he bigger in stature, many felt he would have been drafted higher than 23rd overall in 1991. Much like most smaller players, Whitney has shifty moves when controlling the puck and can catch the larger defensemen flat-footed.
Beginning his career in San Jose, he didn't receive sufficient playing time with the Sharks but did score a huge goal in double overtime of game seven against the Calgary Flames during the 1995 postseason.
Jeff Rimer, Columbus' present television commentator, was the voice of the Florida Panthers when Whitney was claimed off of waivers there from Edmonton. It was he who originally labeled him as the Wizard.
"What he was able to do with the puck, I had never seen anything like that," said Rimer. "He had the wizardry."
Florida was the setting of his first great season; 32 goals, 29 assists in just 68 games. Before moving on to join the Blue Jackets, he had two more 60-plus point campaigns with the Panthers.
A short but successful stint in Columbus (151 games played, 140 points) and a year in Detroit were next in his abundance of travel. Then, finally came the move that seems to have stuck in Carolina where Whitney has played his best hockey (292 games played, 276 points).
Fun Fact: In February of 2007, Whitney recorded a natural hat-trick in the span of 100 seconds during a game in Boston. Bill Mosienko holds the record for the fastest three goals in a game—21 seconds, accomplished in 1952.

A key figure in the Hurricanes' Stanley Cup triumph in 2006, he is an absolute steal with a salary under $4 million. You're likely to find his name in the list of top 30 scorers every season if injuries don't slow him down.
He is dangerous on the off-wing and adamant at setting up his teammates from the side of the net especially on the power play. By NHL standards, Whitney is small but has a gift that isn't held by plenty of players: anticipation.
The 37-year-old can see the play before it happens just as Wayne Gretzky did who was still an Oiler ironically when Whitney was overseeing the stick responsibilities in Edmonton.
Watching the Great One up close could have rubbed off on him a little. He credits Gretzky and the Oilers organization as his inspiration for becoming an NHL player.
Eric Staal has been Carolina's strongest player in two of the past four seasons when it comes to points. Twice when he wasn't the top producer, including this past year, Whitney was the one who stepped it up a notch to lead the bunch.
Behind the scenes he is as modest a player you'll see. His teammates respect him and enjoy the laid back attitude that he brings to the dressing room.
A stick boy at one time, a Stanley Cup Champion another, Ray Whitney has earned his nickname as the Wizard.