Anybody who watched the Erie Otters play this year was treated to the incredibly talented Alex DeBrincat. In 63 games, the 5-foot-7, 170-pound right winger scored 65 goals and 127 points. DeBrincat's 65 goals ranked first in the OHL with Dmitry Sokolov of the Sudbury Wolves coming in second with 48 goals in 64 games. Nobody else in the league scored even 50 goals. With 127 points, DeBrincat was also the clear leader in points in the OHL with 127, 18 points more than Otters' teammate Taylor Raddysh. With a tendency to score goals, DeBrincat was never afraid to shoot the puck. His 309 shots on net ranked second in the league to only Niagara Ice Dogs defender Ryan Mantha who scored 17 goals on the year.
After his impressive season – his third consecutive phenomenal year with the Otters, it was time for DeBrincat to take home some personal accolades. Though his team is currently in the heart of the playoffs, taking on the Mississauga Steelheads in the 2017 Rogers OHL Championship Series, DeBrincat earned an individual accolade Friday. Named the OHL Player of the Year, DeBrincat has proven that he was a steal for the Chicago Blackhawks in the second-round of the 2016 NHL Entry Draft. Without a first-round pick in 2016 but loaded with three second-round picks, selecting the Farmington Hills, Michigan-native with the 39th overall draft pick was a no-brainer for Stan Bowman and the Blackhawks. The team proved as much when they signed him to an entry-level deal earlier in the season.
To really go over just how impressive DeBrincat was this season, The Hockey Writer's resident Erie Otters' expert Mark Scheig agreed to discuss the budding young talent.
Alex DeBrincat in a Nutshell
BSC: Who is Alex DeBrincat, in your experience? The player, the person, whatever you think the hockey world deserves to know
Scheig: Alex DeBrincat is a great hockey player and an even better person. The thing that stands out to me that not many people would know is how humble he is. It's never just about him. He's the ultimate team player, willing to do whatever it takes if it means winning. He's also known to be a little quiet. The reality is he's a funny guy who can have fun. Once he makes the Blackhawks, he'll become a fan favorite.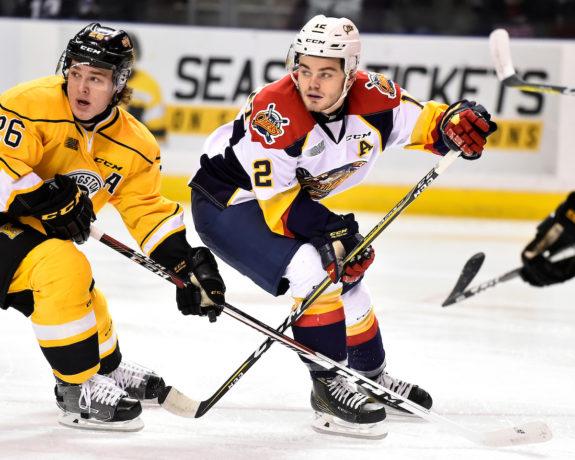 BSC: How truly monumental was his season / his career in the OHL?
Scheig: Unbelievable would be an understatement. He was undrafted. He was passed over twice. Then GM Sherry Bassin made a scouting trip one time to see DeBrincat, saw huge potential, and signed him as a free agent. He goes out and scores 50 in three straight seasons, something never done since the 1970's. You'd think this story is from Hollywood for how much he overcame to get to where he is today, playing for a championship, and now being named the Red Tilson winner for OHL Player of the Year.
#Blackhawks prospect Alex DeBrincat has been named the OHL's Most Outstanding Player of the Year after netting 127 points in 63 games.

— Eric Lear (@BHTVeric) May 5, 2017
NHL Potential
BSC: Why do you think so many teams passed on him given his resume prior to the draft?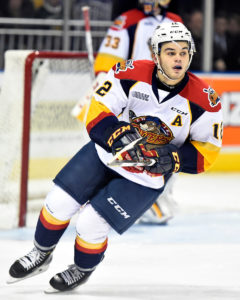 Scheig: [the] biggest thing was size. I believe he was just 5-foot-7 at the time. Many thought he couldn't keep up or play with bigger players. Many recalled his World Junior experience and how he took that early game misconduct. The Blackhawks took full advantage and now have a potential player who can be Jonathan Toews' winger in due time.
BSC: Where in the lineup do you expect DeBrincat to play once he makes the NHL? Is he a top-six player, a top-line player?
Scheig: He projects as a top-6 player with top-line upside. He's elusive for a smaller player. He can create space for himself and has excellent awareness. Most importantly, he's a sniper and not afraid to drive the net. He won the most dangerous goal-scorer award two years in a row in the OHL. He still needs to round out his defensive game in which he's taken big strides in. But I do expect him to play as a top-6 winger once he gets seasoned in Rockford.
Small Player Stigma
BSC: When you look at the history of teams letting smaller players pass them in the draft – DeBrincat, Marchand, Gaudreau, St. Louis, etc. Why do you think most teams are still struggling to get over that mindset that players need to be a certain size to succeed?
Scheig: To me, it's an old school mentality that doesn't have as much significance as it once did. The game today is faster than ever. Today's game allows for smaller, speedier players to find a more defined role. Many scouts look at bigger players due to the grind of a long season. Smaller players are proving that they can hold up and succeed because speed is the focus, and not hitting as much.
BSC: If given the chance, do you think any teams would want a redo in terms of drafting DeBrincat given how successful he was once again this year?
Scheig: In a redraft, he's easily a first rounder. So yeah, many would look to take him much earlier. He goes mid first round in my mind. That combination of speed, skill and finish is hard to find. What will be interesting is how he adjusts to the pros. That will be the story moving forward.
Only a Matter of Time
BSC: Anything else you want to touch upon with DeBrincat?
Scheig: It's only a matter of time before we see him full-time in Chicago.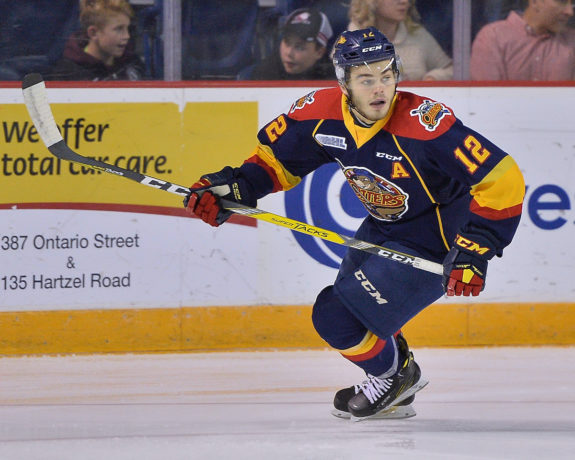 It's pretty amazing that DeBrincat fell outside of the first round. Despite his size, he's proven that he's a legitimate offensive force that needs to be considered among the best of his class. It wasn't even as though this season came out of nowhere. DeBrincat, in fact, posted back-to-back 51 goal seasons with Erie in his first two years. In his rookie season, DeBrincat scored 51 goals and 104 points in 68 games with a plus-59 rating. He added nine goals and 16 points in 20 playoff games as well. In his sophomore season, DeBrincat's draft year, he scored 51 goals and 101 points in 60 games before adding eight goals and 19 points in 13 playoff games.
DeBrincat has a chance to close out his OHL career strong. With nine goals and 31 points in 18 playoff games so far, DeBrincat's future with the Chicago Blackhawks probably won't take too long to become a reality. With the Blackhawks needing some change after two consecutive first-round losses in the postseason, DeBrincat could instill some valuable scoring on an entry-level deal as early as next season.