Patrik Elias is bar none the best forward in New Jersey Devils history. In 1,224 games, the 39-year-old Czech has amassed over 1,000 points, 400 goals and 600 assists since joining the Devils full-time back in 1997. He's been one of the faces of this franchise for over 15 years, but we have reached the point in his career where he just isn't the same player as he used to be. His body is breaking down, and while that's to be expected after playing so consistently for so long, it's difficult to watch.
Last season wasn't pretty for Elias. In 69 games, he scored a career-low 34 points. He scored the fewest amount of goals (13) and assists (18) in his career, while also going a career worst minus-20. It was one of those seasons where we saw Elias look skyward too many times, as the puck never seemed to go where he needed it to go. In what might be his last season in a Devils uniform, there's no doubt that Elias needs a bounce-back campaign.
What went wrong?
The Devils finished 28th overall in goals-per-game last season, and along with the rest of last year's squad, Elias suffered from the lack of scoring. There simply weren't enough opportunities for Elias to score goals because they weren't in the opposition's zone for long enough stretches.
Elias also wasn't on the main power-play unit, not that the first unit was anything special, but not getting as much PP time was a cause to his scoring decline. For years, Elias lived on the half-wall of the No.1 power-play unit, which helped him rack up over 35 assists in nine seasons. Elias went back to his regular spot towards the end of the season after Jaromir Jagr was traded, but by that time the Devils were essentially out of playoff contention, and there wasn't anything to play for.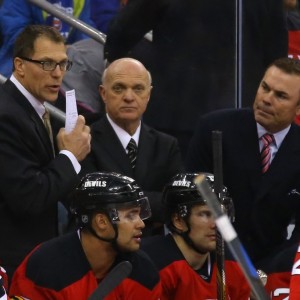 The coaching situation didn't help Elias' cause either. He played an average of 17:39 per-game over of the course of the season, which was around a minute less than his career average. Pete DeBoer was fired halfway through the season, and he was a guy who used his top players over 19 minutes a game almost every night. It was when Lou Lamoriello, along with Scott Stevens and Adam Oates, took over when Elias' ice time began to dwindle.
There were many rumors floating around the trade deadline of whether Elias would get moved, along with the fact that he had been placed among the Devils bottom-six forwards. He was being asked if he would accept being a fourth-liner next season, and I don't blame him at all for saying that he wouldn't want to. After being one of the faces of the Devils for so long, going to a fourth-line role in front of your home fans isn't embarrassing per say, but it isn't an ideal situation.
Can Elias Bounce Back?
Whether or not Elias can improve this season is a tough question for a number of reasons. First off, we don't know how new head coach John Hynes plans to deploy Elias in his line combinations. We also aren't sure of the leash Elias will have before his ice time really starts diminishing if he doesn't play up to his potential. The second problem is that it's not like the Devils' offense improved dramatically over the offseason. Let's be real here; they traded for Kyle Palmieri and resigned a bunch of their own guys to bridge deals aside from Adam Larsson. It's not like the Devils went out and traded for a 30-goal scorer; this is still the same offense as last season, and that doesn't help Elias when it comes to scoring points.
Even though the Devils don't have the offense to compete with the other Metropolitan Division squads, it doesn't mean Elias can't come out and have a great last season in a Devils uniform. Elias still has very underrated hands, and his hockey IQ has always been extremely high. It comes down to weather or not his body can handle playing 18 minutes a night while carrying the load of this team offensively.
I really want to say that he will come in next season and light it up for the Devils – that he will be a revelation, or be like a Ray Whitney towards the end of his career. I really do, but I just can't. Elias just doesn't have enough help, and his adjustment from constantly being a perennial playoff team, to a bubble team, to now a lottery team simply isn't working. I can live with his $5.5 million deal for one more season. He's earned every penny of his deal with the time he's spent with this team. I hope I eat my words when we get to the halfway point of the season, but Elias is in the twilight of his career, and if he has another season like the previous one, with the new management, he won't be around for much longer.
Subscribe to our Devils stories to get email updates every time a new story is published.
Corey Spina is a New Jersey Devils staff writer for The Hockey Writers. You can follow him on Twitter, @CSpinaTHW.