Paul Stastny has been among the NHL's elite for some time now, but since coming to the St. Louis Blues he has been in a slightly different role than many expected. However, he's been a great sport while shuffling through the lines early on, and has found some great chemistry with Dmitrij Jaskin and Patrik Berglund recently which seems to have him right where he belongs.
A lot of fans around the area seem to focus on his hefty 7 million per year price tag, but those fans need to keep in mind that the Blues did not set that price, the market dictated it in June. Had Doug Armstrong been able to get a better deal for Pauly, he would have. That being said, obviously the Blues management thinks he is worth that price for his role on the Blues, and here the focus will be on why Stastny is worth his large price tag this season, even if he isn't the standout superstar many fans had hoped he'd be.
Stastny's Worth Isn't Always Tangible
Paul Stastny has always been a skilled player that played a true North American game. He's got grit, and he's determined to make a play when he gets the puck. His high hockey IQ rivals the best in the league which is why he's always been a very effective teammate, but his work ethic is what proves he's a true star. He's one of those guys you can count on to remain consistent throughout the season (barring injury problems, which he's always been slower to come back from), and he will be the first to own up to his mistakes on the ice. That's the sign of a mature player, and one who will always help his team get better.
Paul Stastny has a point in eight of his last ten games. #StlBlues

— Andrew Allsman (@allsmandrew) February 13, 2015
Paul Stastny has been getting a somewhat raw deal from some fans, who conveniently overlook his 32 points (11G, 21A) and plus-9 rating because of one injury and a bunch of line combination changes that have slowed him a little. However, he is still on pace to have very similar years to what he's experienced in the past (around 60 points), and he's been a key component in Dmitrij Jaskin's development. Recently Jaskin was asked about playing with Pauly Walnuts and here's what he had to say,
"I think we've found chemistry this year, and I'm happy he's back on our line because he's easy to play with and makes smart plays."
That's what Stastny has done his entire career, set people up to make big plays. He also isn't afraid to play the Keith Tkachuk type of game, battling in the corners and in front to grind out a goal as he did against Tampa last Thursday. What makes him the truly complete player is his drive to keep the play going for a full 200-feet, something that has helped the Blues keep pace with the torrent Nashville Predators in the extremely difficult Central Division.  
Fancy Stats Prove Stastny is the Real Deal
When talking about the Predators high octane offense, a few other NHL powerhouse teams come to mind, like the Chicago Blackhawks, Tampa Bay Lightning, Montreal Canadiens, and Pittsburgh Penguins. All of these teams have stars who carry them, but all also experience more balanced scoring that drives their place in the standings. Where does Paul Stastny rank against opponents on each of these teams who spend a similar amount of time on ice per game (TOI/GM) as he does?     
| Name | pos | Tm | Gm | G |  A |   P | G60 | A60 | P60 | CF% |    PDO |    PSh% | ZSO%Rel | TOI/Gm |
| --- | --- | --- | --- | --- | --- | --- | --- | --- | --- | --- | --- | --- | --- | --- |
This chart illustrates exactly where Paul Stastny stands among peers from rival teams across the NHL. He has the 3rd best Corsi For percentage (CF%) at 59% on both the above chart and the Blues in general (anything above 50% is considered a good, plus player), he compliments his great team play with a chart best 52.6% face-off percentage (with almost exactly 50% of those face-offs occurring in his own zone), and he rounds out his crafty skill set in a t-2nd in helpers (assists) per game (Lehtera- 1.6). This comes as no surprise to Stastny faithfuls however, as he consistently sets up teammates in high scoring areas for a chance to convert. As stated earlier, he does pack a scoring punch but Stastny has always been an amazing set up guy, so finding that chemistry with up-and-comer Dmitrij Jaskin is what is kicking him back into gear coming into this year's playoff season.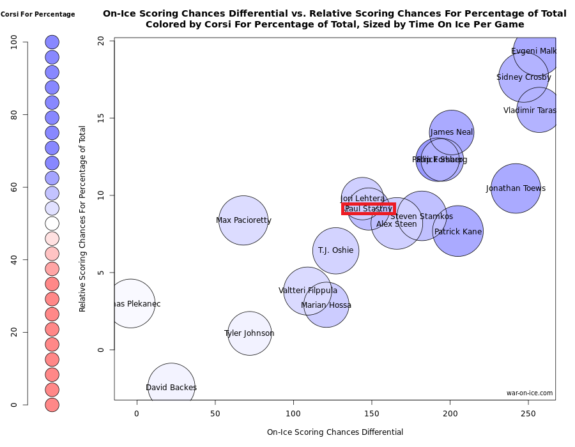 Now the focus shifts to Paul Stastny's worth against the top players from each team, most of whom have much higher TOI/GM stats than he. As the above graph illustrates, Stastny is right in the mix with these superstars, and evey outperforms a lot of them in his limited role. This graph shows that Stastny creates offensive opportunities more than allowing opponents to create their own opportunities in his zone while he's on the ice. His On-Ice Scoring chances differential (x-axis) shows that he creates almost 50% more chances in his opponent's defensive zones than are created in his own (the Blues zone) each game. His relative Scoring chances (y-axis) show that he creates more scoring chances for his team than a lot of the stars do, as he's ranked above 10 of the 19 superstars profiled here (and again, all with almost 3 full minutes less of TOI/GM).  
Stastny also shows he is a great positive player for the Blues with his plus-9 rating, but that extends to the top players graph too. His circle is colored a fairly dark purple, showing that he is not only among the leaders in CF% in the first chart (that shows players from top teams who get similar TOI/GM as he does), but is also among them on the top players graph above. The bottom line is no matter how you slice it, Paul Stastny helps the Blues gain victories almost every night through grinded out, tough play-making efforts that often may go unnoticed. However, if Dmitrij Jaskin's impressive spike in development has anything to say about it, Paul Stastny is worth his hefty price tag and is a vital part to this years' Blues squad who look to make a deep playoff run come April.
Like what you've just read? Follow me on Twitter:Follow @pep30