The '12 Days of Christmas' is a classic holiday song first published in its current form in 1908. In a nod to the classic carol, join The Hockey Writers as we count down the 12 Days of Hockeymas. Each day, we will provide you with a piece of hockey history as we eagerly await the start of the 2020-21 NHL season.
On the ninth day, we will be honoring the nine Penguins' players named to the 100 Greatest NHL Players list, which was a lineup comprised of the 100 of the best to ever lace them up throughout the first century of the National Hockey League.
Mario Lemieux (1984-1997, 2000-2006)
Le Magnifique, Super Mario, Mr. 66 — whatever you want to call him, Mario Lemieux is undisputedly the greatest player to ever don the skating penguin.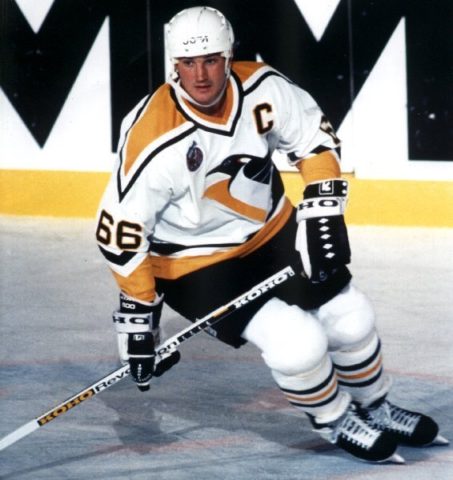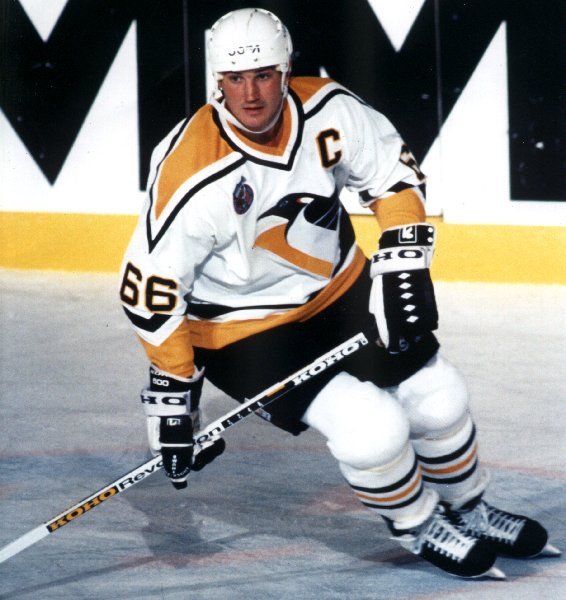 'The King of Comebacks' was drafted to a bleak Penguins team in 1984 and made his mark on his very first shift.
Lemieux didn't stop there. The six-foot-four scoring machine led the Penguins to become one of the best teams in the NHL in the early '90s before capturing back-to-back Stanley Cups in 1990-91 and 1991-92.
What he can do, I couldn't do. He can do more things than any player I've ever seen.

Bobby Orr via NHL.com
However, it wasn't all sunshine and rainbows for Lemieux as the nine-time All-Star battled health issues such as a spinal disc herniation, Hodgkin's lymphoma and chronic back pain. It is well known that the pain was so bad that Lemieux used to have someone tie his skates before games.
The pain played a part in his first retirement in 1997, saying he "couldn't do the things [he] used to be able to do."
After a few years away from the game, Lemieux decided to come back. He said much of the reason was to make sure his four-year-old son, Austin, could see him play, not to mention saving the Penguins from bankruptcy just a couple years before.
Lemieux scored 35 goals and 76 points during that 2000-01 season at 35 years old. Although he didn't achieve many of the accolades and championships he was used to the first time around, Lemieux revived Pittsburgh emotionally, giving fans a reason to keep watching a Penguins team that was not nearly as successful as they were used to.
Lemieux also won a gold medal with Canada in 2002 before mentoring the next Penguins' superstar Sidney Crosby during Crosby's rookie season.
I have said this time and time again and will say it once more — there is no professional hockey in Pittsburgh without Lemieux. He saved them once as a young player, rejuvenating a 16-win team that could barely fill the arena, and once as an entrepreneur, saving the team from relocating out of the best sports town in North America.
Jaromir Jagr (1990-2001)
When I was growing up watching the Penguins, Lemieux was Batman and Jaromir Jagr was Robin. He was the sidekick to the greatest player, and at times, it overshadowed the shear talent and raw skill of the Czech-Slovakian.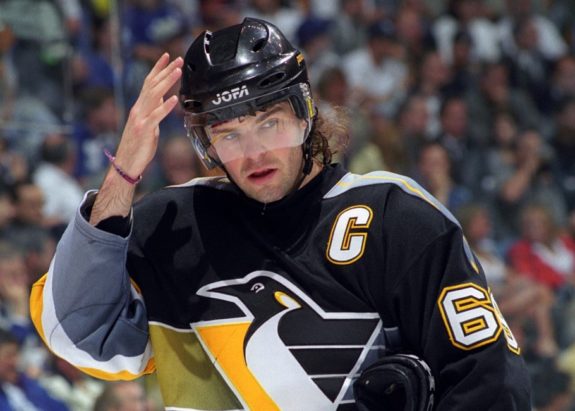 When he broke into the league in 1990-91, you could see how it was so easy for Jagr to be overshadowed considering the caliber of skill that surrounded him on a Cup-winning team. But, as Lemieux's health declined and Jagr started to become more of the centerpiece in Pittsburgh, it was evident that he too was one of the most gifted players to don the skating penguin.
In his 11 seasons in Pittsburgh, Jagr racked up 439 goals, 1,079 points, five Art Ross Trophies as the league's leading scorer (including four straight), one Hart Memorial Trophy as the league's most valuable player, six All-Star selections and two Stanley Cups.
Of all Jagr's memorable moments, one outstanding goal comes to mind:
With the Penguins trailing 4-1 in Game 1 of the 1992 Stanley Cup Final, Jagr weaved through what seemed to be the entire Chicago Blackhawks team before beating Ed Belfour. The goal started one of the greatest comebacks in a Stanley Cup Final game as the Penguins went on to win the game and sweep the series.
Sidney Crosby (2005-present)
As Lemieux's career came to an end, Hollywood could not have written a better script for the Penguins' next chapter. A young, exciting and humble Canadian drafted at No. 1 overall was seemingly born to be the face of the Penguins.
Crosby was set to become the next superstar of the league after opening eyes in the early 2000s as a youngster out of Cole Harbour, Nova Scotia. And boy, did he deliver.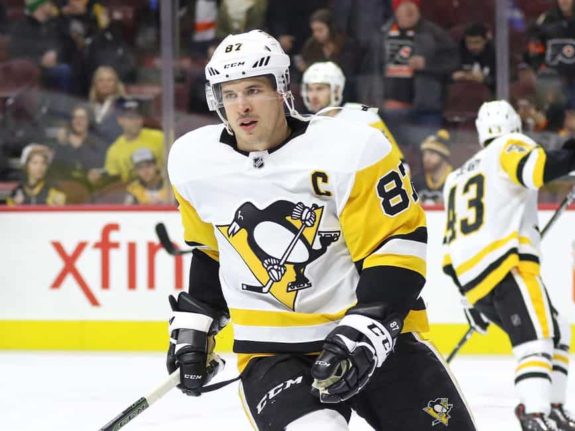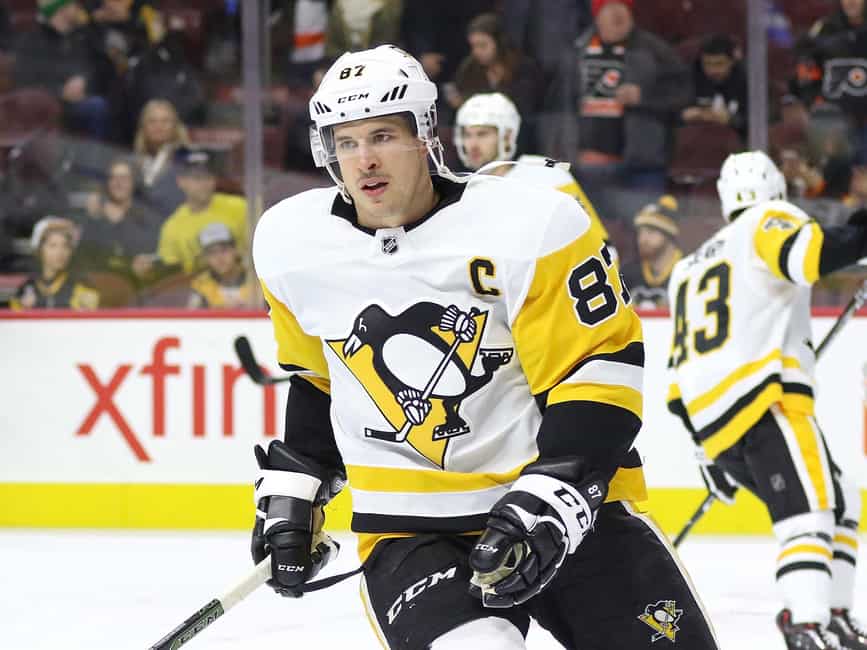 It took Crosby just two seasons to win two of the most prestigious awards in hockey, the Art Ross and the Hart Memorial Trophies, and just four seasons to lead his team to a Stanley Cup.
Crosby has never stickhandled with the brio of [Patrick] Kane or scored as naturally as [Alex] Ovechkin. His has been a subtler brand of exceptionalism, born of outsized effort and impressive skating edge work and an unparalleled backhand and all the details that piled high, create a mountain of hockey excellence.

Michael Farber via Sports Illustrated
Crosby is a born winner, through and through. The 5-foot-10 center may be a tad undersized, but his will to win is unmeasurable. He has won nearly every major award in hockey. Three Stanley Cups, two Hart Trophies, two Maurcie "Rocket" Richard trophies, two Art Ross Trophies, two Conn Smythe Trophies, two Olympic gold medals and a World Cup.
Like Lemieux, Crosby also dealt with his share of health issues. A blind-side hit taken during the 2011 Winter Classic started a sequence of unrelenting and repeated post-concussion issues. Crosby played just 58 games over the next two seasons and a total of 99 regular-season games from 2010-13.
But, his desire for excellence shined as he captured the scoring title after the 2013-14 season and eventually led the Penguins back to the top of the mountain, lifting back-to-back Stanley Cups in 2016 and 2017.
Though Crosby might not be a kid anymore, even to this day, his will to win and his skill are on display night in and night out.
Paul Coffey (1987-1992)
Tabbed one of the greatest skaters of all time, Paul Coffey was a catalyst for the Edmonton Oilers and Penguins' success in the late '80s and early '90s.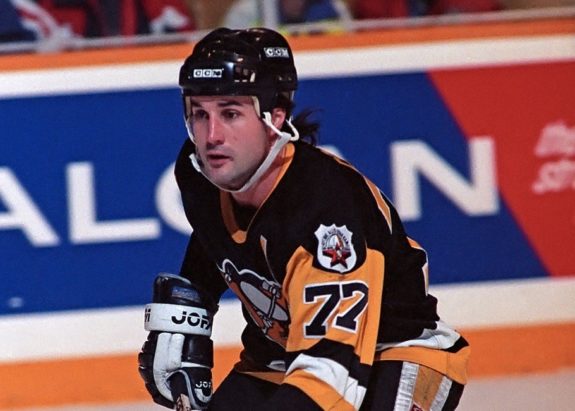 After helping the Oilers to three of their four Cups in the late '80s, Coffey demanded a trade and got his wish in 1987 when he was sent to Pittsburgh with Dave Hunter and Wayne Van Dorp for Craig Simpson, Dave Hanna, Moe Mantha and Chris Joseph.
Coffey helped a young Penguins team close the gap and become a Cup-winning team. His leadership and experience from playing with the powerhouse Oilers culminated with his raw talent to become a key piece to the Penguins' success during the 1990-91 season.
Coffey was traded the very next season to Los Angeles and went on to spend time with Detroit, Hartford, Philadelphia, Chicago, Carolina and Boston before retiring in 2001.
Bryan Trottier (1990-1992, 1993-94)
Alongside Coffey, Bryan Trottier came to Pittsburgh to provide veteran leadership after seeing loads of success during their time with their previous team.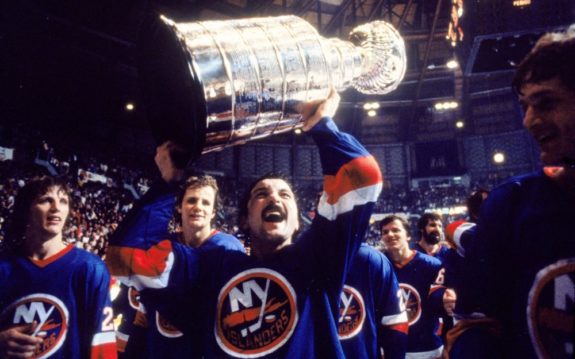 For Trottier, though, the success came during a 15-year stint with the New York Islanders in which the Isles lifted four-straight Stanley Cups between 1980 and 1983.
Trottier's best years came on Long Island, collecting 500 goals and 1,353 points, a Calder Memorial Trophy (best rookie), an Art Ross in 1978-79 and a Conn Smythe during the Islanders' first Stanley Cup win in 1980.
Trottier signed with Pittsburgh as a free agent in the summer of 1990 and made an instant impact. Despite scoring just 20 goals and 57 points in 115 games during his first two seasons in Pittsburgh, Trottier brought priceless leadership to Pittsburgh's fourth line.
After winning his sixth Stanley Cup, second with the Penguins, in 1992, Trottier decided to retire before returning to Pittsburgh in 1993-94 for one more season.
Ron Francis (1990-1998)
Also among the Penguins' key additions in the early '90s was Ron Francis.
'Captain Class,' known for his face-off prowess and exceptional and selfless talent, sits in fourth place all-time in points with 1,798.
Ronnie Francis was my centerman for seven or eight years in Pittsburgh. He probably assisted on most of the goals I scored. He gave me that extra confidence… Even if I didn't feel very well or if I played bad, I knew he could always make me look good.

Jaromir Jagr
As if the Penguins did not have enough star power during their first two Cup runs, Francis added a little more. Over 533 games in Pittsburgh, he averaged over a point per game while having a plus/minus of plus-70, a big improvement compared to his minus-91 in nine-plus seasons with Hartford.
Luc Robitaille (1994-95)
After Lemieux was taken No. 1 in the 1984 NHL Draft, Luc Robitaille was taken 170 picks later by the Los Angeles Kings, and it's fair to say that he was not heralded as the future face of the franchise.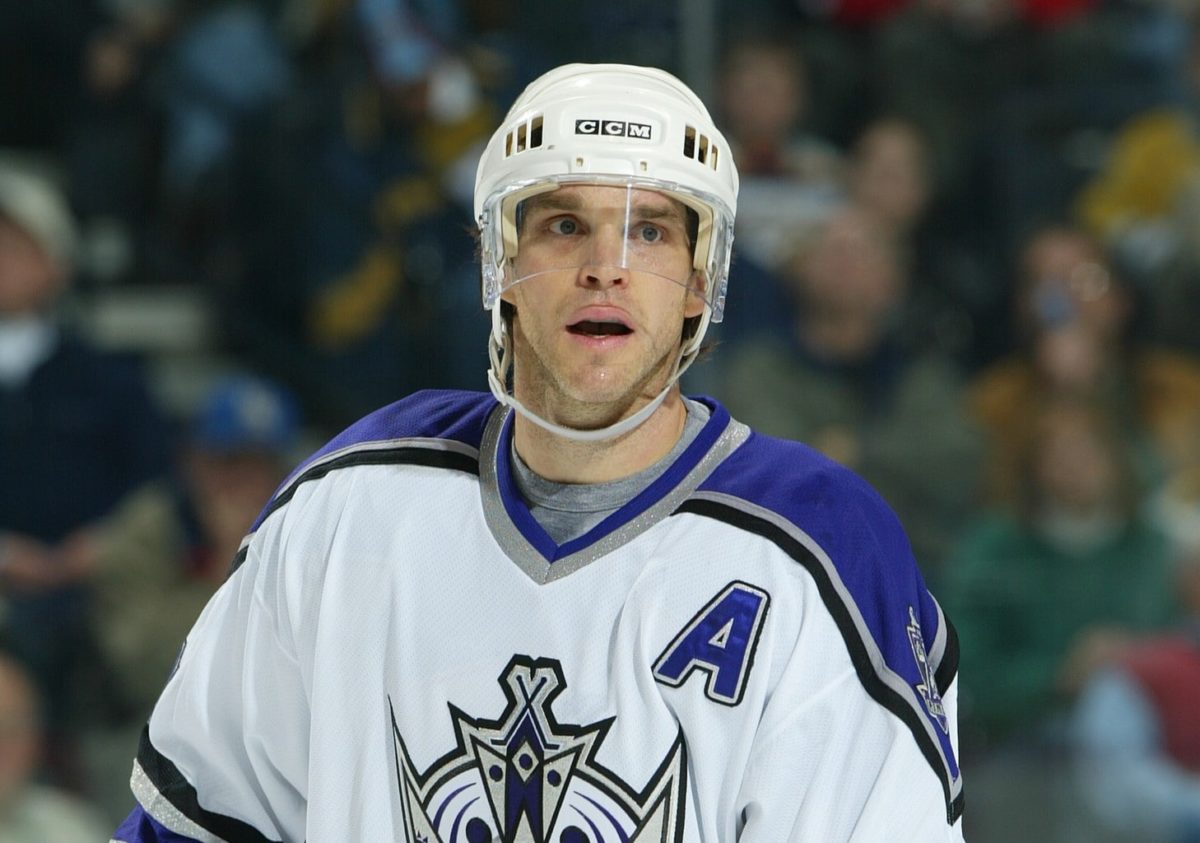 However, that didn't stop Robitaille from trying to become one of the game's greats. After scoring 339 points in just two seasons in junior hockey after being drafted, Robitaille started to find his stride before eventually landing a permanent spot with the Kings.
Robitaille collected 1,394 points throughout his 19-year career while spending the 1994-95 season in Pittsburgh in which he notched 23 goals and 42 points.
Robitaille was acquired by Pittsburgh in a deal that included Rick Tocchet before the Penguins went 29-16-3 in the shortened 1994-95 season. (from 'Kings Trade Robitaille to Penguins for Tocchet : NHL: Insiders says Gretzky was behind the deal that gives the team a scoring tough guy. L.A. also gets a second-round draft choice,' LA Times, 07/30/1994) Robitaille helped the Penguins overcome a 3-1 series deficit against the Washington Capitals, including a pair of goals in Game 6 and seven total goals during the playoffs.
Tim Horton (1971-72)
Yes, the ever famous Tim Horton, known for his business's coffee and doughnuts, spent a season in the Steel City during the 1971-72 campaign.
Horton, known around the league during his career as one of the strongest players, won four Stanley Cups with the Toronto Maple Leafs before tallying 11 points in 44 games as a 42-year-old in Pittsburgh.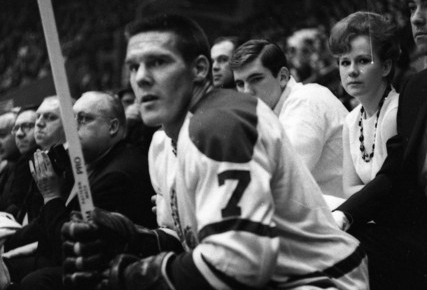 The Penguins made the playoffs for the second time in franchise history that season before losing in the first round to the Chicago Blackhawks.
Andy Bathgate (1967-68, 1970-71)
Many hockey fans know the story of what led to Montreal's Jacques Plante wearing the first goalie mask. But, what you might not know is who fired the shot that sliced Plante's face. That man was Andy Bathgate.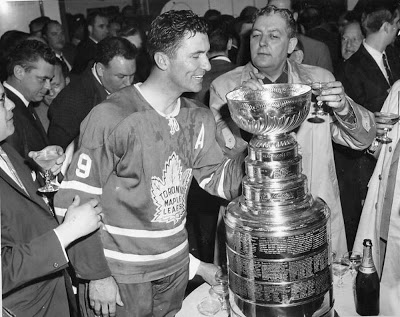 Bathgate was the star captain for a hapless New York Rangers team in the 1950s before helping the 1963-64 Maple Leafs to their 12th Stanley Cup in franchise history. He was eventually claimed by Pittsburgh in the summer of 1967 during the expansion draft and scored the team's first-ever goal before piling up 20 goals and 59 points.
Bathgate was loaned to Vancouver of the WHL for a couple of seasons before racking up 44 points in 76 games during the 1970-71 campaign with Pittsburgh.
Penguins fans have certainly been very lucky to see some of the greatest players in all of hockey and the NHL 100 Greatest Players list just reinforced that idea.
Stay tuned to The Hockey Writers as the 12 Days of Hockeymas continues with the Penguins' eight division titles.
---
---