For the first time in quite a few years, the Pittsburgh Penguins find themselves fighting to simply make the playoffs. Through 35 games, the Penguins are 17-15-3, which gives them a total of 37 points. This places them five points outside of the second wild card spot and they're currently tied with Metropolitan Division rival the Philadelphia Flyers.
This season was supposed to be the Penguins year to finally compete for the Stanley Cup. They had a ton of talented players returning from injuries and have the most forward depth of the Sidney Crosby/Evgeni Malkin era. However, they've scored just 79 goals, the third lowest in the NHL, just three above the Flyers and 13 above the struggling Anaheim Ducks.
This is not what general manager Jim Rutherford had hoped for after trading for former All-Star wing Phil Kessel. Many reporters, analysts and fans have tried to dissect what's wrong with this star studded team and many blamed former head coach Mike Johnston. Enter Mike Sullivan, the man who had the Wilkes-Barre/Scranton Penguins, a team many believe to be devoid of talent, off to a 18-5-0 start.
Seven games into Sullivan's tenure and the Penguins are 2-5-0 and have scored a total of 12 goals, or 1.71 per-contest. To be fair, the Penguins best games under Sullivan have been two of their last three contests. They handily defeated the Columbus Blue Jackets 5-2 and the Minnesota Wild 3-1, but recently fell the Winnipeg Jets 1-0 with the lone goal coming on a penalty shot.
https://twitter.com/PensNation_Nick/status/681333997100744704
Public support for Sullivan remains strong and he's viewed as a victim of circumstance. When Pittsburgh fired Johnston, their schedule was not amenable for a coaching change. Through his first four games as head coach how many full practices did he have with his team? Just one. 
On the flip side, there's only so much a head coach can do to improve the play of a bad team. The longer the season goes, the more the realization sets in that the 2015-16 Penguins are not a good hockey team. Sullivan took over a team built by Rutherford and he can't fix everything.
Pittsburgh Penguins Problems Start on Defense
Rutherford's vision for the 2015-16 Penguins was to go younger and cheaper on defense to allocate more of their salary cap to forwards. The spend a total of $15,455,477 on their defense, the 9th lowest in the league, while spending $41,744,515 on forwards.
That balance is not sustainable, especially when a lot of the players who were being counted on have not lived up to expectations. Young defenders Olli Maatta and Brian Dumoulin have been the Penguins best defenders throughout the entire season and Trevor Daley has impressed since being acquired in the trade of Rob Scuderi, but that's where it ends. Kris Letang has not only struggled this season, but he's battling injuries and might have suffered another concussion courtesy of Jarrett Stoll. Ian Cole was acquired late last season and played well down the stretch and was rewarded with a three-year/$6.3 million contract, but he's an NHL worst -17 skater and Letang isn't far above him at fourth worst of -13.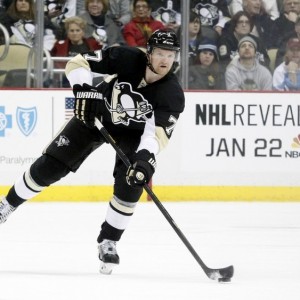 Plus/minus might be an antiquated statistic, but when you're on one extreme or another there's a lot of truth to it.
Defenseman Paul Martin left in unrestricted free agency this offseason and we're finally seeing that type of impact he had on Letang. Without Martin, Letang is struggling because the unfortunate truth is that he is not a number one defender, despite being paid like one. He needs a steady, stay-at-home defender to allow him to utilize his talents and the closest thing the Penguins have is Maatta.
Then there's the enigma that is Ben Lovejoy who's statistics, both standard and advanced, look solid, but you watch him play and wonder what is going through his head. His partner, Dumoulin, has covered for many of his flaws and the fact that these two make up the Penguins "shutdown" pair should tell you the state of their blue line.
Pittsburgh has also had the undersized David Warsofsky filling in on the power play and he's not an NHL defender. Penguins prospect Derrick Pouliot could not possible do any worse and should have been given the opportunity over Warsofsky. There's merit in leaving a young player in the minors to develop, but at some point they have to be given a chance at the NHL level.
The longer a player waits in the minors, the less likely it is for him to thrive at the NHL level. Josh Weissbock ran the numbers and here's what he came up with.
https://twitter.com/joshweissbock/status/622965539858685952
Pouliot is now 21-years old and has now has less than a 25% chance to become a NHL regular.
I could talk about this subject all day long, but the reality is that the Penguins blue line is not good enough. Unless Rutherford trades a few of his high price forwards out for a legitimate top-four defender or two, the Penguins won't be competing this season. Offense comes from solid defense, the quicker the defenders can get the puck to the forwards, the more effective their rush is. Pittsburgh has struggled generating chances and that comes from their poor blue line.
There's a belief in Pittsburgh that the team's problems are not because of the defense, but due to the forwards shockingly low shooting percentage. Most players are at about half of their career average and they believe that the numbers will improve through the end of the season.
While they likely will climb towards their averages, the primary problem comes from the blue line. You cannot expect a player like Patric Hornqvist to magically develop soft hands and an accurate shot.
The Penguins are what they are and Rutherford's construction of this team will likely keep this team from competing this season. Their emphasis on the superstar heavy model hasn't worked, yet current ownership does not seem to want to accept this, but that's a topic for another day.
Thanks for reading! Feel free to leave your comments below or tweet me anytime @MPityk_PIT