Through the first round of the playoffs, fans have seen a little bit of everything, most of all some great hockey. However, it seems that most of a country is missing all the action. Ratings in Canada have been widely discussed the last couple weeks and much has been written and said on the topic:
NHL Playoff ratings drop 61% in Canada
However, at least for one night, the rating in Canada should sky-rocket. Tonight is the NHL Draft Lottery, and with all seven Canadian teams in contention, many fans will be glued to their TV's waiting to see who gets that first pick.
The Lottery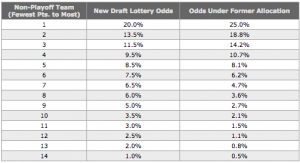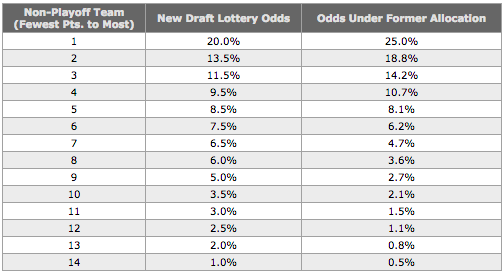 Different this year than past, the lottery will take place for each of the top three picks. With five of the bottom six teams this year, there is a relatively good chance some Canadian fan bases will be made very happy this evening. The lottery odds break down in order from least regular season points, to most, and each of the 14 non-playoff teams have a chance to get one of the three lottery choices. The Toronto Maple Leafs are in a way, the favorites tonight, and will have a 20% chance of getting that first overall pick. Edmonton has the second best chance, 13.5% to once again grab a top lottery pick. The Oilers have had a top three pick in five of the last six years including four 1st overall picks, most recently Connor McDavid who will likely win the Calder trophy this year. Vancouver rounds out the top three with a 11.5% chance. As far as the other Canadian teams go, Calgary ranks fifth, Winnipeg sixth, Montreal ninth, and Ottawa in 12th with a 2.5% chance at a NHL Draft Lottery pick.
The Candidates
This years draft is one of the deepest in recent memory, with many potential franchise players in the mix. While there is still some debate on who the number one pick will be, the top three is most likely set. Auston Matthews has been the projected number one all year, but it is becoming closer and closer. The American Center who spent this year playing professional hockey in Switzerland is a force offensively and should follow in the shoes of Connor McDavid and become an impact player in year one.
Close behind is Finnish winger Patrik Laine. Laine showed North American fans what he could do at the World Junior Championships, and his production continued in the Finnish Elite League. Laine possess an amazing shot and his scoring touch is among tops among draft eligible players. Close behind him is fellow country-man Jesse Puljujarvi. While whichever local media will struggle trying to pronounce and spell his name, his skills on the ice will help any team lucky enough to select him.
While these are likely the three lottery picks, the game changing skill doesn't end in the top three. Jacob Chychrun, Alex Nylander, and Matthew Tkachuk are just a few of the other top end names that the Canadian teams hope they will be able to get their hands on. Many fans will have their eyes glued to the lottery tonight, but winners and losers alike will all be in the market for some game changers.
Born and raised Winnipeg sports fan and contributor with The Hockey Writers.