The New York Rangers offseason is likely going to play out one of two ways. One, with little cap room to invest in free agency, the team is likely going to be quiet, focused more on re-signing their own RFA's and hoping for incremental improvements from within. The second possibility is that the Blueshirts, who are operating under a mandate to get younger, will be among the most active clubs on the trade market. If the latter scenario plays out, the Rangers will have to make some tough decisions and will be forced to say goodbye to some important players.
It's along this vein that I saw this:
Rangers taking in a lot of calls about Kreider. Buffalo, Ottawa, Winnipeg to name a few

— NHL Rumors (@NHLRumorsDaily) June 11, 2016
Full disclosure: Kreider is one of, if not my favorite Ranger. If I was going to create a player on my favorite hockey video game, he would be big and fast, just like Kreider. Second disclosure: Since it isn't Bob McKenzie, the tweet above should be taken with a grain of salt. But it makes sense teams would be interested in Kreider and the Rangers need to be willing to listen to any and all players as they try to upgrade their roster.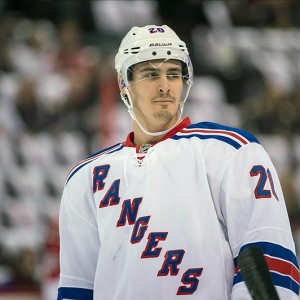 Back to the tweet: If the teams listed are indeed among those expressing interest in acquiring Kreider, what type of return should the Rangers insist upon? After all, Kreider is a proven 20-goal performer who is also among the fastest skaters in the league. And at 25, he's still well within his prime. The Blueshirts asking price should be high.
First, let's outline some parameters in a hypothetical trade. The Rangers will not add significant salary in a trade. Kreider is a RFA and may well command a salary in the $4MM range annually. Ideally the team acquires a player or a package of players who collectively make that amount or less.
Next, the team does not want to get older. In fact, their preference is to get younger. Since Kreider is only 25, any player coming back to New York should be in his early 20's.
Now on to the contenders.
Buffalo
The Sabres have players who fit the general parameters. Up front Sam Reinhart makes sense but Buffalo isn't going to move him. I'd love Rasmus Ristolainen but he's a franchise-type defenseman and he's not going anywhere. Zemgus Girgensons? Maybe, but after tallying just 18 points in 71 games and averaging better than 15:00 of ice time per game, I'd want more if I was the Rangers.
Ottawa
Cody Ceci is the first name that sticks out. He's just 22 years-old and a right-hand defenseman, but chances are he's unavailable. At least there hasn't been talk that Ceci could be had. I don't see any other individual player that both might be as valuable as Kreider and possibly available.
Winnipeg
Now it gets interesting. The Jets have a fellow soon-to-be-RFA that has been mentioned as a possible trade candidate and that is of equal or similar value to Kreider. Now Winnipeg GM Kevin Cheveldayoff says he's not trying to trade Jacob Trouba but that doesn't mean he won't. It means he's not actively pursuing a trade of the young defender but will of course listen to other clubs with offers. A Trouba-for-Kreider deal might be plausible on the surface but let's compare the two players in more detail.
Talent
As mentioned, Kreider is already a two-time, 20+ goal scorer in the NHL. He is big and is an elite, straight line skater. There is some question as to whether he's already reached his ceiling as a scorer or can take the next step to reach the 30-goal plateau. He has a quick release but his accuracy is below average. His speed creates plenty of breakaway opportunities but this season struggled to bury those chances. If he can fine tune his shooting accuracy and cash in on more of his breakaways, Kreider can reach the 30-goal range. Regardless, his speed, willingness to play the body and size should create chances for his line mates even when he isn't scoring.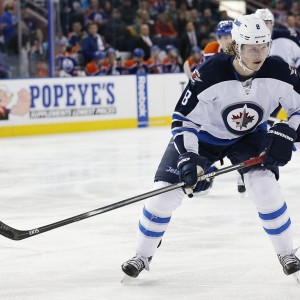 Trouba also has good size and is a solid skater from the back-end. He has the potential upside to become a top-pair shutdown defender. On the offensive side of the equation, Trouba has been a decent point producer, averaging 0.91 Pts/60 for his career. That's middle-of-the-pack over the last three seasons among defenders with at least 180 GP. Given he finished just his third pro season and at 22 is three years Kreider's junior, Trouba is likely a less finished product and possesses more potential to improve his game.
Salary Cap Implications
Coming off a "bridge" contract with a salary cap charge just less than $2.5MM per season, Kreider would seem to be in line for a new deal in the neighborhood of $4MM annually. For quick reference, Carl Hagelin finished off his two-year, $4.5MM deal with the Rangers and as a RFA, was dealt to Anaheim where he inked a $16MM, four-year contract. That's enough to convince me that Kreider will get close to that figure, if not more.
With his ELC expiring, Trouba is further away from UFA than Kreider, which might impact his leverage in his current negotiations. But in recent seasons teams have been going to greater lengths to extend the contracts of their talented young blue liners and are paying a premium to do so.
Just this week, Anaheim signed RFA Sami Vatanen to a four-year, $19.5MM extension. Jonas Brodin of Minnesota and Oscar Klefbom of Edmonton are set to enter the first years of their respective contracts. Each have cap hits in excess of $4.1MM. Morgan Rielly of the Maple Leafs reached the $5MM annual plateau on his six-year extension. All are right about Trouba's age with similar NHL experience at the time their deals were done.
It seems likely given these recent deals that Trouba will also get $4MM or more. With Kreider in the same neck of the woods, the cap implications for each club in this hypothetical exchange are negligible.
Verdict
While I would hate to see Kreider traded, sometimes it does make sense for teams to reallocate assets in an attempt to upgrade one area at the expense of another. Adding Trouba's puck moving and skating abilities to the Rangers back-end may well improve the team's defense more than losing Kreider's 20 goals will negatively impact the offense. You have to give to get, and this might be the type of deal the Rangers have to make to get better.