They say you have to spend money to make money, and scared money doesn't make money. If these sayings are true and translated to the sports world, it may suggest that you must spend money to achieve ultimate success. If you want to be a contender and finish the season a champion, you must open up the checkbook.
If that wasn't the case, the 2020 Tampa Bay Rays wouldn't have received as much praise as they did for eliminating the New York Yankees and their $83.5 million payroll and going toe-to-toe with the Los Angeles Dodgers and their league-leading, near $96.6 million roster. The Rays doing all this despite spending the league's third-lowest total of $29.4 million.
It's also the reason why there was a movie made about Billy Beane and the Oakland Athletics called Moneyball.
You may be wondering where this is going or checking if you've stumbled onto The Baseball Writers – should that be a thing. No, you're in the right place for hockey talk. But those examples speak to something that all professional sports share in common, and that's the sentiment that it's difficult – near impossible – to win if the payroll is too low or vastly lower than your competitors.
As seen with the 2020 Rays and the Athletics – under Billy Beane as general manager – they make for good stories, but they don't happen all that often and rarely do they end in championships.
The Rays lost to the Dodgers and the Athletics never won a World Series in the Billy Beane GM era. In fact, they haven't won the World Series since 1989, when they had the 12th highest payroll. But now this is turning into a baseball discussion.
The point is, the Predators have been guilty of underspending in the past – more commonly seen during the Craig Leipold era – and look where it has gotten them. They are still searching for their first Stanley Cup. General manager David Poile has made efforts to kick that trend in recent years. He has traded for big contracts such as P.K Subban, signed current players to megadeals like Ryan Johansen and Roman Josi, he's also thrown stacks of cash at free agents like Matt Duchene.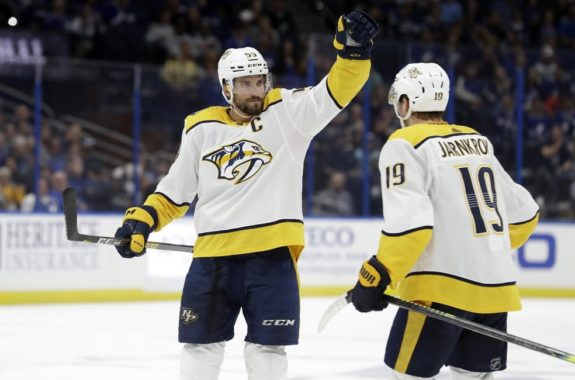 So, there definitely seems to be a consensus in Nashville, which is, don't be scared to use all of the salary cap. This brings us to Poile's current situation: The Predators have nearly $13 million in cap space, the third-most in the NHL.
They still consider themselves contenders, which is fair. The team's core is still in its prime. But this also means the time to spend is now. This argument isn't exclusive to signing unrestricted free agents, it includes all methods of acquiring the players who will improve the team and help the Predators be true Cup competitors.
There have been rumors suggesting the Predators could be on Mike Hoffman's shortlist for potential landing spots. If that comes to fruition, it will certainly utilize a big chunk of that available $12.9 million. It will also be a move that improves the team.
However, with Hoffman still sitting as a free agent, he is clearly weighing his options very carefully. Meaning the Predators need to prepare themselves for a scenario where Hoffman chooses to play hockey elsewhere.
As mentioned, the Predators have a little less than $13 million in cap space. There are 10 teams currently exceeding the $81.5 million cap, according to CapFriendly. So, what deals could the Predators make to improve their roster and "help" other teams get out of their cap crunch?
Alex Killorn
The reigning Stanley Cup champions, Tampa Bay Lightning are loaded with talent and they're paying for it too. They are nearly $2 million over the salary cap and will have to unload one significant contract or several smaller contracts to become financially compliant.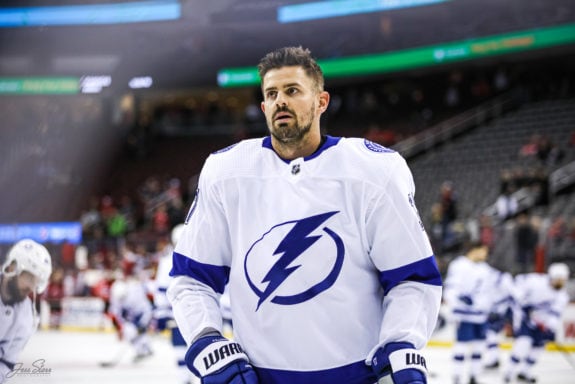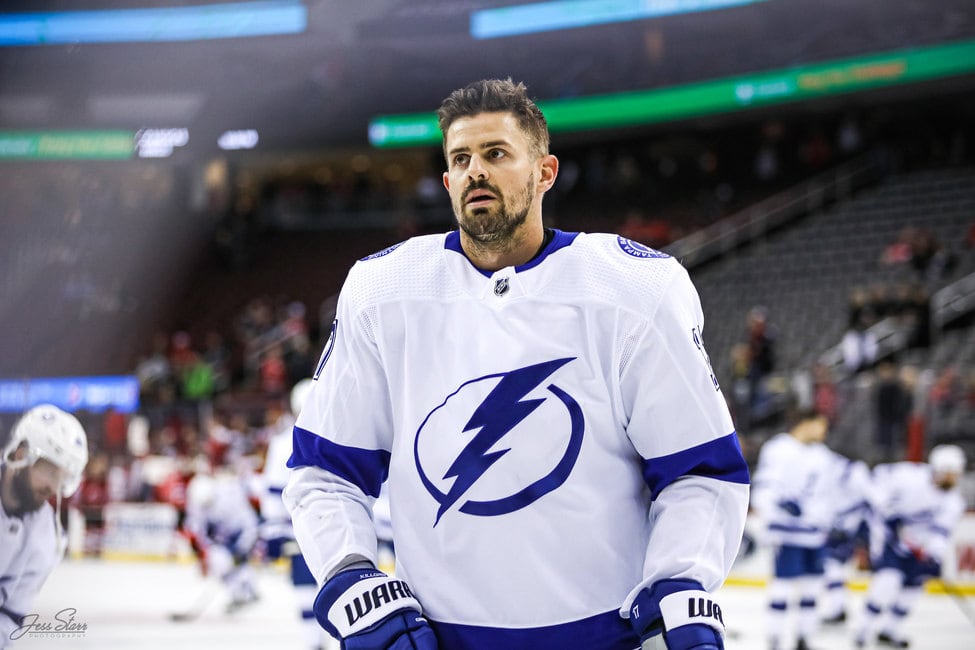 Killorn could be a player the Lightning may just part with and the Predators could certainly use his services.
Now, remember, just because the Lightning must take action to lower their team's salary, does not mean potential suitors will receive something for nothing. When the New Jersey Devils traded for Subban, they still parted with Steven Santini, Jeremy Davies and two second-round picks. Santini didn't quite work out in Nashville, but Davies is a promising young prospect and early-round draft picks are always highly valuable.
Related: Re-Doing the Nashville Predators' 1998 Expansion Draft
However, if it wasn't for Subban's $9 million cap hit, his trade value would've almost certainly been worth at least a first-round pick. So, while the Predators will not be able to swap a bag of pucks – as they say in the hockey community – for Killorn, the price will be cheaper due to the situation that the Lightning is in.
Killorn, 31, is coming off an NHL-career high, 49 points in 2019-20 and he set that mark while playing in the second-fewest games he has ever played in an NHL season. It's no secret that the Predators could use scoring beyond the first line and the 6-foot-1 winger could be a key in correcting that deficiency. Killorn tallied 26 goals last season and has recorded no fewer than 14 since 2013-14.
Not to mention, Killorn found considerable success on the power play last season for the Lightning. Had he played for the Predators in 2019-20, he would have led the team in power-play goals with eight.
Finishing 25th league-wide on the man-advantage, the Predators could certainly use all the help and firepower they can get.         
The Predators would have to take on Killorn's $4.45 million cap hit, which would be no problem seen as they recently lost Craig Smith's $4.25 million annual average value (AAV) and Mikael Granlund's $5.75 million AAV. Plus, at a similar age to both those former Predators and with similar – if not better – offensive production, it makes a lot of sense for Poile to seriously consider what it would take to bring Killorn to Nashville.
Jaden Schwartz
The St. Louis Blues are another team that finds themselves in salary cap trouble. But the Blues aren't a million miles away from tightening up their roster from a salary standpoint. They need to shed about $1.2 million to slide in under the cap. TSN released a report back in October listing possible trade bait and Schwartz was part of that list.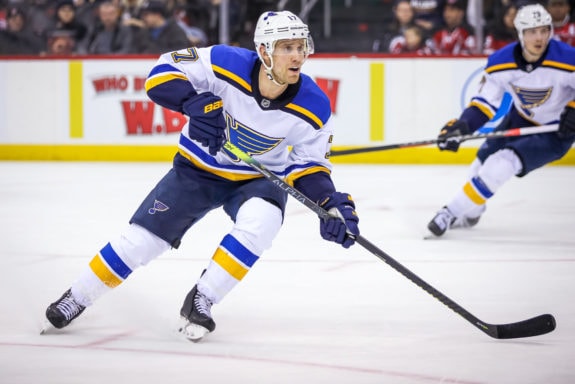 The 28-year-old has just one year left on his current deal with an AAV of $5.35 million, so not only would dumping Schwartz's salary help the Blues get out of the red, but it would also give them quite a bit of breathing room.
The native of Melfort, Saskatchewan had an excellent season last year, finishing the shortened campaign with 22 goals and 35 assists. When the playoffs eventually rolled around, Schwartz continued to produce, netting four goals in the nine games that took place in the Edmonton bubble.
The Predators' line projections may suggest that the second line could comprise of Duchene, Eeli Tolvanen and Luke Kunin. But if those three don't quite click, or the production isn't as high as Nashville will need it to be, Schwartz is a legitimate top-six forward on most teams, and the Predators are no exception.
The key may be the single year remaining on the 5-foot-10 winger's contract. The Blues maybe a little more motivated to move Schwartz, especially if they're not confident about resigning him.
Envision a Predators team that could start with, Filip Forsberg, Ryan Johansen and Viktor Arvidsson, then follow up with, Schwartz, Duchene and Kunin. That could be a deadly one-two punch, which would rival any team's top-six.
Jake Virtanen
This one is a little tougher to see playing out. Virtanen is still just 24 years old and he's fresh off a season where he set career highs in goals and assists. Not only is he young, entering his prime, and trending in a positive direction from a statistical standpoint. He has a cap hit of just $2.55 million, has two-years left on his current deal and will be a restricted free agent after it's expiry.
There's a lot to like about Virtanen, which is why the Vancouver Canucks may be reluctant to part with him. But TSN listed him as trade bait, so let's roll with it.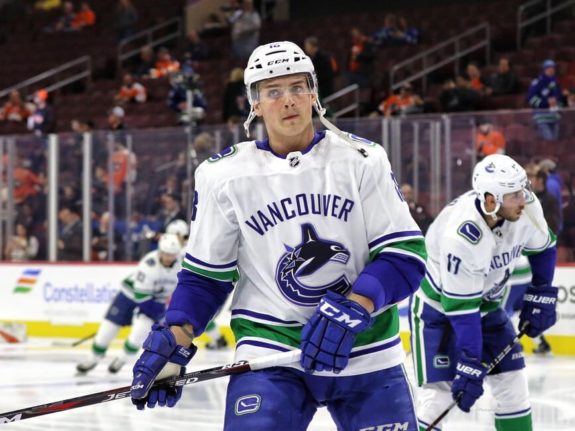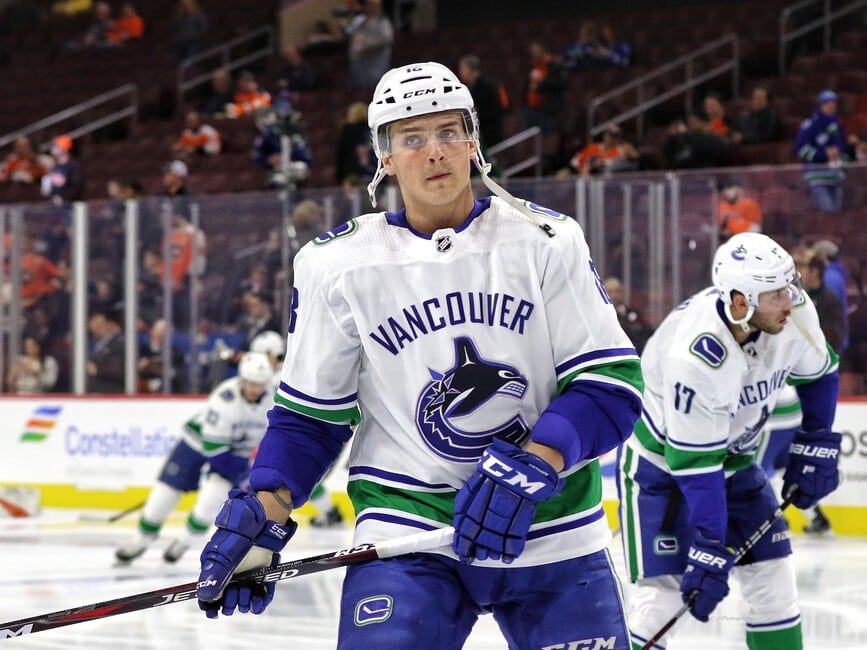 As mentioned, Virtanen had his best year as an NHL professional in 2019-20. When the league was put on pause back in March, the former 2016 sixth-overall pick had registered 18 goals and 18 assists in 69 games.
Weighing in a 227 pounds, Virtanen can be a real physical presence on the ice and could fit in nicely with the grit that Poile is looking to increase this season. The Predators GM acquired forwards, Brad Richardson and Nick Cousins, as well as a defenseman, Mark Borowiecki to add a little more toughness and physicality. Well, Virtanen wouldn't hurt that style, but he adds the element of skill as well, making him a very well-rounded player.
As already stated, it is difficult to envision a scenario where Poile could pry Virtanen away from Jim Benning and the Canucks. The Predators have nowhere near the same leverage with the Canucks as New Jersey had with Nashville when they acquired Subban. The former Predators' defenseman had an AAV of $9 million, none of which was retained by the Predators, which affected the value of the pieces Poile received in return.
Related: Nashville Predators Prospects to Watch at 2021 World Juniors
In order to see a situation where the Predators would be able to acquire Virtanen, they would have to offer something perhaps too valuable to them, whether that be top prospects or high draft picks. But the Predators shouldn't be that desperate to pull the trigger on a deal. Remember, this is looking at how the Predators can use their cap space to their advantage, not pulling off an unnecessary, risky trade sparked by how the past few seasons have ended.
All three players would certainly improve the Predators roster and could even help catapult them back into legit contender status. However, they are not all equal. One of them could be more costly than others. So, the price would have to be right in order for any deal to make sense. Poile is a veteran GM and one of the most seasoned negotiators in the league.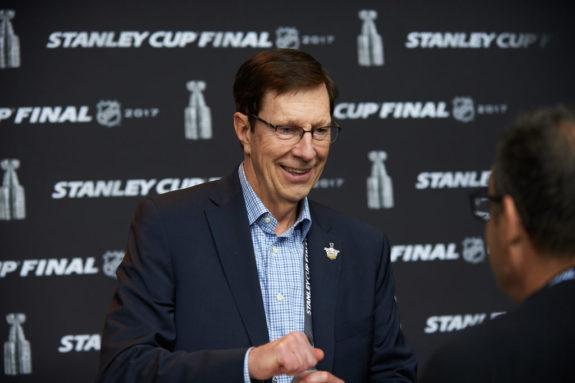 Picking any one of the three players listed would never be considered as settling. They all possess too much skill for that to ever be the case. So, the Predators may have the chance to bring in elite talent at a possible bargain price.
After the lack of expected success in recent years, some may be questioning Poile's tenure in Nashville. And just like it was time to move on from long-time head coach Barry Trotz, it could be argued, now maybe Poile's turn. But if he can keep the Predators' most valuable assets in Nashville, take advantage of another team's lack of cap space and still acquire a player like Killorn, Schwartz or Virtanen, it could do wonders for boosting or regaining the fanbase's confidence.  
---
---