We're just under a week away from the 2021 World Junior Championship (WJC), and if you ask any hockey fan, the tournament is what really makes the holiday season special. It may be a little different this year, with no fans in the building and teams playing in a bubble, but that doesn't make it any less exciting. Games get underway on Christmas Day beginning with Switzerland and Slovakia at 12 p.m. EST, followed by USA and Russia at 4 p.m. EST.
The Los Angeles Kings topped all other NHL teams with nine prospects representing them at the WJC. The Nashville Predators are in the middle of the pack with five prospects at the tournament this year, but they're still extremely well represented. Here's a look at who Predators fans can keep an eye on.
Yaroslav Askarov (G) – Russia
Let's just address the big fish right away. The Predators drafted Yaroslav Askarov 11th overall at the 2020 NHL Draft, marking the fourth time in the past six years a goalie was taken in the first round. He's currently off to an electric start with SKA St. Petersburg of the KHL this year. The Omsk native has put together a record of 4-3-0 through seven games with a goals against average of 0.96 and a save percentage (SV%) of .962. For an 18-year-old who doesn't turn 19 until June? Yeah, these are pretty impressive stats.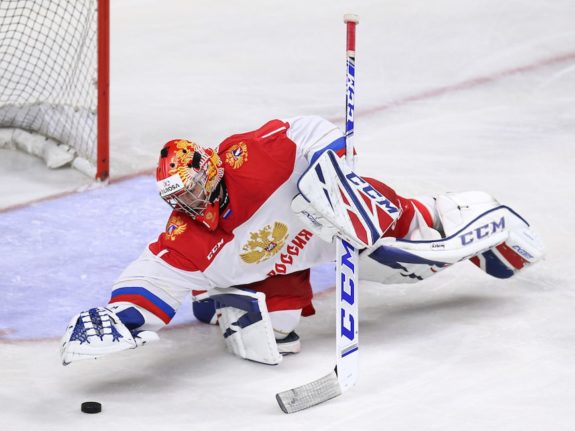 Askarov is already being touted as one of the future superstars of NHL goaltending, and I fully expect him to be the best goaltender at the tournament. He was Russia's starting goalie at last year's WJC, but didn't exactly have the campaign he was hoping for, mustering just a .877 SV% through five games. Now having an NHL team to impress and coming back with a chip on his shoulder, I fully believe Askarov will lead Russia to a medal and potentially even take home goaltender of the tournament honours.
Yegor Afanasayev (F) – Russia
Drafted in the second round at 49th overall by the Predators in 2019, Yegor Afanasayev will be making his tournament debut at 19 years old this year. The Tver native spent last season with the Windsor Spitfires of the Ontario Hockey League (OHL) and finished the season with 31 goals and 67 points in 62 games. He's no stranger to North American ice, having spent the two seasons prior with the Muskegon Lumberjacks of the United States Hockey League.
Afanasayev is playing for CSKA Moskva this season and even though it's a small sample size, he's off to a very good start with two goals and three points in his first four games. He also has two goals in the only two MHL games he's appeared in, for what it's worth. The 6-foot-3 winger possesses good size and an electrifying shot to go along with it, so I expect him to be a key part of Russia's offense along with guys like Vasili Podkolzin and Rodion Amirov.
Semyon Chistyakov (F) – Russia
Chistyakov joins a Russian defensive core that's relatively inexperienced, but one that has the potential to do well behind the star-studded offense. The Predators drafted him in the fourth round of the 2019 NHL Draft, and he's the third Predators prospect to represent the Russians. He makes his WJC debut this year at 19 years old, so he'll be one of the older defensemen on the back end.
The 5-foot-11 Yekaterinburg native spent last season split between Tolpar Ufa and Omskie Yastreby of the MHL, and put up a combined 22 points in 27 games. He's in his rookie season with Avangard Omsk of the KHL this season, and despite being a regular in the lineup, he's been quiet offensively with only three points in 28 games. Regardless, it will be interesting to see what he's capable of doing playing against people his own age.
Juuso Parssinen (F) – Finland
Parssinen is arguably the most intriguing prospect the Predators have at the tournament after Askarov. The 6-foot-3 centre was drafted in the seventh round of the 2019 Draft, but he's off to a very good start with TPS of the SM-Liiga. He has 12 points through 18 games and he's one of the team's alternate captains, despite being only 19 years old. That was good enough to match his season total from last year, where he finished with 12 points in 31 games.
Despite being in the shadows of players like Panthers prospect Anton Lundell and Senators prospect Roby Jarventie, Parssinen has the potential to be a key contributor for the Finns this year. He's a swift playmaker and he's proven that he can do damage playing against grown men, so putting him into a tournament with people his own age tells me that you can expect Parssinen to impress.
Philip Tomasino (F) – Canada
A 24th-overall draft pick of the Predators in 2019, Tomasino spent last season with the Niagara IceDogs and, later, the Oshawa Generals. He finished the campaign with a combined 100 points in 62 games. Making his tournament debut at 19 years old, he's expected to be one of Canada's main contributors up front on an already stacked offensive core, and you can expect him to thrive in that role.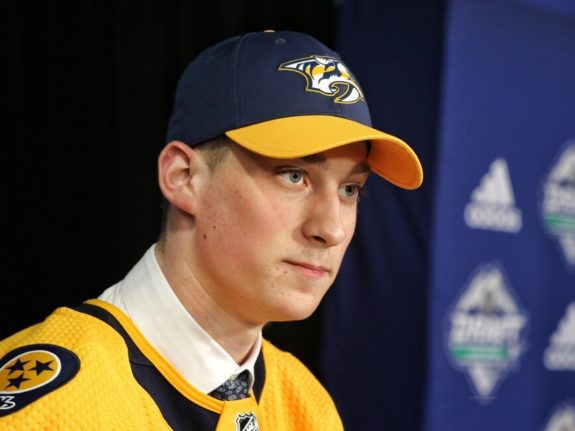 With the status of the 2020-21 OHL season still up in the air, Tomasino is the only Predators prospect at the WJC who hasn't been playing this year. Having said that, Canadian Hockey League prospects have been working out and keeping active without any hockey to be played, so this shouldn't affect Tomasino's gameplay. He's been playing on a line with second-overall pick and Kings prospect Quinton Byfield as well as Flames prospect Connor Zary, and with the amount of skill Canada has up front, I don't think there's a weak line.
Overview
The WJC is certainly going to be different this year, but every hockey fan knows that the adrenaline rush the tournament provides makes every holiday season that much better. Most teams are in Edmonton and quarantining ahead of the tournament, and while Sweden and Germany have been bit by the COVID-19 bug, the tournament is still expected to go according to plan. The Predators have some very intriguing names to keep an eye on that will make games worth watching for their fans.
All the 2021 World Junior Championship Team Information:
Austria — Team Preview — Roster
Canada — Team Preview — Roster
Czech Republic — Team Preview — Roster
Finland — Team Preview — Roster
Germany — Team Preview — Roster
Russia — Team Preview — Roster
Slovakia — Team Preview — Roster
Sweden — Team Preview — Roster
Switzerland — Team Preview — Roster
USA — Team Preview — Roster
Selection Camp Invites by NHL Team
Draft Eligible Players to Watch
One Player to Watch for Each World Junior Team
7 Predictions for the 2021 World Junior Championship
---
---