When the topic is international hockey, Team Sweden is almost always in the middle of the conversation. One of the top teams to watch year in and year out, the Swedes have earned a medal in 5 out of the last 10 World Junior Championships. Last year's tournament saw them finish with a bronze medal, with Vancouver Canucks prospect Nils Hoglander, LA Kings prospect Samuel Fagemo, and Toronto Maple Leafs prospect Rasmus Sandin leading the way.
Related: THW 2021 World Juniors Guide
The third-winningest nation in World Junior history, Sweden will look to compete for their 20th medal this year. While none of the above names will be returning this year, the Swedes have a plethora of young talent that will make them an interesting group to keep an eye on heading into this year's tourney. They haven't won a gold medal since 2012, and even though medals in two of the last three tournaments are impressive, it's obviously not the end goal for the young guns representing their country.
The Swedes will have a tough division this year, competing with Russia, the United States, and the Czech Republic for ground in Group B. With a division as stacked as this one, it's really going to be a matter of who gets hot at the right time and who keeps the momentum the longest. With that being said, let's have a look at who could potentially make up Sweden's roster.
Goaltending
The Swedes might have the easiest decision of all the teams when it comes to who will be in between the pipes. Tampa Bay Lightning prospect and 2020 WJC standout Hugo Alnefelt will be returning to the team a year older this year. He made a name for himself at last year's tournament, starting in all six games and finishing with a record of 5-1-0, a goals against average of 2.12, and a save percentage of .921.
He isn't off to a great start this year, mustering a record of 4-6-0 with a GAA of 3.04 and a SV% of .904 through 10 games for HV71 of the SHL. But either way, he was a crucial part of last year's team so there's no reason they should give the job to anybody else.
If the Swedes' starting goalie is a shoo-in, then it's probably worth mentioning that their backup is as well. 2021 NHL Draft prospect Jesper Wallstedt is having a monster start to the 2020-21 SHL season, putting up a record of 4-2-0 with a GAA of 1.93 and a SV% of .924 through six games.
The 18 year-old may find himself in the same conversation as goalies like Ilya Samsonov, Spencer Knight, and Yaroslav Askarov, all of whom were taken in the first round of their respective drafts. The only reason he'll likely back up Alnefelt is because of his age and what Alnefelt did for the team last year. But at the very least, this will give Wallstedt a chance to learn and step into that starting role next year. And if the elder goalie falters, he'll have an opportunity to step up and shine.
Behind Alnefelt and Wallstedt, the Swedes will likely opt for Penguins prospect Calle Clang (what a name) to man the third-string position, which is really too bad, because he's putting together a pretty solid season himself. Clang has a record of 3-4-0 with a GAA of 1.95 and a SV% of .935 through seven games with Kristianstads IK of the Allsvenskan league. If he were representing any other nation, he may have a chance to have a backup or even a starting gig. Either way, goaltending appears to be an area of strength for Sweden.
Defense
While the Swedes will miss Rasmus Sandin, who took home defenseman of the tournament honours, and Rangers prospect Nils Lundkvist this year, they've got returnees who will look to step into bigger roles. Right off the bat, Sweden has three returning names on the back end that will jump right out at you. Philip Broberg, Victor Soderstrom, and Tobias Bjornfot. They were drafted ninth, 11th, and 22nd overall in 2019 by the Edmonton Oilers, Arizona Coyotes, and Kings respectively.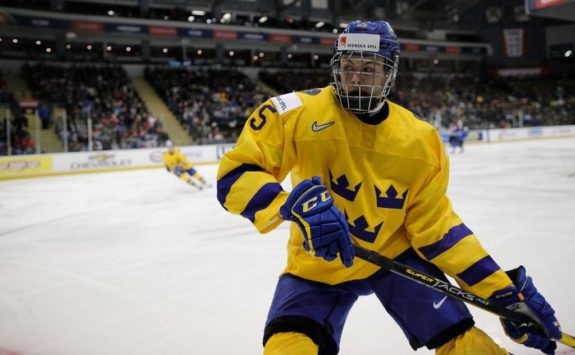 They have a number of options to round out the top four. One of them is Detroit Red Wings prospect Albert Johansson, who was drafted in the second round of the 2019 draft. He recently emerged as one of the Wings' top prospects and is off to a solid start with Farjestad BK of the SHL, putting up seven points in 19 games thus far.
Another is Philadelphia Flyers' second rounder Emil Andrae, who is a short but tough offensive defenseman who is teammates with Hugo Alnefelt. An additional option for the top four is Kings' second rounder Helge Grans, who stands at 6-foot-3 and shoots right. He has six points in 13 games for the Malmo Redhawks of the SHL so far.
Assuming these three round out the top six, other options I have for the Swedes' back end include Red Wings prospect William Wallinder, who's 6-foot-4 and may be one of the better skaters in the group. Then there's another Red Wings prospect in Gustav Berglund, who was taken in the sixth round of the 2019 draft.
Other options include Columbus Blue Jackets prospect Eric Hjorth, who's naturally right-handed, and Winnipeg Jets prospect Anton Johannesson, who's smooth but has missed much of the past two seasons with an injury. They could also consider Simon Edvinsson, a 6-foot-4 17-year-old who's projected to go in the first round of the 2021 NHL Draft.
In my mind, the top three defensemen are guaranteed, and the bottom three are all but guaranteed. Any of the guys I listed could make the team barring an impressive selection camp, which is why camp exists in the first place.
Forwards
The Swedes will be losing two of their top goal scorers from last year, as Samuel Fagemo and Nils Hoglander are both too old to return this year. It would appear as though they're passing the torch to one particular line from last year. New Jersey Devils seventh overall pick Alexander Holtz, New York Rangers second-rounder Karl Henriksson, and Red Wings fourth overall pick Lucas Raymond will all be returning from last year and will likely be relied upon for the bulk of the Swedes' offense.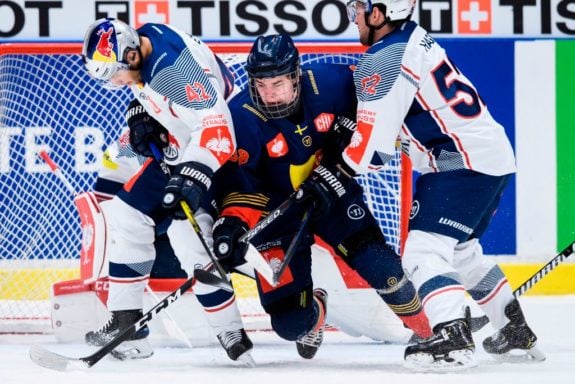 After those three, there are a lot of new faces. You can probably expect to see New York Islanders' first-rounder Simon Holmstrom and Carolina Hurricanes' second-rounder Noel Gunler make up the wings on the second line. Holmstrom's development has been rocky to start, spending last season in the AHL as an 18-year-old and returning to Sweden to play in their second-tier league this year.
His numbers in the Allsvenskan league aren't eye-popping, mustering two points through 11 games with HC Vita Hasten. A World Junior campaign in the presence of players his age could be just what he needs to get going. Meanwhile, Gunler's split time between Lulea HF and Brynas IF of the SHL, posting a combined five points through 16 games.
While we're on the topic of Hurricanes prospects, Zion Nybeck is another name to keep an eye on. The 5-foot-8 forward has spent this year between the SHL and the J20 league. Then there's also Elmer Soderblom, another Red Wings prospect who towers at 6-foot-7 and 227 pounds. You can expect to see him in the top nine if Sweden's brass likes the idea of having that imposing frame to compliment Nybeck.
Another couple of names you can expect to see up the middle include Canucks prospect Arvid Costmar and Red Wings prospect Theodor Niederbach. Both have been relatively quiet to start their respective SHL seasons, Costmar with Linkoping HC and Niederbach with Frolunda HC. Both of these prospects have thrived in the time they've spent in the J20 league, which could be a telling tale to how they perform against guys their own age.
Then there's Red Wings prospect Albin Grewe, who could fill a fourth-line role due to the edge to his game. Another player you could expect to see suit up is William Eklund, a 2021 draft prospect who's off to a sizzling start in the SHL. He has 12 points in 16 games for Djurgardens IF thus far. And rounding out the rest of the players I have competing for a bottom-six role include Anaheim Ducks prospect Albin Sundsvik, Florida Panthers prospect Emil Heineman, and Washington Capitals prospect Oskar Magnusson.
Overview
The Swedes have a very young team that will, as per usual, be built from the net out. Goaltending is clearly their strength, and while guys like Alexander Holtz and Lucas Raymond will likely lead the way up front, there are lots of players who have never seen World Junior hockey before.
The defense looks to be strong as well, with three returning players and three NHL prospects likely to round out the top six. Sharing a division with the U.S., Russia, and Czech Republic won't be an easy task, but their top dogs have a chance to break out and help Sweden take home a medal for the second year in a row and the third time in four years.
Here is THW's final prediction for who makes the final 23-man roster for the Swedes.
Goaltenders – Hugo Alnefelt, Jesper Wallstedt, Calle Clang
Defensemen – Philip Broberg, Victor Soderstrom, Tobias Bjornfot, Albert Johansson, Emil Andrae, Helge Grans, William Wallinder
Forwards – Alexander Holtz, Lucas Raymond, Karl Henriksson, Simon Holmstrom, Noel Gunler, Zion Nybeck, Elmer Soderblom, William Eklund, Arvid Costmar, Theodor Neiderback, Albin Grewe, Oskar Magnusson, Albin Sundsvik
---
All the 2021 World Junior Championship Team Information:
Austria — Team Preview — Roster
Canada — Team Preview — Roster
Czech Republic — Team Preview — Roster
Finland — Team Preview — Roster
Germany — Team Preview — Roster
Russia — Team Preview — Roster
Slovakia — Team Preview — Roster
Sweden — Team Preview — Roster
Switzerland — Team Preview — Roster
USA — Team Preview — Roster
Selection Camp Invites by NHL Team
Draft Eligible Players to Watch
One Player to Watch for Each World Junior Team
7 Predictions for the 2021 World Junior Championship
---
---