Up 3-1 on Canada with just under 12 minutes remaining in last year's championship game, it looked all but certain that Team Russia would claim their first gold medal at the World Juniors since 2011. That was before an inspired Canadian team led by captain Barrett Hayton stormed back to win 4-3, leaving Russia to settle for silver once again.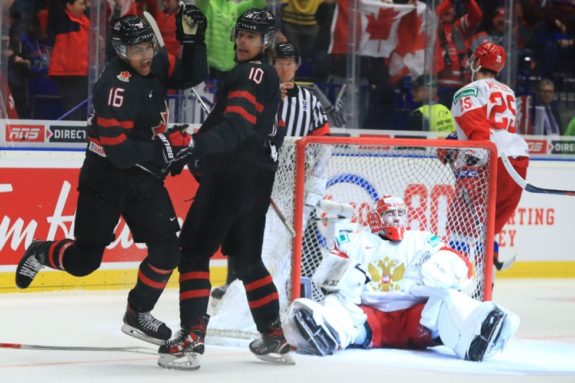 With that bitter taste of defeat still fresh, the Russians will look to bounce back in this year's tournament with an overhauled lineup both on the ice and behind the bench.
Of the team's 28 players named to the preliminary roster, only two forwards and one goaltender are returning from last year. Meanwhile, head coach Valeri Bragin has moved on from the U20 team after leading Russia to seven World Junior medals in eight years since 2011. Stepping in as his replacement is Hall of Famer and three-time Stanley Cup winner Igor Larionov, whose leadership will be key for a relatively inexperienced Russian squad.
Forwards: Good Blend of Size and Skill
With only two returning forwards in Maxim Groshev (TB) and Vasili Podkolzin (VAN), Team Russia will see an influx of new talent in this year's tournament. Leading that group will be 2020 first-round draft picks Rodion Amirov (TOR) and Yegor Chinakhov (CBJ), who have both impressed in the Kontinental Hockey League (KHL) as 19-year-olds this season.
Related: THW World Juniors Guide
Amirov is coming off an excellent showing at the Karjala Cup in early November where he tallied three goals in three games en route to being named the best forward of the tournament. The slick two-way winger will need to carry that momentum forward as he'll be relied on as an offensive catalyst for Russia.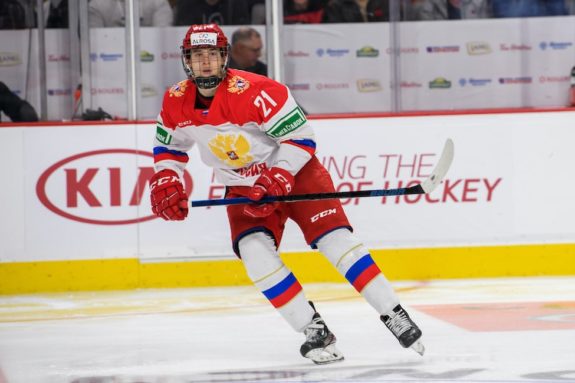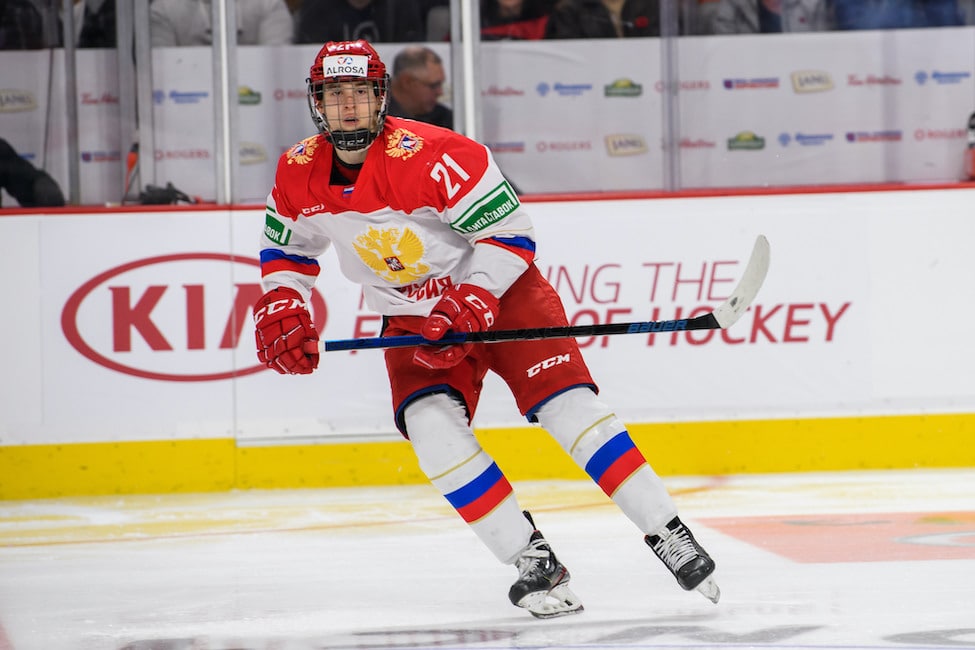 The team's top-six is pretty well balanced with plenty of size in 6-foot-4 Podkolzin and 6-foot-3 Yegor Afanasyev (NSH), combined with the finesse and playmaking touch of Amirov, Chinakhov, and Mikhail Abramov (TOR). The powerful Podkolzin has struggled at times in the KHL, with just two goals and six points in 24 games, but his professional and international experience should make him a key producer at this year's tournament.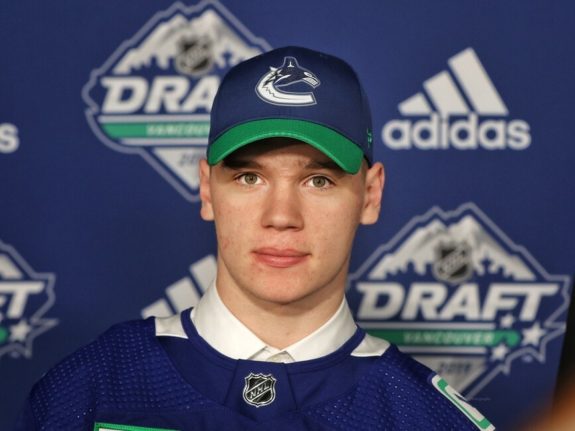 The bottom-six will likely see more of a battle for roster spots between players like Vasili Ponomaryov (CAR), Vladislav Firstov (MIN), and Ilya Safonov among others. With nine points in as many games for the Shawinigan Cataractes of the Quebec Major Junior Hockey League (QMJHL), Ponomaryov is a rare non-homegrown player on this Russian squad. His relentless work ethic and two-way presence are hard to ignore, making him a lock for a role in the top-nine.
Related: 2021 World Junior Championship Team Canada Preview
Although Russia's forward group should have no trouble finding the back of the net, it's worth mentioning that there were a couple of notable snubs left off the team's preliminary roster in Danil Guschin (SJ) and Alexander Pashin (CAR).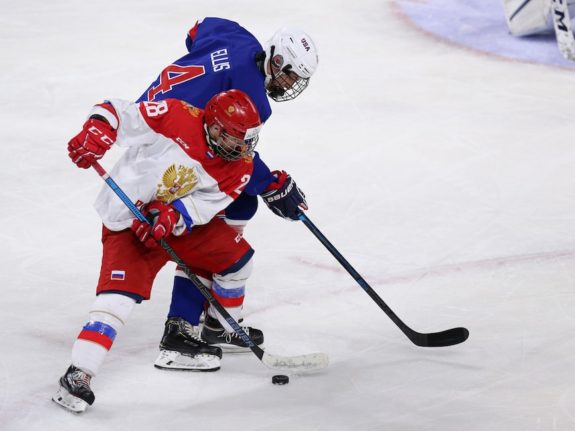 At 5-foot-8 and 5-foot-7 respectively, the choice doesn't come as much of a surprise given Russia's history of bringing a bigger lineup to the tournament, but you've got to wonder if they'll regret leaving out two of the more skilled players available to them.
Defence: Changing of the Guard
With an even more drastic changing of the guard than the forward group, Russia's defence will see an all-new contingent as last year's crop of 2000-born players is phased out. The loss of their defensive stalwart, Alexander Romanov (MTL), will definitely hurt as Russia doesn't have a clear successor going into this year's World Juniors.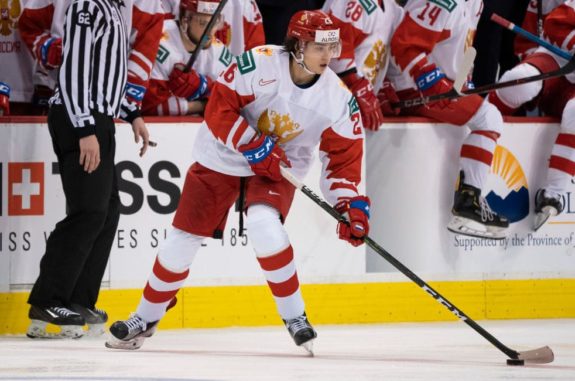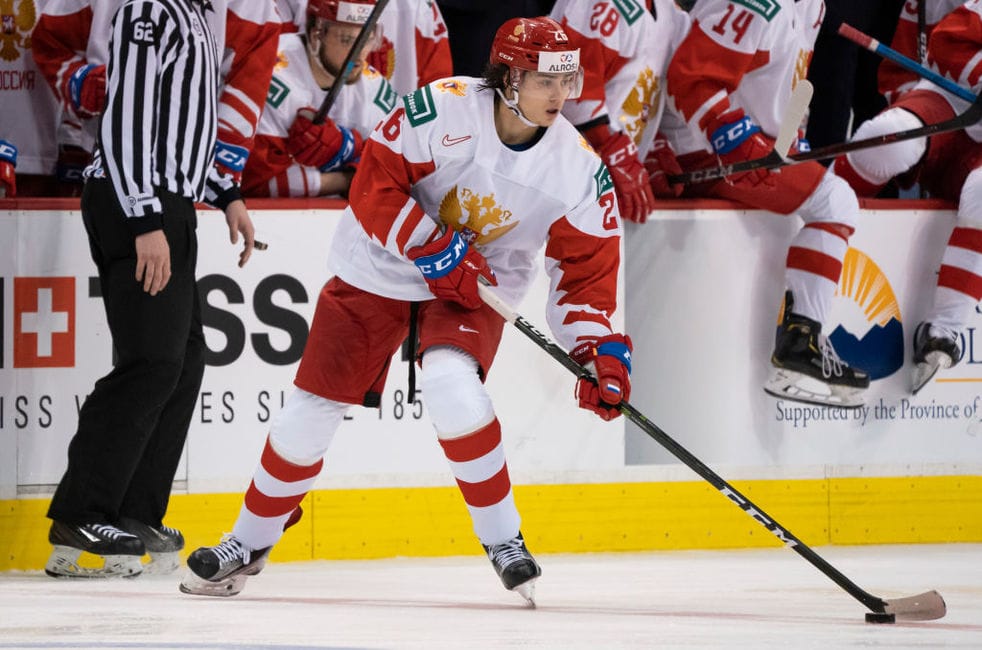 The closest thing to a No. 1 defenceman for Russia will likely be New Jersey Devils 2020 first-rounder Shakir Mukhamadullin. The 6-foot-4 defender has a rare combination of physicality and mobility, collecting two goals and nine points through 30 games for Salavat Yulaev Ufa of the KHL this season while boasting a passing accuracy of 93 percent. The 18-year-old will be relied on to munch a fair amount of minutes on a Russian defence that lacks experience at this tournament.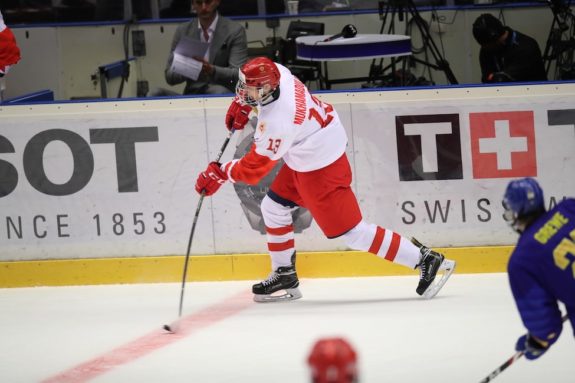 Behind Mukhamadullin, other notable names on the preliminary roster include Semyon Chistyakov (NSH), Roman Bychkov (BOS), and Yan Kuznetsov (CGY). Although Chistyakov will likely play further down in the lineup, Scott Wheeler of The Athletic rates the 5-foot-10 blueliner as Russia's best defenceman right now thanks to his well-rounded 200-foot game. We'll see if he can truly live up to that title at this year's tournament.
The inexperienced defence may be Russia's weak spot, meaning their goaltenders will be asked to do a lot of the heavy lifting. Luckily they've got the right guy between the pipes for the job.
Goaltending: Askarov Returns
Hyped up as one of the next great Russian goaltenders, 18-year-old Yaroslav Askarov will be back in the crease for the second consecutive World Junior Championships. He featured in five games at last year's tournament as a 17-year-old, posting a 2.71 goals against average (GAA) and .877 save percentage (SV%) – poor numbers by his lofty standards. The Nashville first-rounder seems to have taken another step forward this season, putting up a ridiculous 0.96 GAA and .962 SV% through seven games for SKA St. Petersburg of the KHL.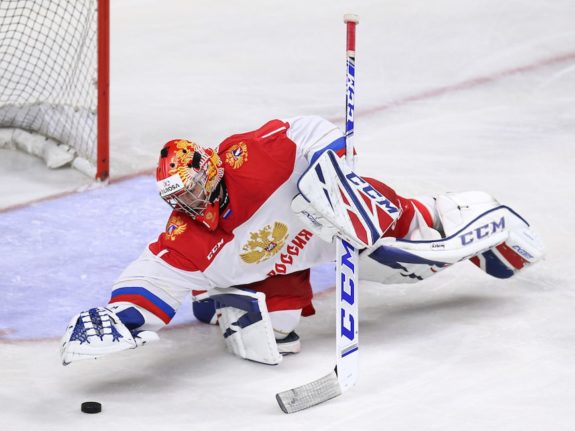 If Russia is going to medal at this year's event, it will likely be on the back of a stellar performance from the 6-foot-4 netminder, who may face a lot of rubber behind that inexperienced defence.
Related: 2021 World Junior Championship Team USA Preview
Backing up Askarov will be Maple Leafs 2020 draftee Artur Akhtyamov. The athletic goaltender has bounced around all three of Russia's hockey leagues this season, playing primarily in the second-tier professional league, the Supreme Hockey League (VHL). Through eight games for Bars Kazan he's put up a strong 1.58 GAA and .935 SV%. Although Akhtyamov shouldn't see a ton of game action behind undisputed No. 1 Askarov, he'll be a capable backup if called upon.
Overview
As a hockey powerhouse, Russia will have their eyes on another medal at the 2021 World Junior Championships, though it certainly won't be an easy task given the competition. Drawn into Group B, Russia will face off against fellow powerhouses in the United States and Sweden as well as the Czech Republic and Austria.
Related: 2021 World Junior Championship Team Finland Preview
Scoring and goaltending shouldn't be a problem for the Russians, but there will be questions surrounding their defence as well as a general lack of experience throughout the roster. And while Larionov is a hockey legend, you have to consider his inexperience behind the bench as this will be just his second year coaching at this level.
Here is THW's final prediction for who makes the final 25-man roster for Russia:
Goaltenders – Yaroslav Askarov, Artur Akhtyamov, Vsevolod Skotnikov
Defence – Roman Bychkov, Yan Kuznetsov, Shakir Mukhamadullin, Semyon Chistyakov, Daniil Chayka, Kirill Kirsanov, Nikita Sedov, Yegor Shekhovstov
Forwards – Vasili Podkolzin, Yegor Afanasyev, Rodion Amirov, Yegor Chinakhov, Mikhail Abramov, Ilya Safonov, Marat Khusnutdinov, Maxim Groshev, Yegor Spiridonov, Arseni Gritsyuk, Danil Bashkirov, Zakhr Bardakov, Vlasislav Firstov, Vasili Ponomaryov, Takhir Mingachyov
Stats from InStat Hockey and Elite Prospects
---
All the 2021 World Junior Championship Team Information:
Austria — Team Preview — Roster
Canada — Team Preview — Roster
Czech Republic — Team Preview — Roster
Finland — Team Preview — Roster
Germany — Team Preview — Roster
Russia — Team Preview — Roster
Slovakia — Team Preview — Roster
Sweden — Team Preview — Roster
Switzerland — Team Preview — Roster
USA — Team Preview — Roster
Selection Camp Invites by NHL Team
Draft Eligible Players to Watch
One Player to Watch for Each World Junior Team
7 Predictions for the 2021 World Junior Championship
---
---
Chris Faria is a contributor for The Hockey Writers with a focus on the Toronto Maple Leafs. A hockey player and self-proclaimed analytics nerd, his work aims to combine both stats and a deep knowledge of the game. He is currently pursuing a graduate diploma in sports journalism at Centennial College in Toronto.