Last year, the World Junior Championship ended in heartbreak for Team USA. After putting together an impressive run of four medals in consecutive tournaments, including a gold in 2017 and a silver in 2019, the Americans entered the 2020 games with guns blazing. After a tough Game 1 loss to Canada, they won all of the following round-robin games, placing them second in the pool and slotted to face Finland in the opening round of the playoffs. The Finns had finished third in their pool and had ended on a sour note, falling 5-2 to Switzerland.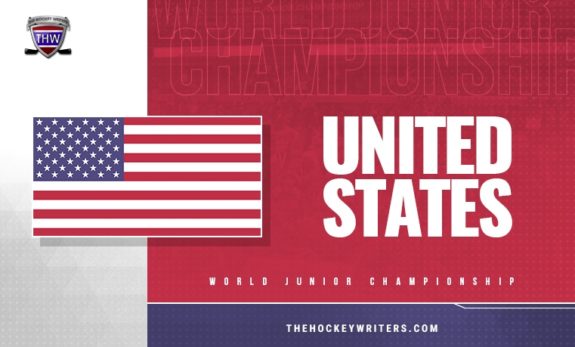 Yet, after 44 long, grueling minutes, it was Finland who finally broke through American goalie Spencer Knight, and the Finns held on to their lead to send the Americans home early. Just like that, the longest active medal streak was broken, and the Americans were forced to start back at square one for 2021.
That humbling loss will be weighing heavily on the American team this year. With the most experience of any team at the World Juniors, they'll be eager to prove that last year was an outlier. Once again, they'll have a roster crammed full of some of the NHL's top prospects and feature some unheralded college stars who are bound to see their stock rise. This team will be a medal favourite once again, with several players to keep an eye on as the tournament progresses.
Goalies
Spencer Knight, Dustin Wolf, Logan Stein
There were no surprises in the goalies for team USA. Knight returns for his third tournament as the clear starter thanks to his experience and impressive numbers last year. In four games, the Boston College star and Florida Panthers' 2019 first-round pick finished with a 0.913 save percentage (SV%) and a 2.49 goals against average (GAA), despite losing two games. He was one of the best goalies in the NCAA last year, too, earning a spot on the Hockey East All-Rookie Team.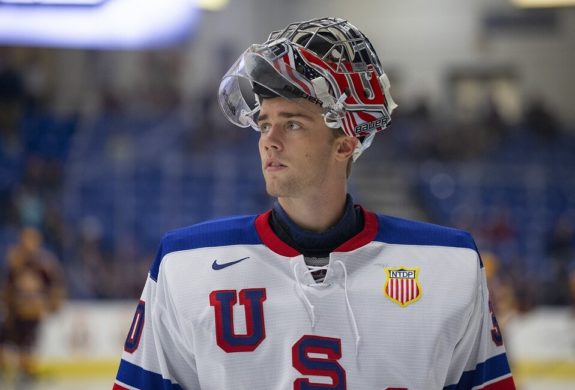 Dustin Wolf also returns and the Americans couldn't ask for a better backup. The 2020 CHL Goaltender of the Year tore up the Western Hockey League (WHL) with the Everett Silvertips, posting both the league's best GAA and SV% for the second season in a row. Although he won't get a lot of ice time — he only played once last year, against Germany — he'll be relied on to give Knight a break or two to keep him rested for the playoffs. Together, they give the Americans one of the strongest creases of any nation in 2021.
Coming into training camp, Drew Commesso was likely the lock for the third-string option, a necessity in this year's bubble-restricted tournament. He was the second goalie selected in the 2020 Draft, taken in the second round by the Chicago Blackhawks. But on Dec. 3, Boston University paused all hockey programs after a positive COVID-19 test, which forced Commesso to step out of the World Juniors. In his place, Team USA brought in Logan Stein, who had been the fourth goalie at the October Evaluation Camp. The 2001-born goalie is currently undrafted, but had a good campaign last year with the Waterloo Black Hawks and now is with Ferris State U.
Defense
Ryan Johnson, Cam York, Jackson LaCombe, Henry Thrun, Drew Helleson, Tyler Kleven, Brock Faber, Jake Sanderson, Cam McDonald
Team USA will be rolling with almost a completely new defense corps at the 2021 tournament. Cam York is the only returning member from the 2020 team that finished sixth, and will be eager to help improve his team's finish. He's a highly skilled defenseman, and after eight games with the University of Michigan, he leads the defense with two goals and five points. Although he went pointless in last year's tournament, he'll be expected to be an impact player on the blue line for the team in 2021.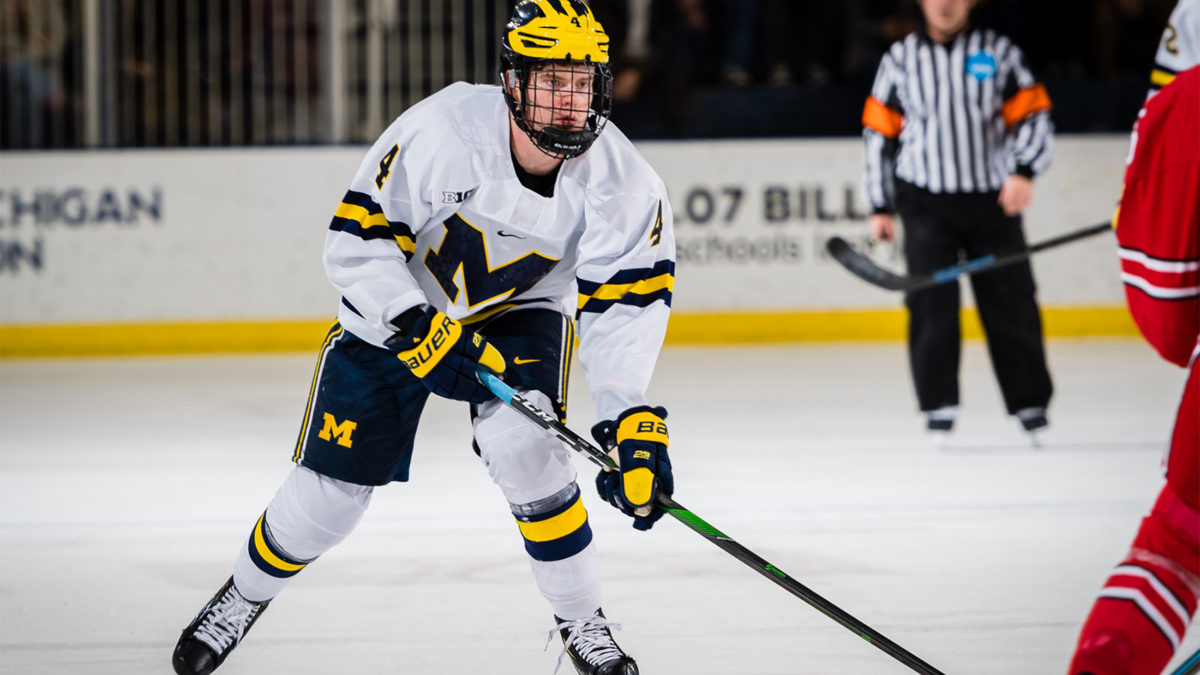 Ryan Johnson will also be looked to lead the young core. He was a late cut from last year's team and will be looking to make a big impact this year. He's an excellent competitor and team player, and while not the flashiest defender, he often strives to make those around him better. So far this season, he's suited up for six games with the University of Minnesota, where he's recorded four assists, leading the team's defense in points. Both he and York were first-round picks in the 2019 NHL Draft.
However, the defense has also taken a hit after Boston University paused their hockey operations, as they lost behemoth Alex Vlasic from their defense. The 6-foot-6 defender was practically a lock for the World Junior team and would have been one of the more feared shutdown defensemen at the tournament. His presence will be replaced by both Tyler Kleven from the University of North Dakota (UND), and Hunter Skinner, who last played with the Ontario Hockey League's London Knights, but hasn't suited up for a game in 2020-21 yet.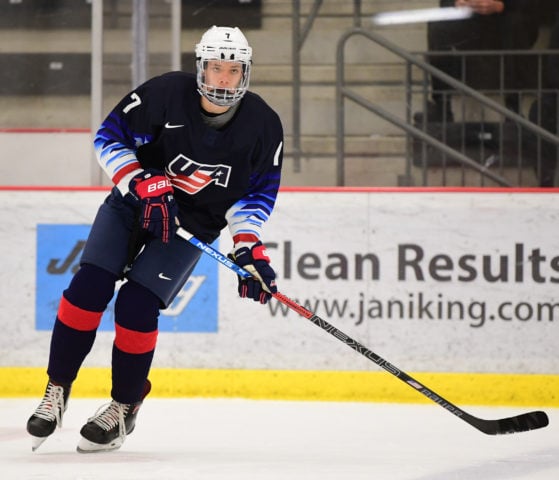 Kleven will be one to watch; he's faced criticisms after his high draft position, especially with more dynamic prospects still available, but so far he has been a major player for UND as a freshman this season. In three games, the 6-foot-4 rearguard has been a dominating physical presence, but also shown surprising skill around the net, scoring his first NCAA goal in his third game. He was initially left off the American's preliminary roster after attending the October Evaluation Camp, so he likely will be wanting to prove himself on the world stage.
Also worth keeping an eye on will be fellow newcomers Brock Faber and Jake Sanderson. Both 2020 selections and United States National Development Program graduates, the pair will make the Americans very difficult to play against. Faber may not the biggest guy, but his intelligence is very high and he overcomes any size differences with it. Sanderson, on the other hand, could come out of camp as one of the best defenders for the USA. He's able to play big minutes despite his age, and his offense is strong, too — in three games with UND this season, he has a goal and two assists.
The defense didn't have too many surprise cuts other than Vlasic, but the omission of Jayden Struble on the preliminary roster was somewhat unexpected. He was very strong as a freshman with Northeastern University last season and has slowly established himself as one of the better American offensive defensemen. However, Team USA likely wanted a more defensive defense, leading them to take two-way players like Henry Thrun, Jackson LaCombe, and Drew Helleson over Struble.
Forwards
Trevor Zegras, Alex Turcotte, Arthur Kaliyev, Cole Caufield, Matthew Boldy, Bobby Brink, Sam Colangelo, Brendan Brisson, John Farinacci, Brett Berard, Thomas Bordeleau, Patrick Moynihan, Matthew Beniers, Landon Slaggert
The American's top-six will be incredibly dangerous. Led by returnees Trevor Zegras, Alex Turcotte, Arthur Kaliyev, Cole Caufield, and Bobby Brink, the team has one of the best offensive units at the tournament. Zegras was the assist leader at the 2020 World Juniors, as well as the top point-getter for the Americans, finishing with nine in six games. Kaliyev wasn't too far behind, leading the team with four goals and finishing with six points. Caufield only had two points last year, but so far leads the NCAA with 12 points in 10 games this season and remains one of the most dynamic American prospects.
However, one player who won't be returning is Nick Robertson. His participation was always contingent on when the NHL season started, and with training camps set to open early January, he'll be needed by the Toronto Maple Leafs. While his absence hurts the Americans, it speaks volumes as to what the Maple Leafs' think of him, and where he fits in on their team. John Beecher also won't return after playing with the team in 2020, and though many speculated it could have been due to his suspension from last year for a boarding violation, it turned out he was another casualty of the virus, receiving a positive test result at the last minute before final cuts.
Brendan Brisson and Sam Colangelo could become a reliable secondary scoring pair. The two tore up the USHL last season, combining for 52 goals and 117 points with the Chicago Steel. It vaulted Brisson into the 2020 NHL draft's first round, where he was selected by the Vegas Golden Knights 29th overall, and Colangelo wasn't far behind, going to the Anaheim Ducks seven picks later in the second round. They are just 18 years old, though, and will likely have limited ice time behind the team's strong top-six. However, if they are given the chance, they could shine at the World Junior tournament.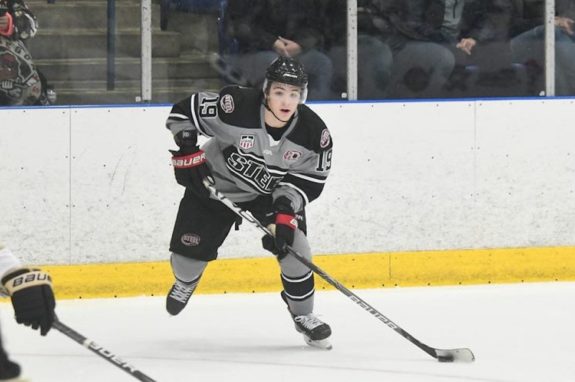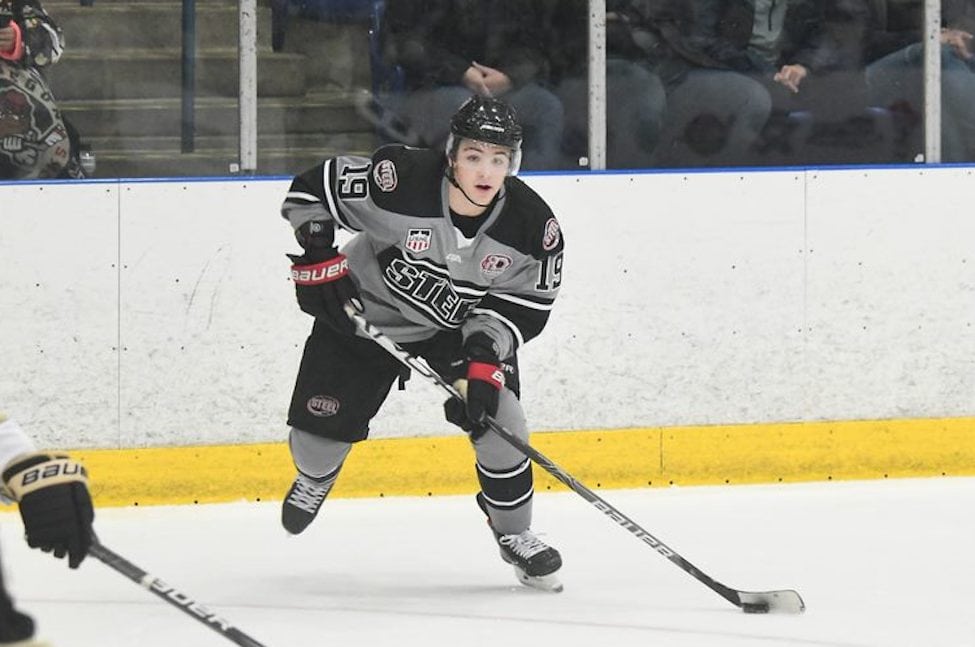 Another one to watch is 17-year-old Matthew Beniers. He's one of the older 2021-eligible draft prospects, but that doesn't change the fact that the Americans rarely take underage players to this tournament unless they are generational talents. Spencer Knight and Jack Hughes have been some of the few to play recently with Team USA prior to being drafted. In eight games this season, Beniers already has three goals and six points with the University of Michigan. He's also one of the biggest forwards on the team, standing 6-foot-1, and could find himself on a top-six unit if he develops the right chemistry with one of the five returning players.
As for cuts, much like the defense, no exemptions were all that surprising. Thomas Bordeleau, who's been having an incredible start to his college career this season with 10 points in eight games, was the biggest name left off the final roster (apart from Robertson or Beecher), but it's likely his size held him back. The forwards are already on the smaller size, but adding another 5-foot-9 player may have put the Americans at a steep disadvantage against the bigger teams at the tournament.
Bottom Line
This is going to be a very hard team to stop from scoring. Fans already have seen the dominance shown by Zegras and Kaliyev at last year's tournament, and now they return with more experience and development under their belts, ready to dominate their competition. Zegras also spent some time training with the Eisbären Berlin of the Deutsches Eishockey League in Germany, and although he never appeared in a game, he will have very little rust to shake off come time to drop the puck. The rest of the top nine is just as dangerous and could become a real problem for other teams in Pool B to contain.
However, size could become an issue for the Americans, especially when they go up against Russia or face Canada in the playoffs. Their biggest forwards — Kaliyev, Colangelo, and Boldy — stand just 6-foot-2 and could have a difficult time against the likes of Vasili Podkolzin, Kirby Dach, or Quinton Byfield, all 6-foot-4 and 200 pounds. The Russians also have just one player under 5-foot-10, while the Americans have three — Brink, Caufield, and Brett Berard — two of which will have prominent roles in the top six.
But with much of the hockey world transitioning to a smaller, faster game, the Americans should have the advantage this year. Their skill is unquestionable, and though they are lacking some experience when compared to their biggest competition in the rival Pool A, those returning players have a large chip on their shoulder from last year's frustrating loss to Finland. That game will be a huge motivator for Team USA this year and they will be determined not to repeat that embarrassment. This is a team that is ready to compete and are almost guaranteed a shot at a medal in 2021.
---
All the 2021 World Junior Championship Team Information:
Austria — Team Preview — Roster
Canada — Team Preview — Roster
Czech Republic — Team Preview — Roster
Finland — Team Preview — Roster
Germany — Team Preview — Roster
Russia — Team Preview — Roster
Slovakia — Team Preview — Roster
Sweden — Team Preview — Roster
Switzerland — Team Preview — Roster
USA — Team Preview — Roster
Selection Camp Invites by NHL Team
Draft Eligible Players to Watch
One Player to Watch for Each World Junior Team
7 Predictions for the 2021 World Junior Championship
---
---