The Swiss have never been a household name when it comes to the World Juniors. The owners of a single bronze medal since they made their tournament debut in 1977, they were in and out of action until around 2009 when they became tournament regulars.
Related: THW World Juniors Coverage
Led by former NHL netminder David Aebischer, their single medal came at the 1998 World Junior Championships. Aebischer, who had a seven-year NHL career with the Colorado Avalanche, Montreal Canadiens, and Arizona Coyotes, took his team to a third-place finish. He ended up with four wins, a goals against average of 1.58, and a save percentage of .951.
Ever since the Swiss became mainstays at the tournament, they've been steadily growing their development system, and they're producing more talent than they ever have before. Last year, while they did have the benefit of playing in the weaker of the two divisions, they finished tied for second in points with Canada.
They ended up losing in the quarter-final to Russia, who would go on to earn a silver medal. Goaltender Luca Hollenstein kept the Swiss in the game, stopping 33 shots in the eventual 3-1 loss to the Russians. Arizona Coyotes' draft pick Valentin Nussbaumer led the way for the Swiss, putting up seven points in five games. Forward Matthew Verboon, defenseman David Aebischer (no, not the goalie), and forward Gillian Kohler were all crucial members of the team as well.
The only thing is, none of these players are returning this year. The Swiss team finds themselves in Group A, going up against Canada, Finland, Slovakia, and Germany in round-robin action. While Canada and Finland will be tough tasks for the Swiss young guns, they could still find themselves as a dark horse in the tournament, barring a strong round-robin performance.
Here's THW's prediction of what the final roster may look like.
Goaltending
It's not often you see three new faces between the pipes when a team puts together their roster, but that's the case for the Swiss. Last year, they had Hollenstein, Akira Schmid, and Stephane Charlin on the depth chart. All three of these goalies are now 20 years old, making them all ineligible for this year's tournament. Lack of experience in net could be one of their weaknesses this year, as Hollenstein was not only playing pro hockey in Switzerland at this time last year, but he was succeeding at that level. Granted, that doesn't mean the new guys are incapable of surprising.
This year, it looks like the Swiss could lean on 19-year-old Thibault Fatton as their starter. He's off to a solid start with HC Lugano of the Swiss U20 Elit League, posting a record of 6-2-0 with a goals against average of 2.58. Fatton is an undersized goalie, standing at 5-foot-10 and 150 pounds, but he's versatile and will likely get the nod to start because of his age.
Backing up Fatton will likely be 18-year-old Andri Henauer. The son of former alpine ski athlete Corinne Schmidhauser, Henauer is also off to a pretty solid start in the U20 Elit League. He's played seven games for Bern U20, putting together a record of 4-3-0 with a goals against average of 2.45. He is also undersized, standing at 5-foot-11 and 163 pounds.
Arguably the most intriguing goalie, however, is 17-year-old Lucas Rotheli. He won the starting job for Zug U20 this year and ran with it, posting a record of 10-2-1 with a goals against average of 2.44 and two shutouts in 15 starts. He's arguably performed the best of the three goalies in question here, but he probably won't get much of a look because of his age.
The Swiss played three friendly games against Germany back in July, and Rotheli only saw one period of action. Fatton started two of the games, and while that obviously doesn't mean much until the final rosters are released, I'd imagine they're going to adopt a "run with the hot goalie" method. And if both Thibault and Henauer brutally falter, Rotheli may get a look.
Defense
The defensive core is also suffering a huge blow this year. David Aebischer, Nico Gross, Janis Jerome Moser, Tim Berni, and Mika Henauer are all too old to return to this year's tournament. The only returning defensemen this year are Rocco Pezzullo and Bastian Guggenheim. Pezzullo is playing for HC Ambri-Piotta of Switzerland's top league this year, where he hasn't registered a point in 12 games. Guggenheim has split time between Langnau U20 of the Elit League and the SCL Tigers of the National League. Neither player is likely to be drafted, but both of them will look to step into increased roles this year, with almost all of last year's defense getting a revamped look.
One name to keep an eye on this year is Inaki Baragano. The Lausanne native was invited to last year's camp as an 18-year-old but didn't make the cut. This year, he'll surely have a chip on his shoulder and look to lead Switzerland's defensive core. He also put up four points over three friendly games against Germany back in July and averaged the second-highest ice time among defensemen. He's playing for Lausanne U20 of the Elit League this year and has 13 points through 19 games so far. He spent last season with the Kamloops Blazers of the WHL.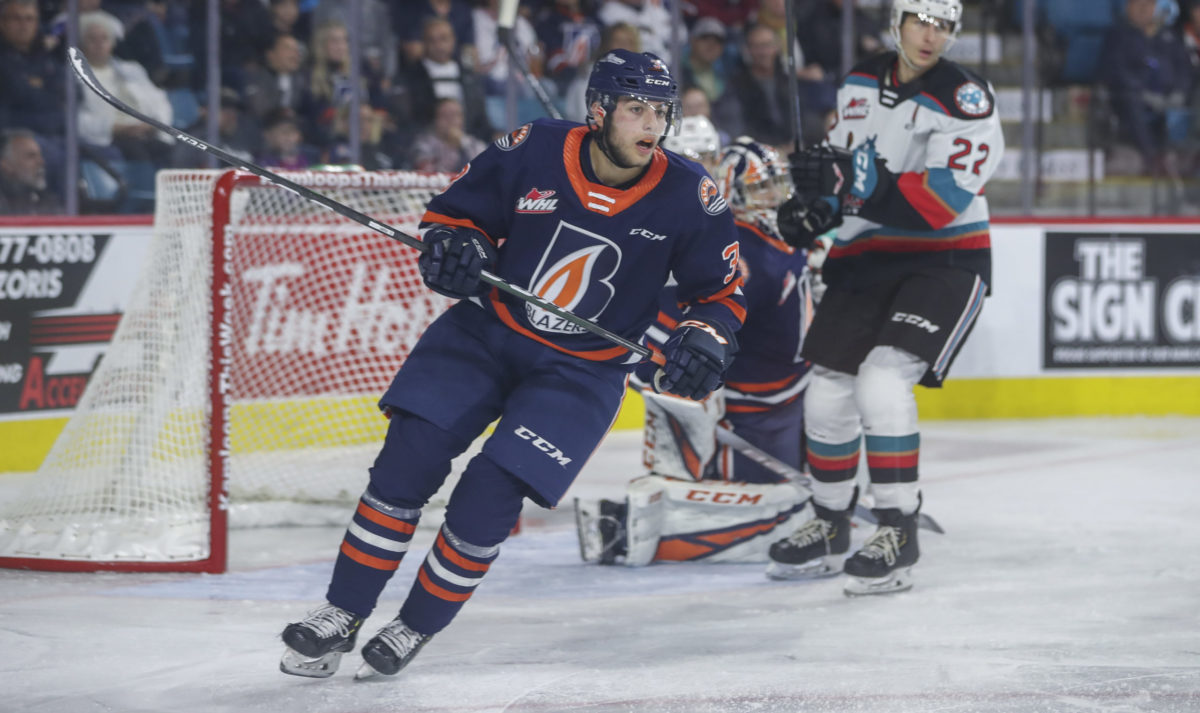 Other names to keep an eye on this year include Noah Meier, Giancarlo Chanton, and Noah Delemont. Meier is a prospect eligible for the 2021 NHL Draft and has split time between the Elit League and the Swiss League, which is the second-tier professional league in Switzerland (essentially their version of the AHL).
Chanton, whose name sounds eerily similar to a certain New York Yankees slugger, is also splitting time between the Elit League and the Swiss League. He returned to Switzerland to keep his game fresh after spending last year with the Niagara Ice Dogs, where he totaled eight points in 56 games. Delemont is also back in Switzerland after a one year stint in the QMJHL last season, where he put up 13 points over a 64-game campaign with the Acadie-Bathurst Titans.
Forwards
The trend of total revamps continues with the forward core. This year, it looks like the Swiss will only have three returning forwards from last year. Simon Knak will likely be relied on for the bulk of the Swiss' offense. He surprisingly went undrafted in 2020, but he's looking to come back stronger, and he's one of the few players who's playing regularly in the National League.
The 6-foot-1 winger spent last season with the Portland Winterhawks, where he put up 34 points in 49 games. With no WHL hockey yet due to COVID-19, Knak is back in Switzerland this year, where he has three points in eight games for HC Davos. Gaetan Jobin and Joel Salzgeber are the other two likely returnees for the Swiss. They put up three and two points respectively in last year's tournament, and both will look to step into bigger roles this year.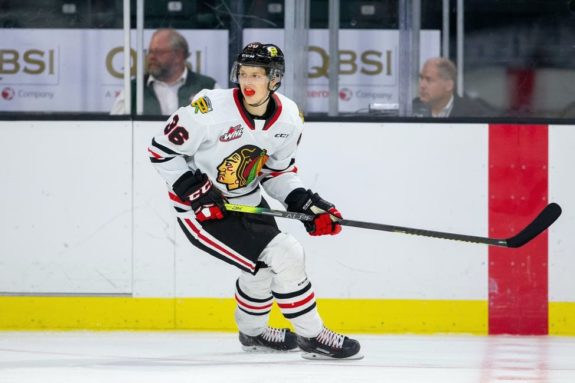 Even though the forward core will be missing most of their key players from last year, that doesn't mean some of the younger guys aren't capable of stepping up and surprising. Lorenzo Canonica is the most dynamic new forward they have and, as it stands, is currently their top prospect heading into the 2021 NHL Draft. He was supposed to spend this season with the Shawinigan Cataractes of the QMJHL, but he opted to stay in his homeland instead, putting up 14 points in 15 games thus far with Lugano U20.
Another name to keep an eye on is Ray Fust. The dual Canadian-Swiss citizen is representing the latter for this year's tournament, and he led his team in scoring over three exhibition games against Germany, with six points, including a two-goal, one assist performance in an 8-4 win. He was initially supposed to play for the Chilliwack Chiefs of the BCHL this year, but they haven't played any games for obvious reasons. The 6-foot-3 winger spent last year with Northwood School of the USHS Prep League and is committed to the University of Nebraska-Omaha for next season.
Other names to watch include Dario Allenspach and Elvis Schlapfer. Both players made the most of their trial against Germany over the summer despite having limited ice time. Allenspach has played in the U20 Elit League as well as the Swiss League, where he's held his own for both. Meanwhile, Schlapfer has spent his season almost exclusively with SC Langenthal of the Swiss league.
Overview
Overall, it looks like the Swiss have their work cut out for them this year. Canada and Finland are obviously going to be the toughest opponents. Meanwhile, Germany will likely emerge as the dark horse with top prospects like Tim Stutzle, Moritz Seider, John-Jason Peterka, and Lukas Reichel to work with. The Swiss had a couple of impressive runs in the last two years, with fourth and fifth-place finishes, respectively, but they might take a step back this year.
There is going to be a lot of inexperience with this team, primarily between the pipes. But if anything, that gives them a plethora of players who could return bigger and better next year. Their strong suit appears to be their defense, with a couple of returning players and a few projected draft picks. But they could also rely on their combination of speed and skill up front at the tournament.
The Swiss definitely have their work cut out with them, as they don't really have a blue-chip player like the other teams in their division do. At the very least, I could see them giving Slovakia a run for their money during the round robin and maybe surprising in the quarter-final if they capitalize on momentum.
Here is THW's final prediction for who makes the final 23-man roster for the Swiss.
Goaltenders – Thibault Fatton, Andri Henauer, Lucas Rotheli
Defense – Inaki Baragano, Noah Meier, Giancarlo Chanton, Noah Delemont, Rocco Pezzullo, Bastian Guggenheim, Silvan Landoldt
Forwards – Simon Knak, Gaetan Jobin, Joel Salzgeber, Ray Fust, Lorenzo Canonica, Dario Allenspach, Elvis Schlapfer,
Jannik Canova, Mika Burkhalter, Yves Stoffel, Ronny Dahler, Noah Fuss, Kevin Lindemann
All statistics obtained from InStat Hockey
All the 2021 World Junior Championship Team Information:
Austria — Team Preview — Roster
Canada — Team Preview — Roster
Czech Republic — Team Preview — Roster
Finland — Team Preview — Roster
Germany — Team Preview — Roster
Russia — Team Preview — Roster
Slovakia — Team Preview — Roster
Sweden — Team Preview — Roster
Switzerland — Team Preview — Roster
USA — Team Preview — Roster
Selection Camp Invites by NHL Team
Draft Eligible Players to Watch
One Player to Watch for Each World Junior Team
7 Predictions for the 2021 World Junior Championship
---
---
Alex Hobson is a writer and a radio producer for 610 CKTB. He has been writing about sports since 2015 and has been with The Hockey Writers since October of 2020. He covers the Toronto Maple Leafs, World Juniors, and the NHL Entry Draft, and is also part of the Sticks in the 6ix Podcast, presented by THW. He also makes weekly appearances on THW's Maple Leafs Lounge Roundtable. For interview requests or any other inquiries, you can follow Alex's social media pages listed at the bottom of his articles like this one.