The Slovaks waited until the absolute last moment to announce their final roster. The roster was announced approximately 24 hours before their first game against Switzerland, coming on the heels of a 6-0 defeat the previous night against the Czech Republic. Slovakia has a mix of World Junior veterans, first-time appearances, and three of the youngest players in the tournament. They could be an utter disaster, or they could be the surprise of the tournament. However they wind up, these are the kids that are going to make it happen.
Goaltenders
Samuel Hlavaj (Sherbrooke Phoenix), Simon Latkoczy (HK Dukla Trencin U20), Eugen Rabcan (HC Banska Bystrica)
Because the Slovaks didn't announce their roster until Christmas Eve, and they are the first game of the day on Christmas Day, this article is being written with the knowledge that Latkoczy started the first game of the tournament. I didn't see that coming. In a weird way, it does make some sense.
Latkoczy spent all of 2019-20 playing for the Madison Capitols of the USHL. They were far and away the worst team in the league. The 6-0 thrashing the Slovaks received at the hands of the Czech Republic on Dec. 23rd highlighted deficiencies in the Slovak defensive scheme and structure. Defensive zone play looked chaotic and panicked with no sense of control.
Perhaps Latkoczy is more used to playing behind utter chaos than Hlavaj is and therefore is more comfortable with it. I definitely was not expecting the 5-foot-10 netminder to get the call in the one game Slovakia has a realistic chance to win against Switzerland. The move paid off as Latkoczy led the way in a 1-0 victory.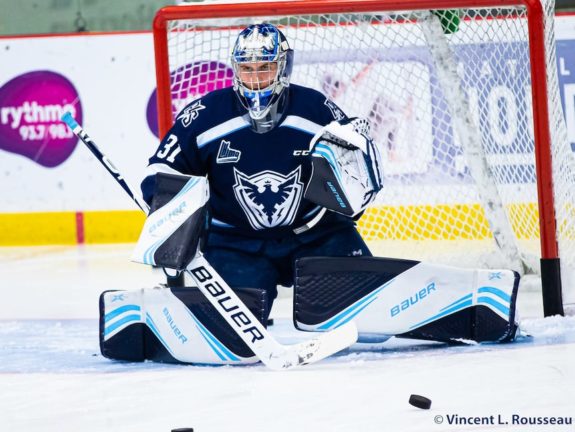 Hlavaj looked all set to start his third World Junior tournament for the Slovaks. I cannot imagine he doesn't get a crack at playing during this tournament. At 6-foot-4, he's got the size that you'd like to see from a modern goaltender. He's noted for his athleticism and was one of the top goaltenders in the QMJHL last season.
He hasn't played for his QMJHL team at all this season though, it's possible he came in rusty. I really cannot say. I thought he got hung out to dry pretty badly against the Czech Republic, and I really didn't expect anything to come of him being pulled midway through the game. I didn't see anything from that game that made me think Hlavaj wasn't going to be the starter.
Rabcan beat out the other goalies in camp for the third spot but he's a long way behind Hlavaj and Latkoczy. Unless one of them gets hurt or sick I wouldn't expect to see him suit up at all. He's had four games in the Tipos Extraliga and his 5.18 goals-against average (GAA) and .855 save percentage (SV%) does not inspire confidence.
Defense
Simon Becar (HK Dukla Trencin), Andrej Golian (Tri-City Americans), Samuel Knazko (TPS U20), David Mudrak (HC Kosice), Simon Nemec (HK Nitra), Rayen Petrovicky (TUTO Hockey U20), Marko Stacha (HK Dukla Trencin), Oliver Turan (HC Detva)
The Slovaks named Knazko as their captain for this tournament. It's definitely the right call. He's going to have a major impact on how good his team can be. He is arguably the most gifted player on this defensive unit. He's incredibly effective in the offensive zone at working in the cycle at 5-on-5 and on the power play.
If the Slovaks are able to get set up in the offensive zone and get a cycle going, they will be their most successful running it through Knazko. He has excellent edgework moving laterally across the zone and his skill in distributing the puck is unparalleled on this roster. His defensive game has some notable deficiencies but he's been working on those since being drafted by Columbus in the 3rd round this year.
RELATED: Team Slovakia Needs Samuel Knazko to Step Up
The only player on this unit potentially more talented than Knazko is 16-year-old Nemec. In 2019-20, while playing for HK Nitra, the 15-year-old became the youngest player to ever record a point in the Slovakia league. He has followed that up this season, playing in the major-professional league full time. At 6-foot-1 and 192 pounds, Nemec already has the size to play with men.
When on the ice for Nitra, he does not look out of place. They don't really throttle down his minutes and it doesn't take long to forget just how young he is. His defensive awareness and gap control are good, but where he thrives is in the transition game. Nemec shows vision and forethought when initiating a rush and he's often able to exploit a weakness that allows him to create a scoring chance for his team. If he sees a seam, he'll go for it, things could get really exciting with him on the ice.
Turan, Stacha, Golian and Mudrak are all returning skaters from previous years. Golian missed last year but played the year before. At one point in time, Turan looked like he could be a nice defensive project, but his skating hasn't improved as much as it needed to and he still has a tendency to take unnecessary penalties at bad times.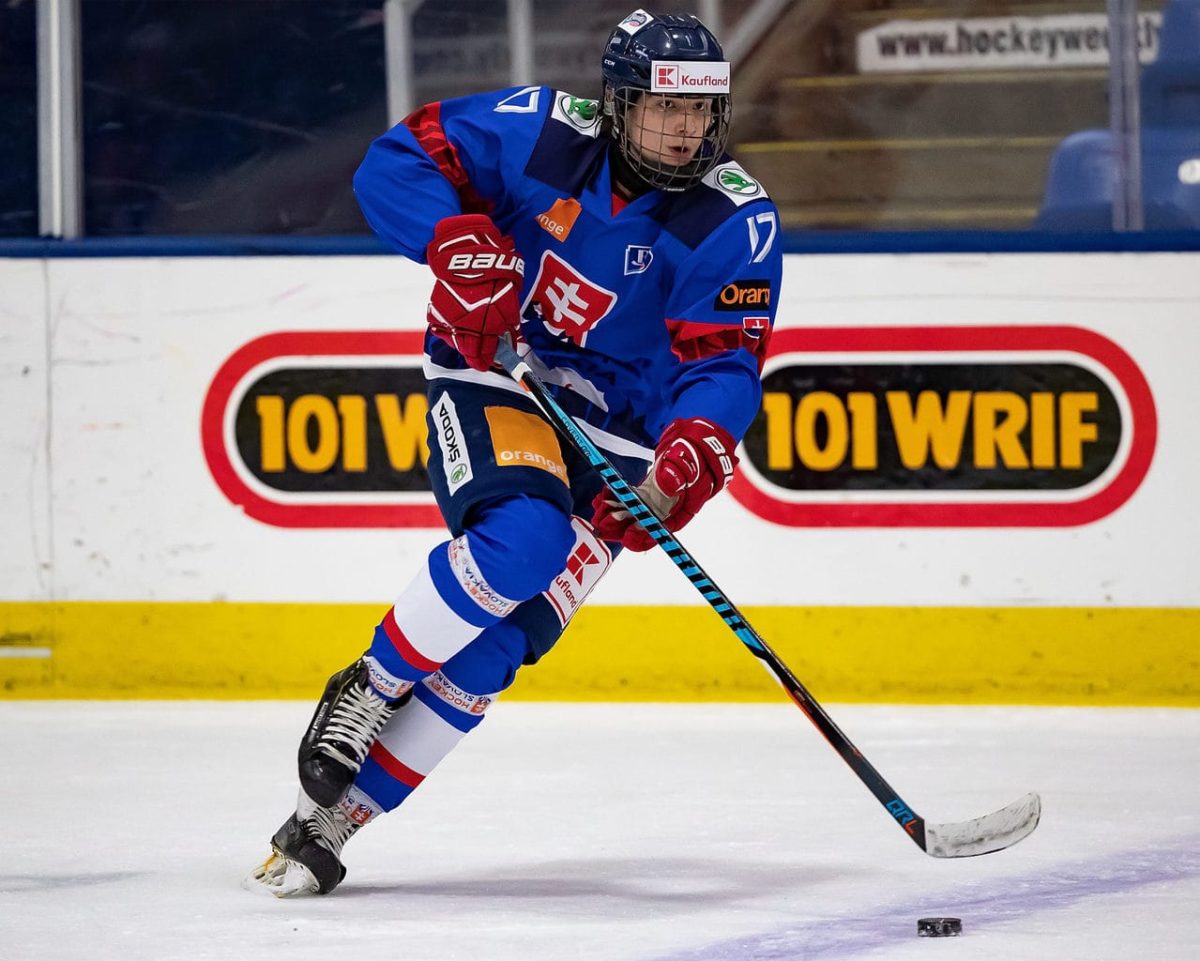 Stacha and Mudrak made NHL Central Scouting's rankings for the 2020 entry draft. Both were taken by CHL teams in the CHL Import Draft, but COVID-19 has kept them in Slovakia this season. Mudrak has been named an assistant captain and is a capable puck mover. Stacha is a bit more of a stay-at-home defender but has good skating ability. I could see them being paired together or put with other complimentary defenders. I would expect Mudrak to be one of the top minutes players on defense.
Rayen Petrovicky is the son of Slovakia coach, Robert Petrovicky. This is not a nepotism thing. as he has played well at every level he has competed at and has a record of producing points in every league he has played in since 2017-18.
Against the Czech Republic, this defensive unit was disastrous. They were unable to cleanly exit their own zone with possession with any kind of consistency. The structure of the defense would break down very quickly during opposing possessions and a mix of frantic puck chasing and passive puck watching would lead to sustained pressure and golden scoring chances for the opposing team.
This unit has the talent to be better than that. It's going to be up to the coaching staff to get it out of them because if they cannot get this unit to play up to the potential they're in for a long, arduous tournament.
Forwards
Martin Chromiak (Kingston Frontenacs), Juraj Elias (HC Kosice), Roman Faith (Bratislava Capitals), Maros Jedlicka (HKM Zvolen), Simon Jellus (Karlskrona HK J20), Dominik Jendek (HC Slovan Bratislava), Matej Kaslik (Chicoutimi Sagueneens), Jakub Kolenic (HKM Zvolen), Filip Mesar (HK Poprad), Michal Mrazik (Linkoping HC J20), Oleksij Myklukha (Rouyn-Noranda Huskies), Juraj Slafkovsky (TPS U20), Dominik Sojka (HC Banska Bystrica), Artur Turanksy (Wilkes-Barre Scranton Knights)
Maxim Cajkovic got himself ejected from camp. In an intra-squad game, he delivered a check to the head of a Samuel Krajc that led to Krajc requiring hospitalization and treatment for a concussion. Cajkovic would have been the top forward for this team had he been allowed to stay. I have mixed feelings about his removal from the team. I applaud the Slovak coaches and team for making the correct decision to remove him. However, I'm not sure that certain other nations in this tournament would send their best forward home if a similar situation played out on their team in selection camp.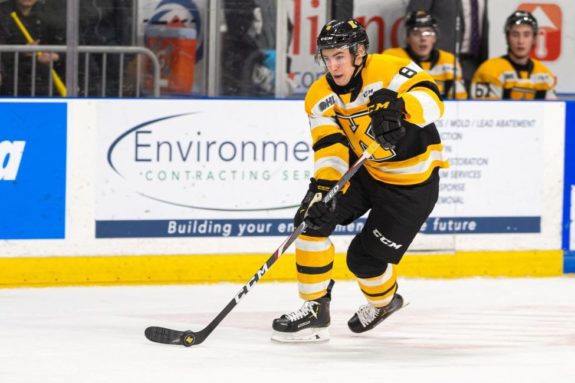 With Cajkovic out of the picture, it falls to Chromiak to bring the firepower to this offensive attack. He has shown excellent offensive instincts in his time in Kingston. He's a gifted goal scorer with an excellent one-timer. He tumbled to the fifth round on draft day surprising many people. I thought he could've gone as high as the later first round. His ability to finish really is that good. As long as the Slovaks can get some offensive zone time and can work the puck to Chromiak, he can put it on net with enough whip to beat any goaltender.
The player I'm most excited about is Myklukha. He's a natural center and is likely the best center on the team. When NHL Central Scouting put out their 2021 watchlist, he was on it. He is a tenacious forechecker and battler for loose pucks. He's one of those guys who does all the dirty work on a line that allows skilled players around him to be productive. It would not shock me in the slightest to see him with Chromiak on his wing. He's 2021 draft-eligible and this tournament could be his coming-out party.
The Slovaks have three 16-year-olds on their roster. There was some wonder if they would bring these young players to this tournament. Obviously, the kids were impressive enough in camp to keep them around. Slafkovsky and Mesar join Nemec as the 2004 birthdays playing for Slovakia.
You wouldn't know Slafkovsky was 16-years-old if you just took a quick glance at him. The 6'4, 218 pound forward is one of the largest players in the tournament this year. But he's not just a big power forward. There's a lot of skill to his game and an understanding of how to use his size to his advantage to protect pucks and use his reach. He can be a very difficult forechecker to defend against. All scouts can do is salivate as they watch this kid grow and projections of what he could be by the time he's 18-years-old have the sky as the limit for him.
If it's any consolation for the season being over here's my top 10 for the #2022NHLDraft.

Shane Wright takes a commanding hold of 1st with his record shattering OHL run and Brad Lambert takes 2nd after his professional hockey debut.

No doubt the strongest top 10 I've ever seen pic.twitter.com/RTPLb3jbPl

— TPEHockey (@TPEHockey) March 24, 2020
Mesar is a gifted playmaker with some nice finishing ability. He gets good speed and accuracy on his passes and is very good at moving pucks into dangerous areas in the offensive zone. I'm not sure if he's the kind of player who can make a lot happen on his own. He's always seemed to be at his best when he has someone to work with who understands what he's capable of. It'll be up to his coaches to harness that.
Faith interests me a lot. He hasn't scored a lot of points this year but he utterly dominated the Slovak U18 league a couple of years ago. He's just one of those kids who seems to do a lot of the little things correctly and if he keeps doing that the points will come eventually. I think he could be a bit of a late bloomer and make his way onto some draft radars before the 2021 draft, but that remains to be seen.
The Slovaks have a very tall group of forwards and Jellus and Mrazik are part of that. Checking in at 6-foot-2 and 6-foot-4 respectively, they have shown some promise and goal production in the Swedish Under-20 league. Mrazik is participating in his second World Junior tournament along with Jendek, who is also fairly tall, checking in at 6-foot-1.
Among the forward group, only Kolenic, Turansky, Myklukha and Mesar are under 6-foot tall. If the Slovaks are able to keep pace skating-wise, they might be able to make usage of their size up front and try to bully their way through some opponents.
RELATED: 2021 WJC Day 2 Preview
The defense was so bad against the Czech Republic in the warmup game that it was hard to get a real sense of what the offense might be capable of. There's some skill and some firepower, but they're going to have to bring it together and play some near-perfect games if they want to avoid getting utterly smoked by Canada and Finland in the group stage.
Overview
Latkoczy getting the start is weird but it did work out. If the Slovaks can get their offensive pieces firing they could put some pucks in the net. They will not get those chances unless they fix the defensive issues that reared their ugly heads during the warmup game. They also need to stay out of the penalty box. Dumb penalties have been a hallmark of this team in recent years. That cannot happen again. If they can do that and are able to establish a transition game with some offensive zone time, we might see something amazing happen.
Much like the trio of German's we saw last year. We should all be excited to watch the trio of Slovakian's, that being Juraj Slafkovsky, Simon Nemec, and Filip Mesar, each bringing a unique skillset to the table. All are eligible for the #2022NHLDraft! #WorldJuniors #Slovakia pic.twitter.com/EarLs3VamJ

— Kai Farenholtz (@FarenholtzFWF) December 21, 2020
If you're not actively a fan of Slovakia, the main reason to watch this team is their 16-year-old phenoms. You're going to be hearing about Slafkovsky, Nemec and Mesar for at least the next two years until the 2022 draft. This is a chance to see what they can do on the international stage against some of the best kids in the world.
All the 2021 World Junior Championship Team Information:
Austria — Team Preview — Roster
Canada — Team Preview — Roster
Czech Republic — Team Preview — Roster
Finland — Team Preview — Roster
Germany — Team Preview — Roster
Russia — Team Preview — Roster
Slovakia — Team Preview — Roster
Sweden — Team Preview — Roster
Switzerland — Team Preview — Roster
USA — Team Preview — Roster
Selection Camp Invites by NHL Team
Draft Eligible Players to Watch
One Player to Watch for Each World Junior Team
7 Predictions for the 2021 World Junior Championship
---
---