The Austrians have sized their roster down to the 25-player limit. As with some of their counterparts, they waited rather late to do so. No matter. The team's head coach Roger Bader hopes that the 25 he selected are the right recipe to pull off some upsets.
Well before the World Juniors were set to begin in Alberta, the most guaranteed player to make the final cut was the highly heralded Minnesota Wild first-rounder Marco Rossi. To no one's surprise, Rossi is not only one of the team's 25 players but he is also their captain. He will be their key to success, no matter how little or how much of it they are able to find.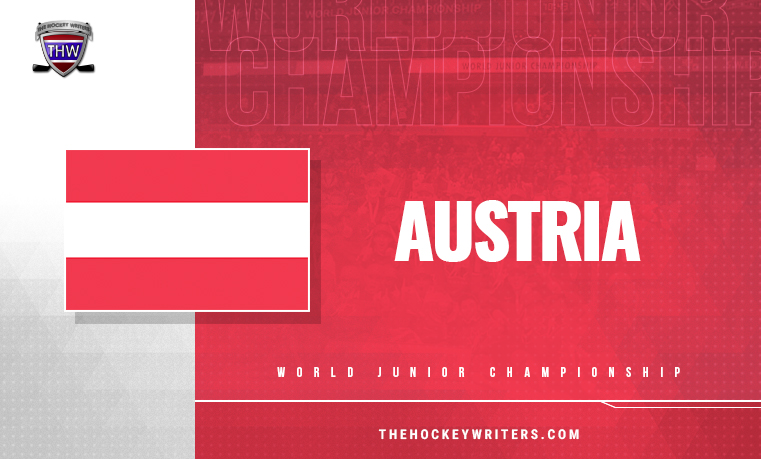 Rossi is not their only strong point either. Austria has returners from their successful 2020's U20 Division I Group A tourney victory in Belarus, which vaulted them into this topmost division. This is the first time that their country has been playing alongside the "big boys" since 2010, and they will do their darndest to stave off relegation and remain here for 2022.
They are likely going to need a miracle for that to occur.
But miracles have been known to happen in the World Juniors. And if Rossi can get support to where the victories won't have to rest entirely on his shoulders – namely support from the likes of Senna Peeters, Luis Lindner and company – then we could see the Austrians steal a victory or two. It will be a hefty task in Pool B where they will be tangling with the Americans, the Czechs, the Swedes and the Russians before the crossovers.
THW breaks down the key pieces of Austria's finalized 25-man roster for the 2021 World Junior Championship.
Goalies
Jakob Brandner, Sebastian Wraneschitz, Leonhard Sommer.
Sebastian Wraneschitz was one of our early selections for making the roster. Namely because he has seen a bit of everything. While he has been playing most recently for the Vienna Capitals in his homeland, he previously suited up for teams in Finland and Sweden as well. Wraneschitz also has earlier international experience for his country, partaking in the 2019 U18's at the Division I-B level. Wraneschitz has posted a 2.30 goals-against average and a .909 save percentage through six games this season with Vienna.
Another netminder whom we felt pretty confident to make the final cut did so as well – Jakob Brandner. He is the largest of the three Austrian goalies at 6-foot-3 and just shy of the 200-pound mark. Like Wraneschitz, Brander has spent some time playing in Finland. He currently plays for Titaanit in Suomi-sarja – the third-highest league in the Finnish system. Brander's numbers in Finland are not the greatest (3.89 GAA, .887 SV% this season through six games), but he is very capable of stonewalling shooters and has done so for much of his career already. Ultimately it is his size and experience that got him onto this roster. Brandner is the only goalie selected who is 19 years of age.
Austria's third goalie selected to the roster we did not initially have pegged to do so. Leonhard Sommer may see a small opportunity to demonstrate his skill in Red Deer/Edmonton. He is rather slight in build by today's goaltending standards at 5-foot-11 and and shy of 160 pounds. Sommer has played this season and the one prior for Steel Wings Linz of the Alps Hockey League – a league comprised of teams from Austria, Italy and Slovenia. Sommer has a 5.43 GAA and .888 SV% through two games this season.
Defense
Jacob Pfeffer, Jonas Kutzer, Luis Lindner, Lukas Necesany, Timo Pallierer, Bernhard Posch, Niklas Wetzl, Philipp Wimmer.
Luis Lindner is one of the few players on Austria with North American experience. He spent the 2019-20 season with the Boston Jr. Bruins – part of the National Collegiate Development Conference. Lindner registered eight goals, 34 assists and 42 points in 39 games that campaign. He is also one of Austria's returning players from 2020's win in Belarus that got them to where they are now. Not surprisingly, Lindner will be wearing an "A" at this tourney.
Niklas Wetzl is another Austrian blueliner with North American experience. He is a product of the South Florida Hockey Academy 18U team and he captained the group in 2019-20. Wetzl has played in the USA, Switzerland and has played this current 2020-21 season in Finland with TUTO Hockey at the U20 level. We really like his size too at 6-foot-2 and over the 200-pound mark. His father Wilfried played in the lower tiers of both the 1989 and 1990 World Juniors. Wetzl has shown that he can contribute offensively, but will likely be utilized more so as a neutralizing presence.
The largest defender for the Austrians is 6-foot-4, 200-pound Philipp Wimmer. He is a force to be reckoned with as well, and definitely does not shy away from playing a physical game. In nine games this season for RB Hockey Juniors in the Alps Hockey League Wimmer chalked up 31 minutes in penalties. He can be punishing bodychecker, and his team needs him to be especially as this tournament goes into the later stages. Like Wetzl, Wimmer is capable of being a neutralizer for Austria. Not a player that opposing shooters will enjoy going up against.
Forwards
Mathias Böhm, Tim Harnisch, Marco Rossi, Senna Peeters, Fabian Hochegger, Marco Kasper, Clemens Krainz, Julian Pauschenwein, Lucas Thaler, Maximilian Theirich, Finn van Ee, Dominik Unterweger, Marlon Tschofen, Leon Wallner.
As previously stated, Marco Rossi is going to be Austria's most critical player in Alberta. He is their team captain and he can score with the best of them. The Minnesota Wild selected Rossi with the 9th pick of the 2020 Draft. Rossi lhas it up the Ontario Hockey League (OHL), including a whopping 120 points (39 goals, 81 assists) in only 56 games in 2019-20. He is very dangerous around the net, does not shy away from the physical areas and is a superb playmaker. It also seems that Rossi is very much up to the task of bearing the load for his hockey team.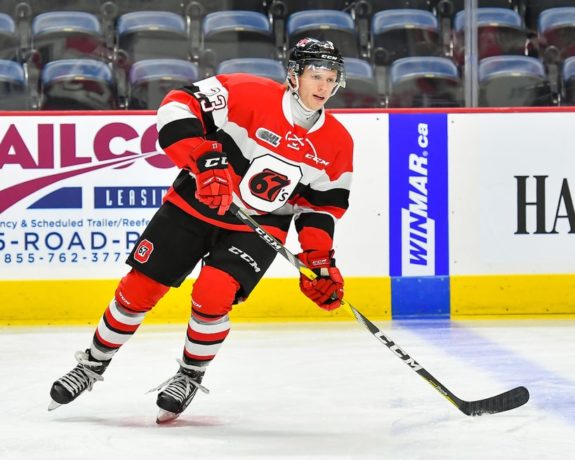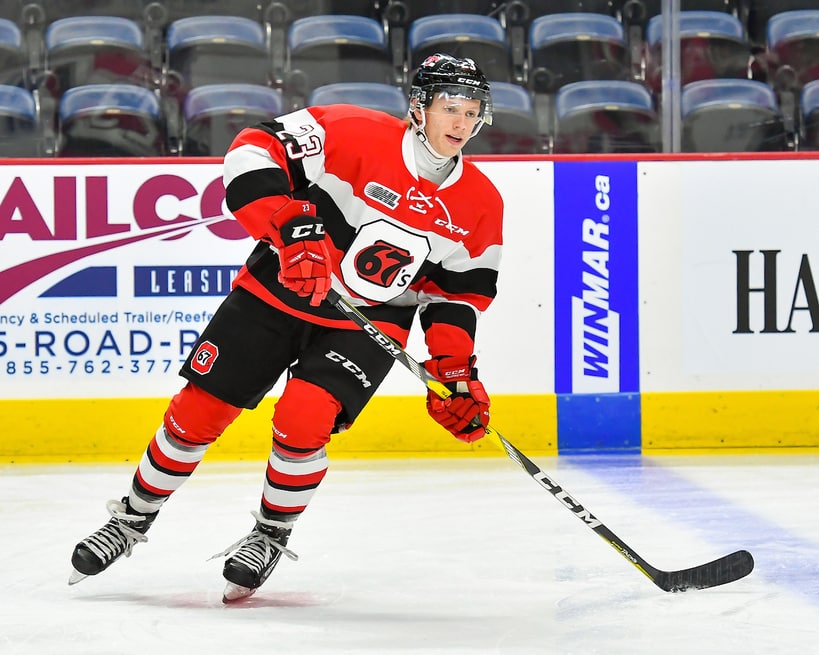 "I'll try just to be a leader, to make the team better, motivate," Rossi said in an interview by Sonny Sachdeva for Sportsnet. "It doesn't matter what the score is — just keep your head up and try to give every shift your best. I think you can learn a lot in those moments, because you play against the best hockey players in the world at this age."
The next most important player for the Austrians after Rossi is Senna Peeters. He is also a returner from Minsk, and was one of their better scorers Division I A tourney – 3-3-6 in scoring through five games. Peeters has experience playing in the QMJHL for the Halifax Mooseheads. This current season he has played in Sweden for Rögle BK junior team. He is a bigger forward at 6-foot-1 and near 200 pounds, and he uses his size and strength quite well to score from around the net. Peeters plays a physical game too – 33 PIMs for Rögle BK this season in a mere six games, while still managing to go 7-1-8 for scoring.
Leon Wallner is a nice addition to this lineup as well and he will be able to provide secondary scoring. Wallner has played in Sweden since the 2018-19 season in the various levels of Södertälje SK junior teams. In this current 2020-21 season for their under-20 team, he has put up numbers of 4-6-10 through 11 games. Wallner has hit double digits in each of his three seasons with Södertälje SK. Like Rossi and Peeters, he is a returner from the 2020 Austrian team.
Bottom Line
We still feel that Austria's biggest weakness in Alberta will be their goaltending. It unfortunately does not come close enough to what the other teams have as their last lines of defense. Wraneschitz and Brandner will need to play as if their lives depended upon it. Goalies have certainly been able to do that before.
Goaltending aside, it's the rest of the Austrian team that the other countries need to watch out for. Rossi is extremely dangerous and he has a good enough supporting cast around him that you cannot take them lightly. For a team that doesn't have as many weapons as the other teams at this tourney, they are still going to be able to put pucks home. They stand a far better chance than what similar "on the cusp" teams like Kazakhstan and Belarus had in recent World Juniors. Austria could actually be another Denmark-Cinderella story in the making.
Our prediction is still the same: the Austrians will not come close to medaling, but they could grab a win here or there based on their experienced skaters and their talent. It could be enough to avoid being relegated.
---
All the 2021 World Junior Championship Team Information:
*Links to come throughout December
Austria — Team Preview — Roster
Canada — Team Preview — Roster
Czech Republic — Team Preview — Roster
Finland — Team Preview — Roster
Germany — Team Preview — Roster
Russia — Team Preview — Roster
Slovakia — Team Preview — Roster
Sweden — Team Preview — Roster
Switzerland — Team Preview — Roster
USA — Team Preview — Roster
Selection Camp Invites by NHL Team
Roster Breakdowns by NHL Team
One Player to Watch for Each World Junior Team
7 Predictions for the 2021 World Junior Championship