It's not all good news today for the Chicago Blackhawks, as we learn about injuries to two important players in Kirby Dach and Alex Nylander. Yet we all got an early present when the NHL schedule was released on Wednesday for the upcoming 2020-21 season. Let's get to the latest.
Nylander Down, Next Man Up
We learned on Wednesday that Blackhawks' forward Alex Nylander underwent knee surgery and will be out for the next four to six months, which is essentially the entire 2020-21 campaign. Nylander sustained a left knee injury during the 2020 playoffs. He initially thought rest would do the trick, but the symptoms came back when he started to skate again. This is a tough break for the Blackhawks, but even more so for Nylander himself.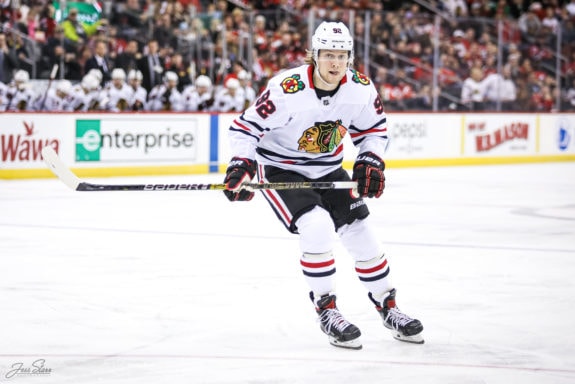 The young and skilled forward was given every chance to succeed in the 2019-20 campaign, often playing among the top-six forwards and on a line with Patrick Kane. The results were a mixed bag. While he truly looked like he belonged at times, there were other times when he completely disappeared.
Many people, myself included, often asked why the 22-year-old was being given so many chances despite his lack of production. There may have been some pressure to play Nylander since he was acquired in the trade that saw Henri Jokiharju relocate to the Buffalo Sabres. Jokiharju was a defensive prospect with a lot of potential for the Blackhawks.
Related – Blackhawks News & Rumors: NHL Season, Caggiula & Strome
Well, now Nylander won't be around. The coaches will have no choice but to look at other options instead of feeling compelled to play Nylander. Just who that will be and whether it will be advantageous for the Blackhawks is yet to be determined.
In the meantime, Nylander was hoping to make some strides in the right direction this season. Unfortunately, this is all on hold until he is healthy.
Dach Injured at World Juniors
The Blackhawks third overall 2019 NHL draft pick has been making a name for himself. First he wowed everyone with his increased strength and confidence in the Blackhawks' 2020 playoffs versus the Edmonton Oiler and then the Vegas Golden Knights. Then he was named captain of Team Canada for the 2021 World Junior Championships. The world was at his feet…until he was injured during the exhibition game versus Russia. And the irony was it was just the exhibition game!
Dach was involved in an accidental hit that resulted in a wrist injury. He immediately left the game and went for x-rays. It was reported on Thursday that Dach will be out the remainder of the tournament and could be missing NHL time as well.
Kirby Dach sustained a fracture in yesterday's Team 🇨🇦 game vs. Russia 🇷🇺. It's too early to say how long he'll be out of CHI lineup. Hawk doctors want to get him back to CHI to examine him and get more imaging in order to decide if surgery is required.

— Bob McKenzie (@TSNBobMcKenzie) December 24, 2020
This is certainly a tough break for Kirby and for the Blackhawks. Even without surgery it's estimated he could be out for six to eight weeks, which would take us to mid-February. Obviously the Blackhawks might be thinking twice about sending Dach to the tournament. But how could they not have sent him?! It would have been a great learning experience and confidence boost for the 19-year-old. Fluke incidents happen, although the timing of this one is very unfortunate.
Related – Blackhawks Look to Their Future at the 2021 World Junior Championship
Hopefully Dach's injury is relatively minor and he can rejoin the Blackhawks sooner rather than later.
Thoughts on Blackhawks 2020-21 Schedule
Moving on to happier news, the NHL released the 2020-21 season schedule on Wednesday afternoon. It was an early Christmas present for all hockey fans who can't wait for the season to start. Let's discuss some key points about the Blackhawks' schedule.
#Blackhawks release 56-game schedule for 2020-21 season and will open against defending Stanley Cup champion Lightning on Jan. 13.

Here are some notes on the full schedule: https://t.co/fob2IBKruN pic.twitter.com/fwC4m5RXNm

— Charlie Roumeliotis (@CRoumeliotis) December 23, 2020
We already knew all teams will play 56 games, and the season will run from Jan. 13 through May 8. It was originally thought the Minnesota Wild would be in the Blackhawks' newly aligned Central division. But now it will be the Dallas Stars, who advanced all the way to the Cup Final this past season. Having them and the Cup-winning Tampa Bay Lightning in the same division will be a tall order.
Opponents will meet each other mostly in sets of two games throughout the season. The Blackhawks debut with two tilts against the defending champion Lightning, followed by dual matchups against the Florida Panthers while they're in the Sunshine State.
The schedule for every team will be fast and furious, with games pretty much every other day. The Blackhawks will have six consecutive away games in both February and March, followed by six at home at the end March, and five in a row at home at the end of April and culminating on May 1st.
Related – Blackhawks Roster Competitions To Watch in Training Camp
They will certainly be in visiting arenas more in January and February, meaning they'll have to find their groove on the road. The first time the Blackhawks host more than two consecutive games at the United Center won't be until the beginning of March when they welcome the Lightning three times. This also marks the only time throughout the season they play the same team three games in a row.
The Blackhawks will have seven back-to-back contests this season, three of which will be against the Nashville Predators! There first back-to-back set of games will be in Nashville on Jan. 26 and 27.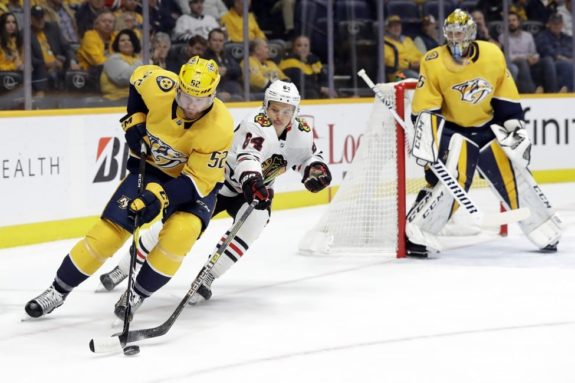 Finally, the team wraps up their season at home when they host the Stars on May 6 and May 8. Only time will tell whether these will be meaningful games or not.
---
The Blackhawks will start the season minus two key players in Nylander and Dach. Nevertheless, the waiting is almost over and we have a definitive schedule to look forward to. For better or for worse, let the games begin!
---
Looking for more Blackhawks content? Check out our Blackhawks Banter show, airing on Monday nights at 7:00 pm CST/ 8:00 pm EST. We live-stream on The Hockey Writers YouTube channel and you can catch us on Facebook at well. Be sure to subscribe, like, and follow accordingly. Here's our latest episode below.
Gail Kauchak has covered the Chicago Blackhawks as a content writer since 2014. She previously wrote for Fansided's Blackhawk Up, and has been part of The Hockey Writer's team since 2017. It's not always easy to balance life's responsibility's with one's passion, but Gail's doing her best to make it happen. Quote to live by, "Follow your dreams, and good things will happen." Wait, maybe it's "Good things happen when you shoot the puck!" You get the idea.
Follow Gail for her unique commentary about this storied franchise. And be sure to catch her and the rest of the Blackhawks' crew on their weekly Blackhawks Banter show, as well as follow her on Twitter.