The Chicago Blackhawks will be starting the 2020-21 season on Jan. 13. The date is fast approaching and there has been quite a bit of roster news to report. The team has let some players go, and some are still in question. As it pertains to the new season, the NHL released the details of what we can expect to see. It's unconventional, yes, but it seems pretty straight-forward. Here is the latest from Chicago:
2020-21 NHL Season
There are a few things to keep in mind when it comes to the 2020-21 season. Training camp starts on Jan. 3. As stated above, the regular season will go from Jan. 13 to May 8. There will be 56 games in that time span. There are re-aligned divisions with the North, West, Central, and East. The North division is comprised of all of the Canadian NHL teams, while the other divisions contain all of the American-based teams.
It looks like Patrick Kane is ready!
The Blackhawks are, as expected, in the Central Division. They will be joined by the Carolina Hurricanes, Columbus Blue Jackets, Dallas Stars, Detroit Red Wings, Florida Panthers, Nashville Predators, and Tampa Bay Lightning. As far as the playoffs go, the top four teams in each division will qualify for the playoffs.
This is a pretty fun and loaded division. There's lots of talent on the board and they'll face the reigning Stanley Cup champions, nonetheless. It should be a fierce battle. However the Blackhawks fare, I think we can all agree that it's nice to have the Red Wings back in Chicago's division. That good ole' Original Six rivalry is good for the soul.
Caggiula Signs With the Arizona Coyotes
We all expected that 26-year-old forward Drake Caggiula would not be back with the Blackhawks after the team decided not to tender him a qualifying offer. He then became a UFA in October. On Dec. 21, the Arizona Coyotes announced that they signed him to a one-year, $700,000 contract.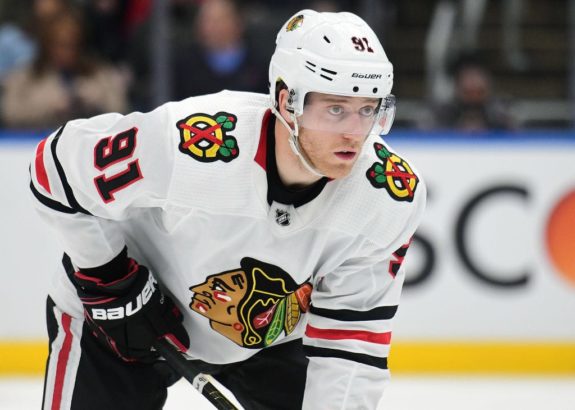 This news stings a little bit. Since Chicago acquired him from the Edmonton Oilers back in 2019, he has been a great, gadget player that can do a bit of everything. He can play the gritty role, wing, and he can also go in the face-off dot. His tenure here was plagued with injuries and he only appeared in 66 games. In that span, he had 14 goals, 13 assists, 27 points, and had an even plus/minus. Injuries aside, he was the type of player that in every game he played, he was noticeable. His versatility was an added bonus because he could slot in all four lines. I think the Blackhawks are really going to miss his on-ice presence.
On another note, when the NHL divisions go back to normal, the Coyotes could be a future problem for Chicago. After all, they are a good combination of former Hawks that includes the likes of John Hayden, Nick Schmaltz, Niklas Hjalmarsson, and Jordan Oesterle.
Dylan Strome Update
I don't think anyone is having a good time when it comes to the 23-year-old center, Dylan Strome. His status with the Blackhawks is still up in the air. However, I think most are anticipating that a deal will eventually get done, but we are getting really close to the wire here with the season starting in a few weeks. On Dec. 18, general manager Stan Bowman gave an update on his contract talks.
No updates. We have had conversations with his agent, ongoing discussions. As you guys know over the years, I'm always optimistic that we'll get something done. Really nothing to report other than we're negotiating with him and hopeful that we'll get that done.
That quote is not very reassuring. Moreover, GMs in general are pretty vague when it comes to contract matters. Let's hope that this comes to a quick resolution now that the 2020-21 season is set in stone.
Final Thoughts
As always, we will keep you up to date on Strome's status, free agent moves, other important roster moves, and more! Merry Christmas and Happy Holidays everyone!
Looking for more Blackhawks' content? Tune in on Monday nights for our weekly 'Blackhawks Banter' show on Youtube and Facebook. We talk about everything related to the team. We stream live at 7:00 PM CST on the Hockey Writers Youtube Channel. Make sure you like, follow, and subscribe so you don't miss out! You can check out our latest show below.
---
---